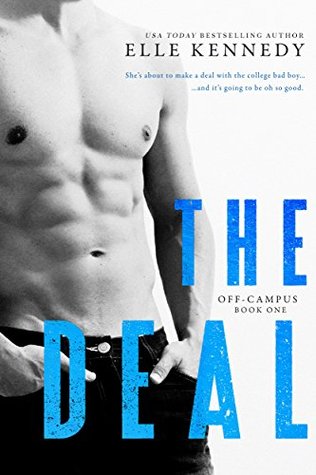 The Deal (Off-Campus #1) by Elle Kennedy (NA contemporary) --
$0.99
Amazon
--
B&N
--
Kobo
She's about to make a deal with the college bad boy...

Hannah Wells has finally found someone who turns her on. But while she might be confident in every other area of her life, she's carting around a full set of baggage when it comes to sex and seduction. If she wants to get her crush's attention, she'll have to step out of her comfort zone and make him take notice…even if it means tutoring the annoying, childish, cocky captain of the hockey team in exchange for a pretend date.

...and it's going to be oh so good.

All Garrett Graham has ever wanted is to play professional hockey after graduation, but his plummeting GPA is threatening everything he's worked so hard for. If helping a sarcastic brunette make another guy jealous will help him secure his position on the team, he's all for it. But when one unexpected kiss leads to the wildest sex of both their lives, it doesn't take long for Garrett to realize that pretend isn't going to cut it. Now he just has to convince Hannah that the man she wants looks a lot like him.
**A hockey-themed romance with mature characters and a respectful look at the aftereffects of domestic violence. I gave it 4 stars.

Silk is for Seduction (Dressmakers #1) by Loretta Chase (historical romance) --
$1.99
Amazon
--
B&N
--
Kobo
--
Google Play
--
All Romance
From the Design Book of Marcelline Noirot:
The allure of the perfect gown should be twofold:
ladies would die to wear it . . .
and gentlemen would kill to remove it!

Brilliant and ambitious dressmaker Marcelline Noirotis London's rising star. And who better to benefit from her talent than the worst-dressed lady in the ton, the Duke of Clevedon's intended bride? Winning the future duchess's patronage means prestige and fortune for Marcelline and her sisters. To get to the lady, though, Marcelline must win over Clevedon, whose standards are as high as his morals are . . . not.

The prize seems well worth the risk—but this time Marcelline's met her match. Clevedon can design a seduction as irresistible as her dresses;and what begins as a flicker of desire between two of the most passionately stubborn charmers in London soon ignites into a delicious inferno . . .and a blazing scandal.

And now both their futures hang by an exquisite thread of silk . . .
**I love cross-class romances and this one between a dressmaker and a duke is really good. I also enjoyed the relationship between the Noirot sisters in this series. I gave it 4 stars.

Seduction of a Highland Lass (McCabe Trilogy #2) by Maya Banks (historical romance) --
$1.99
Amazon
--
B&N
--
Kobo
--
Google Play
--
All Romance
Fiercely loyal to his elder brother, Alaric McCabe leads his clan in the fight for their birthright. Now he is prepared to wed for duty, as well. But on his way to claim the hand of Rionna McDonald, daughter of a neighboring chieftain, he is ambushed and left for dead. Miraculously, his life is saved by the soft touch of a Highland angel, a courageous beauty who will put to the test his fealty to his clan, his honor, and his deepest desires.

An outcast from her own clan, Keeley McDonald was betrayed by those she loved and trusted. When the wounded warrior falls from his horse, she is drawn to his strong, lean body. The wicked glint in his green eyes ignites a passion that will follow them back to Alaric's keep, where their forbidden love draws them deeper into the pleasures of the flesh. But as conspiracy and danger circle closer, Alaric must make an impossible choice: Will he betray his blood ties for the woman he loves?
**Tons of emotion in this book. I wasn't sure how the author would give everyone a happy ending, but it all worked out. I gave it 4.5 stars.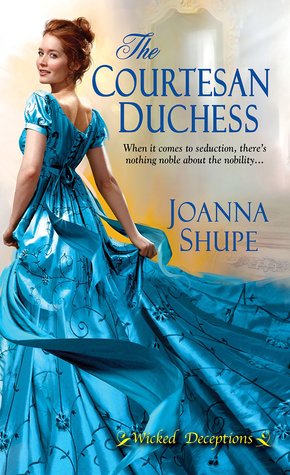 The Courtesan Duchess (Wicked Deceptions #1) by Joanna Shupe (historical romance) --
$1.99
Amazon
--
B&N
--
Kobo
--
Google Play
--
All Romance

How to seduce an estranged husband—and banish debt!—in four wickedly improper, shockingly pleasurable steps...

1. Learn the most intimate secrets of London's leading courtesan.
2. Pretend to be a courtesan yourself, using the name Juliet Leighton.
3. Travel to Venice and locate said husband.
4. Seduce husband, conceive an heir, and voilà, your future is secure!

For Julia, the Duchess of Colton, such a ruse promises to be foolproof. After all, her husband has not bothered to lay eyes on her in eight years, since their hasty wedding day when she was only sixteen. But what begins as a tempestuous flirtation escalates into full-blown passion—and the feeling is mutual. Could the man the Courtesan Duchess married actually turn out to be the love of her life?
**A troubled marriage romance with a wonderful heroine, but an annoying hero. I gave it 3 stars.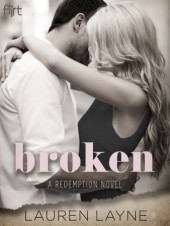 Broken (Redemption #1) by Lauren Layne (NA contemporary) --
$0.99
Amazon
--
B&N
--
Kobo
--
Google Play
--
All Romance
When Olivia Middleton abandons the glamour of Park Avenue for a remote, coastal town in Maine, everyone assumes she's being the kind do-gooder she's always been. But Olivia has a secret: helping an injured war veteran reenter society isn't about charity—it's about penance. Only, Olivia's client isn't the grateful elderly man she's expecting. Instead, he's a brooding twenty-four-year-old who has no intention of being Olivia's path to redemption . . . and whose smoldering gaze and forbidden touch might be her undoing.

Paul Langdon doesn't need a mirror to show him he's no longer the hotshot quarterback he was before the war. He knows he's ugly—inside and out. He'll do anything to stay in self-imposed exile, even accept his father's ultimatum that Paul tolerate the newest caretaker for three months or lose his inheritance. But Paul doesn't count on the beautiful twenty-two-year-old who makes him long for things that he can never have. And the more she slips past his defenses, the more keeping his distance is impossible.

Now Paul and Olivia have to decide: Will they help each other heal? Or are they forever broken?
**Very emotional read with a reclusive veteran and the New York socialite who is charged with helping him. I gave it 4 stars.
Pleasure Unbound (Demonica #1) by Larissa Ione (paranormal romance) --
$1.99
Amazon
--
B&N
--
Kobo
--
Google Play

In a place where ecstasy can cost you your life . . .

She's a demon-slayer who hungers for sensual pleasure-but fears it will always be denied her. Until Tayla Mancuso lands in a hospital run by demons in disguise, and the head doctor, Eidolon, makes her body burn with unslakable desire. But to prove her ultimate loyalty to her peers, she must betray the surgeon who saved her life.

Two lovers will dare to risk all.

Eidolon cannot resist this fiery, dangerous woman who fills him with both rage and passion. Not only is she his avowed enemy, but she could very well be the hunter who has been preying upon his people. Torn between his need for the truth and his quest to find his perfect mate before a horrific transformation claims him forever, Eidolon will dare the unthinkable-and let Tayla possess him, body and soul . . .
**Enemies to lovers romance between a demon doctor and a demon hunter. The beginning of one of my favorite series. I gave it 4.5 stars.
Halfway to the Grave (Night Huntress #1) by Jeaniene Frost (urban fantasy) --
$2.99
Amazon
--
B&N
--
Kobo
--
Google Play
--
All Romance
Flirting with the Grave...

Half-vampire Catherine Crawfield is going after the undead with a vengeance, hoping that one of these deadbeats is her father - the one responsible for ruining her mother's life. Then she's captured by Bones, a vampire bounty hunter, and is forced into an unholy partnership.

In exchange for finding her father, Cat agrees to train with the sexy night stalker until her battle reflexes are as sharp as his fangs. She's amazed she doesn't end up as his dinner - are there actually good vampires? Pretty soon Bones will have her convinced that being half-dead doesn't have to be all bad. But before she can enjoy her newfound status as kick-ass demon hunter, Cat and Bones are pursued by a group of killers. Now Cat will have to choose a side . . . and Bones is turning out to be as tempting as any man with a heartbeat.
**Bones is my ultimate book boyfriend and Cat is someone I would love to have as a best friend. An amazing start to a fabulous series! I gave it 5 stars.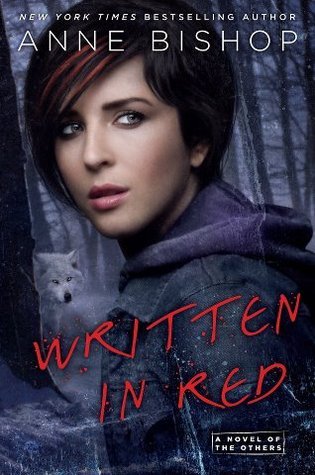 Written in Red (The Others #1) by Anne Bishop (urban fantasy) --
$1.99
Amazon
--
B&N
--
Kobo
--
Google Play
As a cassandra sangue, or blood prophet, Meg Corbyn can see the future when her skin is cut—a gift that feels more like a curse. Meg's Controller keeps her enslaved so he can have full access to her visions. But when she escapes, the only safe place Meg can hide is at the Lakeside Courtyard—a business district operated by the Others.

Shape-shifter Simon Wolfgard is reluctant to hire the stranger who inquires about the Human Liaison job. First, he senses she's keeping a secret, and second, she doesn't smell like human prey. Yet a stronger instinct propels him to give Meg the job. And when he learns the truth about Meg and that she's wanted by the government, he'll have to decide if she's worth the fight between humans and the Others that will surely follow.
**Dark and very complex with a relatable heroine and a fascinating cast of characters. I gave it 5 stars.