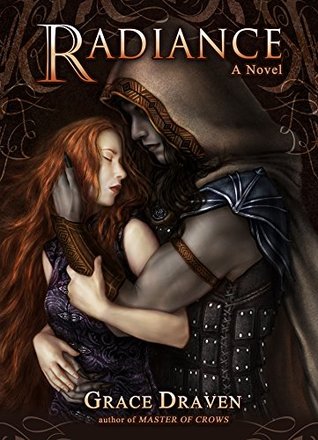 (Wraith Kings #1)

For Ages 18+ (Language, Sensuality, Violence)
Fantasy Romance

Self-Published -- Published on January 13, 2015
Ebook, 297 pages
Read in January 2016
Purchased from Amazon

RATING: 4.5 STARS
THEMES/TROPES
Alternate Universe, Action/Adventure, Arranged Marriage
SUMMARY
THE PRINCE OF NO VALUE

Brishen Khaskem, prince of the Kai, has lived content as the nonessential spare heir to a throne secured many times over. A trade and political alliance between the human kingdom of Gaur and the Kai kingdom of Bast-Haradis requires that he marry a Gauri woman to seal the treaty. Always a dutiful son, Brishen agrees to the marriage and discovers his bride is as ugly as he expected and more beautiful than he could have imagined.

THE NOBLEWOMAN OF NO IMPORTANCE

Ildiko, niece of the Gauri king, has always known her only worth to the royal family lay in a strategic marriage. Resigned to her fate, she is horrified to learn that her intended groom isn't just a foreign aristocrat but the younger prince of a people neither familiar nor human. Bound to her new husband, Ildiko will leave behind all she's known to embrace a man shrouded in darkness but with a soul forged by light.

Two people brought together by the trappings of duty and politics will discover they are destined for each other, even as the powers of a hostile kingdom scheme to tear them apart.
FIRST LINE
"Today was Ildiko's wedding day, and if she managed not to retch on herself or a guest, she'd consider the entire event a resounding success."


MY THOUGHTS
My book radar picked up
Radiance
at the end of last year when I saw it pop up on many "Best of 2015" lists. I was looking for an interesting fantasy romance so I decided to give it a try. And I am so glad I did because this was a wonderful story full of vibrant characters and a perfectly-developed love story.
This romance takes place in an alternate universe, specifically in two neighboring kingdoms, Gaur and Bast-Haradis. Gaur is run by humans while Bast-Haradis is run by the night-dwelling Kai. These two species have had a tenuous relationship for many years that is finally becoming an alliance with the arranged marriage between Brishen, a younger son of the Kai king, and Ildiko, the orphaned niece of the Gauri king.
What I adored about the two protagonists was their determination to make the best of their situation and work together to insure the marriage worked. Brishen is stubborn, protective, and genuinely cares about the people around him including Ildiko. For her part, Ildiko is intelligent, self-confident, and hard-working. They both have great sense of humor which is shown in the banter that starts from their first meeting.
I love arranged marriage stories and the fact that the union is between two different humanoid species was fascinating to me. The Kai and the Gauri find each others' looks to be unappealing and this is true for Brishen and Ildiko at first. But, because of their personalities, these two are able to look past the physical and see the great people inside. Their relationship develops naturally from strangers to friends and eventually lovers. I loved all the little moments that showcased their growing affection for one another.
The world building of
Radiance
was intriguing though I felt like it took a back seat to the romance. I have a feeling that readers will learn more about this fantasy world later in the series so I wasn't too upset by that part. I also liked the way the author developed the background characters with my favorite being Anhuset, a strong-willed female warrior who also is Brishen's cousin. I am definitely looking forward to seeing what happens to Brishen and Ildiko especially with the cliffhanger scene at the end.
"You make a very handsome dead eel, my husband,"
"For a boiled mollusk, you wear black quite well, my wife."
BOOKS IN THE SERIES