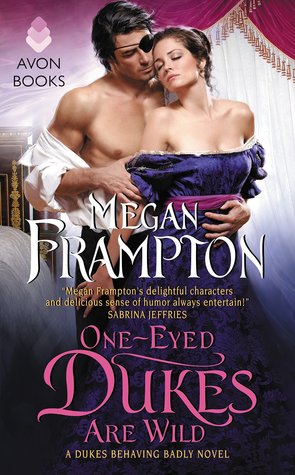 (Dukes Behaving Badly #3)

For Ages 18+ (Language, Sensuality)
Historical Romance -- Victorian England

Avon -- Published on December 29, 2015
eARC, 384 pages
Read in January 2016
Received from Netgalley

RATING: 4 STARS
THEMES/TROPES
Opposites Attract, Beta Hero, Scandalous Heroine, Writer Heroine
SUMMARY
When does proper behavior deserve a deliciously improper reward?

The scandalously unmarried Lady Margaret Sawford is looking for adventure—and is always up for a challenge. Her curiosity is aroused by a dangerous-looking stranger with an eye patch, an ideal companion for the life she longs for, no matter what Society might say. So when the piratical gentleman turns out to be a duke—and just as boringly proper as any other nobleman—she can't help but incite him to walk on the wild side.

Well-heeled, well-mannered, and well beyond any interest in society's expectations, the Duke of Lasham is tired of being perfect. Margaret's lush beauty and gently laughing eyes are an irresistible temptation to embrace the imperfect—and her. But if a little misbehavior is appealing, unleashing his wild side is completely seductive—as long as the lovely Margaret is the object of his passion.
FIRST LINE
"Lasham took too big a swallow of his wine, knowing his headache would only be exacerbated by the alcohol, but unwilling to forgo the possibility that perhaps, for just a few minutes, his perception would be muffled, blurred a little around the edges."


MY THOUGHTS
I received a free copy of this book from Avon via Edelweiss in exchange for an honest review.
One-Eyed Dukes Are Wild
is a fun and romantic romp through Victorian England with two characters that couldn't be more opposite. Lady Margaret caused enough of a scandal last Season that she was disinherited by her reputation-obsessed parents and now survives thanks to her writing and her married sister's kindness. She is always looking for the next bit of entertainment and thinks she finds it when she spots a handsome gentleman with an eye patch. Unfortunately, her expectations are dashed when she discovers that the Duke of Lasham is actually one of the most proper and stoic gentlemen in the
ton
.
Both Margaret and Lasham are well-written and very likable. I'm not sure how historically accurate Margaret's situation was, but I was able to suspend reality enough to appreciate what the author was trying to do with her character. I admired her determination to live through her own means and not let her parents' behavior dictate her entire being. Lash was just so adorable with his introverted nature and awkward approach to courtship. I loved watching him grow confident and happy through the various adventures that he and Margaret go on.
Though it is a bit unrealistic, I really liked the premise behind this entire story with the heroine thinking that the hero is going to be a bad boy (based on his appearance), figuring out how wrong she is, and then falling for him while teaching him to have adventures. This is a couple that had immediate chemistry (despite how different their personalities are) yet I appreciated the way their relationship developed into friendship before turning to love. I went through the whole gamut of emotions while reading this book. I laughed at the banter between Margaret and Lash, teared up as they both began to their vulnerabilities, and swooned at the way they learned to appreciate one another's various idiosyncrasies.
One-Eyed Dukes Are Wild
was a great way to begin my 2016 reading year. The writing was engaging and the plotting was efficient. I was definitely rooting for Margaret and Lash to get their happy ending and enjoyed the ride. This is the first full-length novel that I read from Megan Framption and I am intrigued to see what I think of the rest of the Dukes Behaving Badly series.
"At least as perfect as it could be for a one-eyed duke with the inability to express his emotions and who wished, just once, he could be improper without consequences."