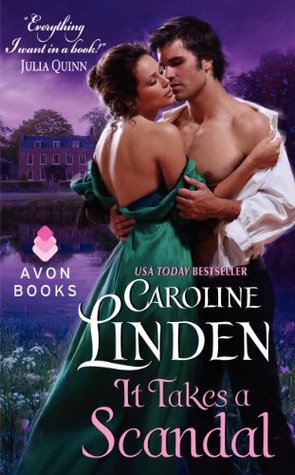 (Scandalous #2)

For Ages 18+ (Language, Sensuality)
Historical Romance -- Victorian England

Avon -- Published on April 29, 2014
Mass Market Paperback, 372 pages
Read in January 2016
Borrowed from the library

RATING: 4 STARS
THEMES/TROPES
Beta Hero, Reclusive Hero, Heiress Heroine, Returning Military
SUMMARY
Abigail Weston has everything: beauty, wit, and one of the largest dowries in England. Her parents hope she'll wed an earl. Abigail hopes for a man who wants her desperately and passionately. But the money seems to blind every man she meets—except one.

Sebastian Vane has nothing. He came home from war with a shattered leg to find his father mad and his inheritance gone. He's not a fit suitor for anyone, let alone an heiress. But Abigail lights up his world like a comet, bright and beautiful and able to see him instead of his ruined reputation. And it might end happily ever after...

...Until Benedict Lennox begins courting Abigail. Ben is everything Sebastian isn't—wealthy, charming, heir to an earl. Sebastian won't give up the only girl he's ever loved without a fight, but Abigail must choose between the penniless gentleman who moves her heart, and the suitor who is everything her parents want.
FIRST LINE
"He came awake with a start, heart racing."


MY THOUGHTS
It Takes a Scandal
is the second book in Caroline Linden's Scandalous series which focuses on women who become fans of a scintillating pamphlet,
50 Ways to Sin
. This book features Abigail Weston, one of two daughters of a wealthy gentleman who has recently bought a new estate in the country. While exploring the surrounding forest, Abigail meets the mysterious Sebastian Vane and they embark on a sweet romance that pushes both of them to think about what they really want in life.
Abigail and Sebastian were two characters that I was rooting for from the moment I met them. I loved Abigail's optimistic and independent personality. She did everything she could to get what she wanted and I admired her character development. Sebastian had been through a lot with his war injury, his father's mental illness, and then his father's disappearance which caused rumors that he was also a murderer. He had low self-esteem and no drive to change his outlook on life until he met Abigail and slowly began to embrace happiness again.
The first half of
It Takes a Scandal
showcases Abigail and Sebastian falling in love with one another. I thought this part was really sweet and easy to read. I especially enjoyed their interactions in the secret grotto in the woods. The second part is really where Sebastian's character started to shine. His former best friend, Benedict Lennox, starts to show interest in Abigail and Sebastian learns that he must step back into life if he wants to keep the woman that he loves. I thought the structure of this story was different and I enjoyed that aspect of it.
I am definitely excited to read more of Caroline Linden's work especially in the Scandalous series. I especially can't wait to find out who is writing
50 Ways to Sin.
I am also interested in what will come of Abigail's brother and sister. If you are looking for a sweet historical with likable characters who go on emotional journeys, I definitely recommend
It Takes a Scandal
.