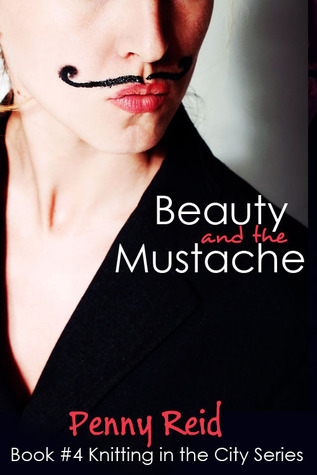 (Knitting in the City #4)

For Ages 18+ (Language, Sensuality)
Contemporary Romance -- Small Town

Self-Published -- Published on August 28, 2014
Ebook, 387 pages
Read in December 2015
Purchased from Amazon

RATING: 4.25 STARS
THEMES/TROPES
First Person Narrative, Returning Home, Writer Hero, Nurse Heroine, Tearjerker, Romantic Comedy
SUMMARY
There are three things you need to know about Ashley Winston: 1) She has six brothers and they all have beards, 2) She is a reader, and 3) She knows how to knit.

Former beauty queen, Ashley Winston's preferred coping strategy is escapism. She escaped her Tennessee small town, loathsome father, and six brothers eight years ago. Now she escapes life daily via her Amazon kindle one-click addiction. However, when a family tragedy forces her to return home, Ashley can't escape the notice of Drew Runous— local Game Warden, reclusive mountain man, bear wrestler, philosopher, and everyone's favorite guy. Drew's irksome philosophizing in particular makes Ashley want to run for the skyscrapers, especially since he can't seem to keep his exasperating opinions— or his soulful poetry, steadfast support, and delightful hands— to himself. Pretty soon the girl who wanted nothing more than the escape of the big city finds she's lost her heart in small town Tennessee.
FIRST LINE
"It was 6:14 a.m. and I was awake."


MY THOUGHTS
Contemporary romance has always been a genre that I enjoy, but has never been my "genre of choice" like historical romance and paranormal romance. That being said, there are auto-buy contemporary authors for me and Penny Reid is definitely one of them. The Knitting in the City series focuses on the romantic (and often comedic adventures) of a collection of friends in Chicago. Ashley Winston is the Southern belle of the group who fully embraces her city life and has no desire to ever return to Tennessee. But, that decision is taken out of her hands when her beloved mother gets sick and, as all romance novel readers know, things get...complicated when she meets a sexy, mysterious game warden.
I just adored Ashley who is quirky (like many of Reid's heroines), but not annoyingly so. She grew up as the only girl of seven children and could not get out of her small town quick enough. Now, that she is back temporarily, she is focused on taking care of her mother, but is also distracted by the changes to her formerly irresponsible band of brothers and meeting Drew, a trusted family friend. Drew is super sexy and romantic with his love of poetry and mysterious past. I am not usually into bearded guys, but the description of him just makes me weak in the knees. It also helps that he is very caring when it comes to Ashley's family and I can see how she could fall for him.
I also have to give a shout out to the rambunctious Winston brothers who were able to develop into solid secondary characters without taking over the entire book. They have their own spin-off series in progress and I can't wait to see them get their happy endings especially sweet Cletus and aloof Beau. Family relationships are always an aspect I love and the scenes between the Winstons were a nice balance of sweet and funny. I think it helped the romance that Drew as able to seamlessly melt into the family dynamic without making ever making Ashley forget that he was not one of her brothers.
Penny Reid is known for her romantic comedies yet, while there are plenty of funny scenes, I found
Beauty and the Mustache
to be a much more emotional read. Ashley and her brothers are dealing with a serious situation and many tears have to be shed before the ending comes. I was impressed with the way how the author was able to balance the heart-wrenching side with the comedy and the romance. Very well done and had me reading late into the night.
Any book in the Knitting in the City series can be read as a stand-alone and that is still true for this book. Most of the action takes place in Tennessee with the other knitting ladies popping in and out as needed, but never acting in a way that would be confusing to new readers. If you are wanting a slightly oddball, but still super romantic contemporary, I can't recommend this series and this book enough. I can't wait to see what is in store for these ladies next!
In that moment, I finally figured out what kind of handsome he was. He was fiction-handsome. Romance novel handsome; but not the clean-cut (billionaire) alpha male or even the tattooed (billionaire) bad boy archetype. He was the Scottish highlander, Viking conqueror, bodice-ripper historical romance kind of handsome; an unshaven, lion wrestling, mountain man recluse, toss you over his shoulder and plunder your goodies kind of handsome. He was both scary and swoony. I wanted to braid his beard. I also wanted to run away.