This is part of a feature where I focus on a specific theme (or trope) that I have found in my years as a voracious reader/blogger. I love finding commonalities between my favorite books and how that helps define me as a reader.

Please note this is not meant to be a comprehensive list. I am just picking a few examples of this trope. So, if you have a favorite example of this theme, let me know about it in the comments. I'm always on the lookout for more books to be added to my wishlist.
SINGLE FATHERS IN ROMANCE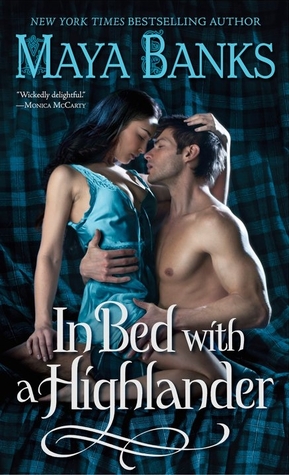 In Bed with a Highlander by Maya Banks --
I gave it 4 stars.
Historical Romance, 12th Century Scotland
Ewan McCabe, the eldest, is a warrior determined to vanquish his enemy. Now, with the time ripe for battle, his men are ready and Ewan is poised to take back what is his—until a blue-eyed, raven-haired temptress is thrust upon him. Mairin may be the salvation of Ewan's clan, but for a man who dreams only of revenge, matters of the heart are strange territory to conquer.
The illegitimate daughter of the king, Mairin possesses prized property that has made her a pawn—and wary of love. Her worst fears are realized when she is rescued from peril only to be forced into marriage by her charismatic and commanding savior, Ewan McCabe. But her attraction to her ruggedly powerful new husband makes her crave his surprisingly tender touch; her body comes alive under his sensual mastery. And as war draws near, Mairin's strength, spirit, and passion challenge Ewan to conquer his demons—and embrace a love that means more than revenge and land.
To Sir Phillip with Love by Julia Quinn --
I gave it 4 stars.
Historical Romance, Regency England
Sir Phillip knew from his correspondence with his dead wife's distant cousin that Eloise Bridgerton was a spinster, and so he'd proposed, figuring that she'd be homely and unassuming, and more than a little desperate for an offer of marriage. Except . . . she wasn't. The beautiful woman on his doorstep was anything but quiet, and when she stopped talking long enough to close her mouth, all he wanted to do was kiss her...
Eloise Bridgerton couldn't marry a man she had never met! But then she started thinking... and wondering... and before she knew it, she was in a hired carriage in the middle of the night, on her way to meet the man she hoped might be her perfect match. Except... he wasn't. Her perfect husband wouldn't be so moody and ill-mannered. And he certainly should have mentioned that he had two young - and decidedly unruly - children, as much in need of a mother as Phillip is in need of a wife.
Midnight Angel by Lisa Kleypas
Historical Romance, Victorian England
Lord Lucas Stokehurst is captivated by the gentle grace and regal beauty of "Miss Karen Billings", who appeared seemingly out of nowhere and now stands demurely before him. Enchanted, the gallant, haunted widower impetuously offers her a position as governess to his young daughter, taking the lady of mystery into his home.
But "Miss Billings" has another name, Anastasia, and a dark past that pursues her still. Condemned for a crime she cannot remember, she barely escaped the gallows. And now she seeks shelter in the arms of a man devastated by tragedy, a man who must now defy society and the forces of vengeance to keep his lady safe and their bold new love alive.
Desperate Duchesses by Eloisa James --
I gave it 4 stars.
Historical Romance, Georgian England
A marquess's sheltered only daughter, Lady Roberta St. Giles falls in love with a man she glimpses across a crowded ballroom: a duke, a game player of consummate skill, a notorious rakehell who shows no interest in marriage--until he lays eyes on Roberta.
Yet the Earl of Gryffyn knows too well that the price required to gain a coronet is often too high. Damon Reeve, the earl, is determined to protect the exquisite Roberta from chasing after the wrong destiny.
Can Damon entice her into a high-stakes game of his own, even if his heart is likely to be lost in the venture?
The Captive by Grace Burrowes
Historical Romance, Regency England
Captured and tortured by the French, Christian Severn, Duke of Mercia, survives by vowing to take revenge on his tormentors. Before the duke can pursue his version of justice, Gillian, Countess of Greendale, reminds him that his small daughter has suffered much in his absence, and needs her papa desperately.

Gilly endured her difficult marriage by avoiding confrontation and keeping peace at any cost. Christian's devotion to his daughter and his kindness toward Gilly give her hope that she could enjoy a future with him, for surely he of all men shares her loathing for violence in any form. Little does Gilly know, the battle for Christian's heart is only beginning.
Beauty Like the Night by Liz Carlyle --
I gave it 4 stars.
Historical Romance, Regency England
The daughter of London's wickedest widow, Helene de Severs has struggled to overcome her heritage. Renowned within Europe's emerging psychiatric field, Helene has a gift for healing children. When fate sends her back to England, the country she left in disgrace, Helene is confident she has learned to govern her own reckless emotions.
Ruthlessly, Treyhern has dragged his notorious family from the brink of ruin. But a disastrous marriage has left him with a traumatized child, and his rebellious brother is just one step ahead of the bailiffs. When his dissolute father drops dead while debauching the governess, Treyhern's infamous temper is truly tested.
But the forceful earl means to straighten everyone out - as soon as he has hired a reputable governess. Yet the moment she steps from his carriage, Treyhern's cold reserve is melted by a rush of desire he had long thought dead. With her elegant clothing and mountain of luggage, the woman is not who he expected. Or is she? Sometimes the workings of the mind are as dangerous as those of the heart. And soon, danger is truly everywhere...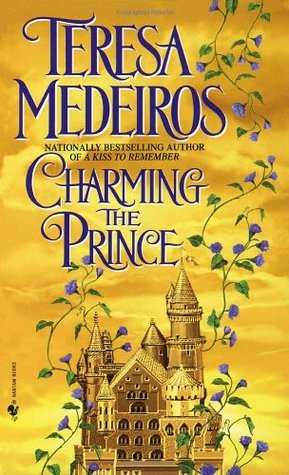 Charming the Prince by Teresa Medeiros --
I gave it 3.5 stars.
Historical Romance, 14th Century England
Dear Reader,
My enemies know me as Lord Bannor the Bold, Pride of the English and Terror of the French. Never in my life have I backed down from any challenge or betrayed so much as a hint of fear—until the war ended and I found myself a reluctant papa to a dozen unruly children.
Realizing that I couldn't lop their little heads off or throw them in the dungeon, I sent my steward out to find them a mother and me a bride—an attractive, meek, maternal creature too plain to tempt me to get her with child. You can imagine my horror when he returned with Lady Willow of Bedlington, a spirited beauty who made me think of nothing else!
With her cloud of dark curls and the sparkle of passion in her eyes, Willow was everything I'd sworn to resist. I never dreamed she would join forces with those mischievous imps of mine to teach this cynical warrior just how sweet surrender can be.
Bannor the Bold,Lord of Elsinore
Forever and a Day by Jill Shalvis
Contemporary Romance, Small Town
Grace never thought she'd be starting her life over from scratch. Losing everything has landed her in Lucky Harbor, working as a dog walker for overwhelmed ER doctor Josh Scott. But the day his nanny fails to show up, Grace goes from caring for Josh's loveable mutt to caring for his rambunctious kids. Soon Grace is playing house with the sexy single dad…
With so many people depending on him, Josh has no time for anything outside of his clinic and family–until Grace arrives in town. Now this brainy blonde is turning his life inside out and giving a whole new meaning to the phrase "good bedside manner." Josh and Grace don't know if what they have can last. But in a town like Lucky Harbor, a lifetime of love starts with just one day…
Welcome to Temptation by Jennifer Crusie
Contemporary Romance, Small Town
Sophie Dempsey is content living a quiet life filming wedding videos until an assignment brings her to Temptation, Ohio. From the moment she drive into town, she gets a bad feeling; Sophie is from the wrong side of the tracks and everything in Temptation is a little too right. And when she has a run-in with the town's unnervingly sexy mayor, Phineas Tucker, making a little movie turns out to be more than a little dangerous.
Yield to oncoming desire...
All Sophie wants to do is film the video and head home. All Phin wants to do is play pool with the police chief and keep things peaceful. They both get more than they bargained for when Sophie's video causes an uproar and the proper citizens of Temptation set out to shut them down.
Welcome to temptation...
As events spiral out of control, Sophie and Phin find themselves caught in a web of gossip, blackmail, adultery, murder, and really excellent sex. All hell breaks loose in Temptation as Sophie and Phin fall deeper and deeper in trouble...and in love.
The Single Undead Moms Club by Molly Harper --
I gave it 4 stars.
Paranormal Romance, Vampires
Widow Libby Stratton arranged to be turned into a vampire after she was diagnosed with late-stage cancer. It wasn't the best idea she's ever had, but she was desperate—she's not about to leave her seven-year-old son to be raised by her rigid, overbearing in-laws.
On top of post-turning transition issues, like being ignored at PTA meetings and other mothers rejecting her son's invitations for sleepovers, Libby must deal with her father-in-law's attempts to declare her an unfit mother, her growing feelings for Wade—a tattooed redneck single dad she met while hiding in a closet at Back to School Night—and the return of her sire, who hasn't stopped thinking about brave, snarky Libby since he turned her.
Kindling the Moon by Jenn Bennett
Urban Fantasy, Magic
Meet Arcadia Bell: bartender, renegade magician, fugitive from the law. . . .

Being the spawn of two infamous occultists (and alleged murderers) isn't easy, but freewheeling magician Arcadia "Cady" Bell knows how to make the best of a crummy situation. After hiding out for seven years, she's carved an incognito niche for herself slinging drinks at the demon-friendly Tambuku Tiki Lounge.
But she receives an ultimatum when unexpected surveillance footage of her notorious parents surfaces: either prove their innocence or surrender herself. Unfortunately, the only witness to the crimes was an elusive Æthyric demon, and Cady has no idea how to find it. She teams up with Lon Butler, an enigmatic demonologist with a special talent for sexual spells and an arcane library of priceless stolen grimoires. Their research soon escalates into a storm of conflict involving missing police evidence, the decadent Hellfire Club, a ruthless bounty hunter, and a powerful occult society that operates way outside the law. If Cady can't clear her family name soon, she'll be forced to sacrifice her own life . . . and no amount of running will save her this time.
One Small Thing by Piper Vaughn --
I gave it 4 stars.
Male/Male Contemporary Romance
"Daddy" is not a title Rue Murray wanted, but he never thought he'd have sex with a woman either. Now he's the unwitting father of a newborn named Alice. Between bartending and cosmetology school, Rue doesn't have time for babies, but he can't give her up. What Rue needs is a babysitter, and he's running out of options. He's on the verge of quitting school to watch Alice himself when he remembers his reclusive new neighbor, Erik.
Erik Van Nuys is a sci-fi novelist with anxiety issues to spare. He doesn't like people in general, and he likes babies even less. Still, with his royalties dwindling, he could use the extra cash. Reluctantly, he takes on the role of manny—and even more reluctantly, he finds himself falling for Alice and her flamboyant father.
Rue and Erik are as different as two people can be, and Alice is the unlikeliest of babies, but Rue has never been happier than when Alice and Erik are by his side. At least, not until he receives an offer that puts all his dreams within reach and he's forced to choose: the future he's always wanted, or the family he thought he never did.