This is part of a feature where I focus on a specific theme (or trope) that I have found in my years as a voracious reader/blogger. I love finding commonalities between my favorite books and how that helps define me as a reader.

Please note this is not meant to be a comprehensive list. I am just picking a few examples of this trope. So, if you have a favorite example of this theme, let me know about it in the comments. I'm always on the lookout for more books to be added to my wishlist.
GUARDIAN/WARD ROMANCES
My Dearest Enemy by Connie Brockway -- I gave it 5 stars.
Historical Romance -- Victorian England
"Dear Mr. Thorne, For the next five years, I will profitably manage this estate. I will deliver to you an allowance and I will prove that women are just as capable as men." Lillian Bede is shocked when she is tapped to run the affairs of an exquisite country manor. But she accepts the challenge, taking the opportunity to put her politics into practice. There's only one snag: Lily's ward, the infuriating, incorrigible globe-trotter Avery Thorne.

"My Dear Miss Bede, Forgive me if I fail to shudder. Pray, do whatever you bloody well want, can, or must." Avery's inheritance is on hiatus after his uncle dies—and his childhood home is in the hands of some domineering usurper. But when he finally returns, Avery finds that his antagonist is not at all what he expected. In fact, Lily Bede is stunning, exotic, provocative—and impossible to resist.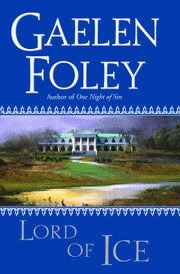 Lord of Ice by Gaelen Foley --
I gave it 4 stars.
Historical Romance -- Regency England
Damien Knight, the earl of Winterley, is proud, aloof, and tormented by memories of war. Though living in seclusion, he is named guardian to a fellow officer's ward. Instead of the young homeless waif he was expecting, however, Miranda FitzHubert is a stunning, passionate beauty who invades his sanctuary and forces him back into society. Struggling to maintain honor and self-control, Damien now faces an even greater threat: desire.
A bold, free spirit, Miranda has witnessed the darkest depths of Damien's soul-and has seen his desperate need for love. But before she can thaw his unyielding heart, she must endure a terrifying nightmare of her own. . . .
Master of Desire by Kinley MacGregor
Historical Romance -- Medieval England
Beautiful Lady Emily dreams of the rapture of love and the joys of marriage. The youngest daughter of an English lord at war, she is shaken by the arrival of a mysterious stranger to her father's castle. Could this breathtaking man be Emily's yearned-for lover? Indeed, Draven de Montague, Earl of Ravenswood, has come for Emily...but romance has nothing to do with it.
Draven would never have entered the home of his most hated adversary had not the King himself ordered him to take in his foe's daughter for a year to forge bonds of peace between their two feuding houses. Worse still, here is a lass whose exquisite loveliness could tempt Draven to betray his sworn vow never to let another close to his heart. Emily knows the searing heat of her passion could burn down the defenses of this proud warrior. But will the surrender of the sweet nectar of his lips and his bold, sensuous caress ignite a blaze so hot it consumes them both?
Minx by Julia Quinn --
I gave it 4 stars.
Historical Romance -- Regency England
IT TAKES A MINX TO TEMPT A ROGUE...
Henrietta Barrett has never followed the dictates of society. She manages her elderly guardian's remote Cornwall estate, wears breeches instead of frocks, and answers to the unlikely name of Henry. But when her guardian passes away, her beloved home falls into the hands of a distant cousin.
...AND IT TAKES A ROGUE TO TAME HER
William Dunford, London's most elusive bachelor, is stunned to learn that he's inherited property, a title... and a ward bent on making his first visit his last. Henry is determined to contigue running Stannage Park without help from the handsome new lord, but Dunford is just as sure he can change things... starting with his wild young ward. But turning Henry into a lady makes her not only the darling of the ton, but an irresistible attraction to the man who thought he could never be tempted.
The Taming of the Duke by Eloisa James --
I gave it 5 stars.
Historical Romance -- Regency England
Imogen, Lady Maitland, has decided to dance on the wild side. After all, she's in the delicious position of being able to take a lover. A discreet male who knows just when to leave in the morning.
But Lady Maitland is still under the watchful eye of her former guardian, the wildly untamed Rafe, the Duke of Holbrook. He believes she is still in need of a "watchdog." She laughs at the idea that someone so insufferably lazy and devoted to drink can demand that she behave with propriety.
It's Rafe's long-lost brother, a man who looks precisely like the duke but with none of his degenerate edge, who interests Imogen. To Imogen, he's the shadow duke . . . the man who really should hold the title. But when Imogen agrees to accompany Gabe to a masquerade...whose masked eyes watch her with that intense look of desire? Who exactly is she dancing with? The duke or the shadow duke? Rafe . . . or Gabe?
Just Imagine by Susan Elizabeth Phillips --
I gave it 3 stars.
Historical Romance -- Post-Civil War America
The War Between the States may be over for the rest of the country, but not for Kit Weston. Disguised as a boy, she's come to New York City to kill Baron Cain, the man who stands between her and Risen Glory, the South Carolina home she loves. But unknown to Kit, the Yankee war hero is more than her bitterest enemy—he's also her guardian. And he'll be a lot harder to kill than she's figured on . . .
Believing that Kit's a boy, Cain offers the grubby rapscallion a job in his stable. But he has no idea what he's in for, and it's not long before the hero of Missionary Ridge discovers the truth. His scamp of a stable boy is a strong-willed, violet-eyed beauty who's hell-bent on driving him crazy.
Two hard-headed, passionate people . . . Two stubborn opponents with tender souls . . . Sometimes wars of the heart can only be won through the sweetest of surrenders.
Dukes Are Forever by Anna Harrington -- I gave it 3.5 stars.
Historical Romance -- Regency England
ALL'S FAIR IN LOVE
Battlefields and barrooms hold much more interest for Edward Westover, Duke of Swarthmore, than a little girl's fondness for dolls and lace. When he takes possession of his enemy's estate, everything that villain held dear—including his daughter—belongs to Edward. Hire a governess, arrange a dowry, give a few reassurances, and be off on his way—that's Edward's plan. But he's in for the shock of his life. For his new ward is a beautiful, impetuous, and utterly irresistible woman...
...AND WAR
Kate Benton is stunned. Who is this arrogant, infuriating man who's invited himself into her home and taken over her life? Her vow: to do everything in her power to convince him to leave her—and Brambly House—alone. Yet as chilly days melt into sultry nights, Kate sees glimpses of kindness underneath Edward's cool façade . . . and a passionate nature that takes her breath away. There's so much she doesn't know about this man. But does she dare trust this devilish duke with her heart?
A Duke to Die For by Amelia Grey
Historical Romance -- Regency England
What is a roguish young nobleman supposed to do with a shockingly lovely young ward?The Duke of Blakewell believes he'd better marry her off as soon as possible, before he gives in to temptation himself...
But Henrietta doesn't want a husband— she wants her independence...
Sure that she carries a curse that killed her previous guardians, Henrietta just wants the duke to sign over her inheritance before something terrible befalls him...
In a moment of passion, they become scandalously entangled, and suddenly the duke must take Henrietta's curse seriously, and she must take drastic measures to save the one man she could love...
Four in Hand by Stephanie Laurens
Historical Romance -- Regency England
The Duke of Twyford is forced to give up his hedonistic lifestyle when he is sworn to protect the four Twinning sisters. But he soon finds himself fighting to guard the oldest sister, Caroline, from the biggest rogue of all -- himself!