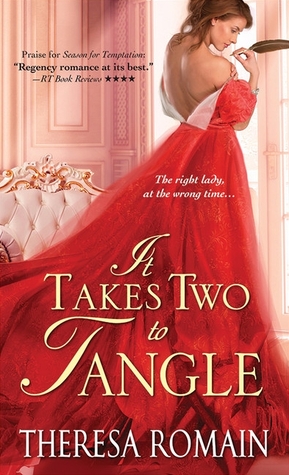 (Matchmaker Trilogy #1)

For Ages 18+ (Language, Sensuality)
Historical Romance -- Regency England

Sourcebooks Casablanca -- Published on September 3, 2013
Ebook, 354 pages
Read in December 2015
Purchased from Amazon

RATING: 4 STARS
THEMES/TROPES
Artist Hero, Lady's Companion, Returning Military, Older Heroine/Younger Hero
SUMMARY
Wooing the Wrong Woman…
Henry Middlebrook is back from fighting Napoleon, ready to re-enter London society where he left it. Wounded and battle weary, he decides that the right wife is all he needs. Selecting the most desirable lady in the ton, Henry turns to her best friend and companion to help him with his suit…

Is a Terrible Mistake…
Young and beautiful, war widow Frances Whittier is no stranger to social intrigue. She finds Henry Middlebrook courageous and manly, unlike the foppish aristocrats she is used to, and is inspired to exercise her considerable wit on his behalf. But she may be too clever for her own good, and Frances discovers that she has set in motion a complicated train of events that's only going to break her own heart…
FIRST LINE
"It was no good."
MY THOUGHTS
It Takes Two to Tangle
was a subtle and sweet romance between two characters who were clearly meant for one another. Henry has recently returned from war and is desperate to get his life back the way it was before. His main goal is to find a wife and, after meeting the beautiful Countess of Stratton, knows he has made his choice. Frances is Lady Stratton's best friend and constant companion who Henry believes is the perfect person to help his courtship. Of course, things get complicated when Henry and Frances begin to spend time with each other and realize they have a connection.
I just adored Henry! He is a military man, but has some beta-like qualities that I thought made him stand out. I also loved that he was an artist and is trying to figure out how to keep pursuing that avenue even with a permanent injury. He did have a few exasperating moments when he was connecting with Frances, but still pursuing Lady Stratton. Thankfully, the author wrote these scenes in a way that made me understand his character more rather than just get irritated with him.
Frances was decently written as well. She lost her husband during the Napoleonic Wars so is not turned off by Henry's injury or his militaristic approach to life. Her intellect serves her well as Lady Stratton's companion especially when it comes to position the various suitors in the countess's circle. She also has a bit of self-doubt which is evident by her reluctance to tell Henry the truth when he mistakenly believes that Lady Statton is sending him romantic letters rather than Frances.
There is very little external drama in this book. Lady Stratton has an overzealous suitor who causes some chaos towards the end, but the plot really focuses on Henry and Frances. The mistaken identity aspect provided some obstacles to the romance without taking away from the growing relationship. The only issue I did have with the story was that it took a long time for Henry to really see Frances as a potential wife despite their obvious connection.
I found
It Takes Two to Tangle
to be a different experience despite the many historical romances I have read over the years. Theresa Romain has a quiet, but still emotionally powerful writing style that I immediately connected with and I am looking forward to reading more. I am especially interested in reading
To Charm a Naughty Countess
which focuses on the quick-witted and independently minded Countess of Stratton.