A list of new releases that grabbed my attention for the coming month. As always, release dates are subject to change. All titles link back to Goodreads.
1st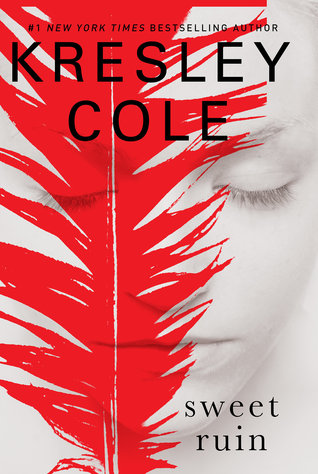 Sweet Ruin (Immortals After Dark #16) by Kresley Cole (paranormal romance)
A foundling raised in a world of humans
Growing up, orphaned Josephine didn't know who or what she was—just that she was "bad," an outcast with strange powers. Her baby brother Thaddeus was as perfect as she was flawed; protecting him became her entire life. The day he was taken away began Jo's transition from angry girl…to would-be superhero…to enchanting, ruthless villain.
A lethally sensual enforcer on a mission
A threat to the Møriør has brought archer Rune the Baneblood to the mortal realm to slay the oldest living Valkyrie. Whether by bow or in bed, he never fails to eliminate his target. Yet before he can strike, he encounters a vampiric creature whose beauty conceals a black heart. With one bite, she pierces him with aching pleasure, taking his forbidden blood—and jeopardizing the secrets of his brethren.
A boundless passion that will lead to sweet ruin…
Could this exquisite female be a spy sent by the very Valkyrie he hunts? Rune knows he must not trust Josephine, yet he's unable to turn her away. Despite his millennia of sexual conquests, he can't ignore the unfamiliar longing she arouses deep within him. When Jo betrays the identity of the one man she will die to protect, she and Rune become locked in a treacherous battle of wills that pits ultimate loyalty against unbridled lust.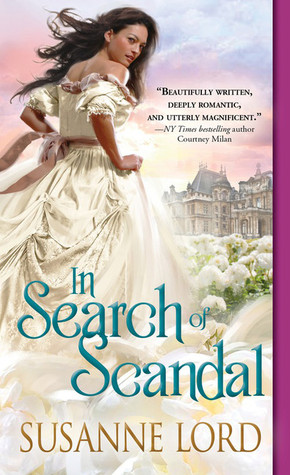 In Search of Scandal (London Explorers #1) by Susanne Lord (historical romance)
A DARING EXPLORER
All of London is abuzz with the tale of Will Repton. The lone survivor of a massacre in Tibet has returned to England a hero, but the traumatized explorer has no time for glory. Another dangerous expedition awaits. Nothing will deter him from his quest, and no one will unearth his secret—until Will meets Charlotte Baker.
IS NO MATCH FOR AN ADVENTUROUS HEART
Vivacious Charlotte Baker also has a mission—to find a man whose bold spirit matches her own. When she meets Will Repton, she immediately recognizes him as her soul mate, and she's naively willing to turn her back on the rules of propriety to ensnare him. Will is torn between his fascination with Charlotte and his vow to finish his quest. He knows what it is to risk life and limb—but what if his most perilous adventure doesn't lie across an ocean, but within his own lost heart?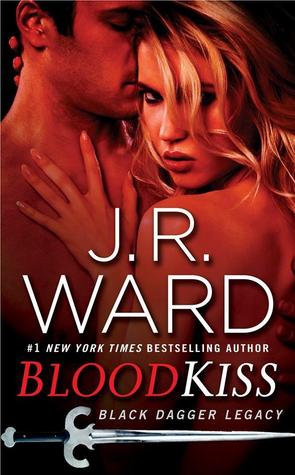 Blood Kiss (Black Dagger Legacy #1) by JR Ward (paranormal romance)
Paradise, blooded daughter of the king's First Advisor, is ready to break free from the restrictive life of an aristocratic female. Her strategy? Join the Black Dagger Brotherhood's training center program and learn to fight for herself, think for herself…be herself. It's a good plan, until everything goes wrong. The schooling is unfathomably difficult, the other recruits feel more like enemies than allies, and it's very clear that the Brother in charge, Butch O'Neal, a.k.a. the Dhestroyer, is having serious problems in his own life.
And that's before she falls in love with a fellow classmate. Craeg, a common civilian, is nothing her father would ever want for her, but everything she could ask for in a male. As an act of violence threatens to tear apart the entire program, and the erotic pull between them grows irresistible, Paradise is tested in ways she never anticipated—and left wondering whether she's strong enough to claim her own power…on the field, and off.
The Pirate's Tempting Stowaway (The Dukes of War #6) by Erica Ridley (historical romance)
Captain Blackheart leads a simple life of roving the seas, wenching and treasure-hunting. He steers clear of romantic entanglements that could tie him to land. He shouldn't have any trouble keeping his hands off the gently-bred lady he's commissioned to abduct—except his cargo turns out to be feisty and passionate! She'd be a prize worth treasuring, if having her aboard didn't jeopardize everything...

Clara Halton thought the worst loss she could suffer was to be stripped of her family, stricken with consumption, and left to die alone. Then she meets Blackheart. Their attraction is ruinous...and irresistible. When he delivers her like so much plunder, his mission is over — but hers has just begun. She'll force him to acknowledge their connection, even if she must storm his ship to do it!
A Lady's Guide to Ruin by (Birch Hall Romance #1) Kathleen Kimmel (historical romance)
A romantic debut starring a reluctant earl and the beautiful thief who has put them both in danger—and stolen his heart...

Joan Price is a wanted woman. A thief and a fugitive from the mental hospital where she was falsely committed, she's now on the run from her former partners in crime. But luck must be on her side—just when it seems all is doomed, she runs straight into the arms of Martin Hargrove, Earl of Fenbrook, who mistakes her for his distant cousin, Daphne.

Lord Fenbrook has no intention of marrying, and certainly doesn't consider his notoriously scatterbrained cousin a prospect. But her flighty persona seems to hide something far more intriguing—a secret self she trusts with no one. And Martin is determined to earn that trust…
When Martin's sister discovers Joan's charade, they strike a bargain: Joan can remain within the safe walls of Birch Hall, as long as she doesn't allow Martin to fall in love with her—for their flirtation would surely ruin them both. She's convinced she poses no threat to his heart, but she's beginning to realize that her heart may be the one in danger. Especially as he seems very set on seducing her...
One Rogue at a Time (Rakes and Rogues #2) by Jade Lee (historical romance)
As the illegitimate son of a duke, Bramwell Wesley Hallowsby grew up tough, on the fringes of society, learning to hide his hurt and cynicism with charm and Town polish. He's carved out a place for himself as a mercenary, serving as bodyguard and general strong arm for the peerage. Bram has nothing to lose… and he's exactly what Maybelle "Bluebell" Ballenger needs.
Maybelle needs a mentor to teach her to speak and act like a lady, so she can claim the place in society she was denied. As they team up to take on the ton, Bram knows she's hiding something even from him. Despite the deception he sees behind those sparkling blue eyes, Bram wants to believe that Maybelle's love is no lie. But it seems fate has served him up his just desserts in the likes of this determined damsel.
The Warrior Vampire (Last True Vampire #2) by Kate Baxter (paranormal romance)
A WOMAN SEDUCED
Naya Morales is no ordinary mortal. Born with a shaman's power, she has devoted her life to tracking down stolen magic—and punishing those who take it. But one fateful night, she follows the alluring call of a sensual magic that is too glorious to be true—and finds herself face to face with a stunningly handsome thief who is too magnificent to resist...
A VAMPIRE ENSLAVED
From the moment he sees her, Ronan knows Naya is his mate. Driven by a deep, almost mystical connection, he aches for her body, hungers for her blood, and swears their souls are anchored together. Naya refuses to believe the words of a vampire—or risk the wrath of her tribe. But when she tries to make Ronan her prisoner, neither chains of silver nor fires of hell can help her escape the truth: she is the one who's been captured...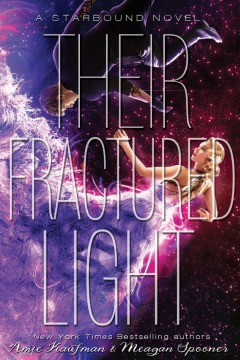 Their Fractured Light (Starbound Universe #3) by Amie Kaufman and Meghan Spooner (YA science fiction)
A year ago, Flynn Cormac and Jubilee Chase made the now infamous Avon Broadcast, calling on the galaxy to witness for their planet, and protect them from destruction. Some say Flynn's a madman, others whisper about conspiracies. Nobody knows the truth. A year before that, Tarver Merendsen and Lilac LaRoux were rescued from a terrible shipwreck—now, they live a public life in front of the cameras, and a secret life away from the world's gaze.
Now, in the center of the universe on the planet of Corinth, all four are about to collide with two new players, who will bring the fight against LaRoux Industries to a head. Gideon Marchant is an eighteen-year-old computer hacker—a whiz kid and an urban warrior. He'll climb, abseil and worm his way past the best security measures to pull off onsite hacks that others don't dare touch.
Sofia Quinn has a killer smile, and by the time you're done noticing it, she's got you offering up your wallet, your car, and anything else she desires. She holds LaRoux Industries responsible for the mysterious death of her father and is out for revenge at any cost.
When a LaRoux Industries security breach interrupts Gideon and Sofia's separate attempts to infiltrate their headquarters, they're forced to work together to escape. Each of them has their own reason for wanting to take down LaRoux Industries, and neither trusts the other. But working together might be the best chance they have to expose the secrets LRI is so desperate to hide.
3rd
Bitter Springs by Laura Stone (M/M historical)
In 1870s Texas, Renaldo Valle Santos, the youngest son of a large and traditional family, has been sent to train with Henry "Hank" Burnett, a freed slave and talented mesteñero—or horse-catcher—so he may continue the family horse trade. Bitter Springs is a sweeping epic that takes themes from traditional Mexican literature and Old Westerns to tell the story of a man coming into his own and realizing his destiny lies in the wild open spaces with the man who loves him, far from expectations of society.

8th
Lord Dashwood Missed Out (Spindle Cove #4.5) by Tessa Dare (historical romance)
A snowstorm hath no fury like a spinster scorned!
Miss Elinora Browning grew up yearning for the handsome, intelligent lord-next-door…but he left England without a word of farewell. One night, inspired by a bit too much sherry, Nora poured out her heartbreak on paper. Lord Dashwood Missed Out was a love letter to every young lady who'd been overlooked by gentlemen—and an instant bestseller. Now she's on her way to speak in Spindle Cove when snowy weather delays her coach. She's forced to wait out the storm with the worst possible companion: Lord Dashwood himself. And he finally seems to have noticed her.
George Travers, Lord Dashwood, has traveled the globe as a cartographer. He returned to England with the goal of marrying and creating an heir--only to find his reputation shredded by an audacious, vexingly attractive bluestocking and her poison pen. Lord Dashwood Missed Out, his arse. Since Nora Browning seems to believe he overlooked the passion of a lifetime, Dash challenges her to prove it. She has one night.
The Trouble with Destiny by Lauren Morrill (YA contemporary)
It's not about the destination, it's about the journey...

With her trusty baton and six insanely organized clipboards, drum major Liza Sanders is about to take Destiny by storm—the boat, that is. When Liza discovered that her beloved band was losing funding, she found Destiny, a luxury cruise ship complete with pools, midnight chocolate buffets, and a $25,000 spring break talent show prize.

Liza can't imagine senior year without the band, and nothing will distract her from achieving victory. She's therefore not interested when her old camp crush, Lenny, shows up on board, looking shockingly hipster-hot. And she's especially not interested in Russ, the probably-as-dumb-as-he-is-cute prankster jock whose ex, Demi, happens be Liza's ex–best friend and leader of the Athenas, a show choir that's the band's greatest competition.
But it's not going to be smooth sailing. After the Destiny breaks down, all of Liza's best-laid plans start to go awry. Liza likes to think of herself as an expert at almost everything, but when it comes to love, she's about to find herself lost at sea.
15th
A Seditious Affair (Society of Gentleman #2) by K.J. Charles (M/M historical)
Silas Mason has no illusions about himself. He's not lovable, or even likable. He's an overbearing idealist, a Radical bookseller and pamphleteer who lives for revolution . . . and for Wednesday nights. Every week he meets anonymously with the same man, in whom Silas has discovered the ideal meld of intellectual companionship and absolute obedience to his sexual commands. But unbeknownst to Silas, his closest friend is also his greatest enemy, with the power to see him hanged—or spare his life.
A loyal, well-born gentleman official, Dominic Frey is torn apart by his affair with Silas. By the light of day, he cannot fathom the intoxicating lust that drives him to meet with the Radical week after week. In the bedroom, everything else falls away. Their needs match, and they are united by sympathy for each other's deepest vulnerabilities. But when Silas's politics earn him a death sentence, desire clashes with duty, and Dominic finds himself doing everything he can to save the man who stole his heart.
Prejudice & Pride by Lynn Messina (contemporary romance)
You know Darcy: rich, proud, standoffish, disapproving, one of the greatest romantic heroes of all time. But you don't know this Darcy because THIS Darcy is a woman.

In PREJUDICE & PRIDE, Lynn Messina's modern retelling with a gender-bendy twist, everything is vaguely familiar and yet wholly new. Bingley is here, in the form of Charlotte "Bingley" Bingston, an heiress staying at the Netherfield hotel on Central Park, as is Longbourn, transformed from an ancestral home into a perennially cash-strapped art museum on the edge of the city. Naturally, it employs an audacious fundraiser with an amused glint in his eye called Bennet.

All the favorite characters are present and cleverly updated: Providing the cringe-worthy bon mots is Mr. Meryton, the nerve-wracked executive director of the Longbourn who's always on the lookout for heiresses to join his museum's very important committees. (Universally acknowledged truth: Any woman in possession of a good fortune must be in want of a social committee to chair.) Collin Parsons is still in obsequious, if ironic, awe of his patroness, Lady Catherine de Bourgh. The wicked Georgia Wickham toils as a graphic designer at Redcoat Design by day and schemes against Darcy by night.
17th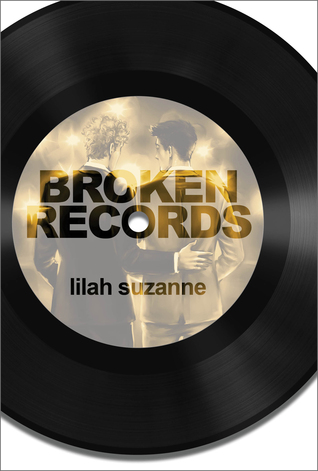 Broken Records (Spotlight #1) by Lilah Suzanne (M/M contemporary)
Los Angeles-based stylist Nico Takahashi loves his job—or at least, he used to. Feeling fed up and exhausted from the cutthroat, gossip-fueled business of Hollywood, Nico daydreams about packing it all in and leaving for good. So when Grady Dawson—sexy country music star and rumored playboy—asks Nico to style him, Nico is reluctant. But after styling a career-changing photo-shoot, Nico follows Grady to Nashville where he finds it increasingly difficult to resist Grady's charms. Can Nico make peace with show business and all its trappings, or will Grady's public persona get in the way of their private attraction to each other?


29th
The Rogue Not Taken (Scandal and Scoundrel #1) by Sarah MacLean (historical romance)
LADY SOPHIE'S SOCIETY SPLASH
The youngest of the infamous Talbot sisters scandalized society at the Liverpool Summer Soiree, striking her sister's notoriously philandering husband and landing him backside-first in a goldfish pond. And we thought Sophie was the quiet one…
When she finds herself the target of very public aristocratic scorn, Sophie Talbot does what she must to escape the city and its judgment—she flees on the back of a carriage, vowing never to return to London…or to society. But the carriage isn't saving her from ruin. It's filled with it.

ROYAL ROGUE'S REIGN OF RAVISHMENT!
The Marquess of Eversley was espied descending a rose trellis—escaping an irate Earl and his once-future countess. No lady is safe from Eversley's Engagement Ending Escapades!
Kingscote, the Marquess of Eversley, has never met a woman he couldn't charm, a quality that results in a reputation far worse than the truth, a furious summons home, and a long, boring trip to the Scottish border. When King discovers stowaway Sophie, however, the trip becomes anything but boring.
WAR? OR MORE?
He thinks she's trying to trick him into marriage. She wouldn't have him if he were the last man on earth. But carriages bring close quarters, dark secrets, and unbearable temptation, and suddenly opposites are altogether too attractive…


Dukes Prefer Blondes (Dressmakers #4) by Loretta Chase (historical romance)
Biweekly marriage proposals from men who can't see beyond her (admittedly breathtaking) looks are starting to get on Lady Clara Fairfax's nerves. Desperate to be something more than ornamental, she escapes to her favorite charity. When a child is in trouble, she turns to tall, dark, and annoying barrister Oliver Radford.
Though he's unexpectedly found himself in line to inherit a dukedom, Radford's never been part of fashionable society, and the blonde beauty, though not entirely bereft of brains, isn't part of his plans. But Clara overwhelms even his infallible logic, and when wedlock looms, all he can do is try not to lose his head over her.
It's an inconvenient marriage by ordinary standards, but these two are far from ordinary. Can the ton's most adored heiress and London's most difficult bachelor fall victim to their own unruly desires?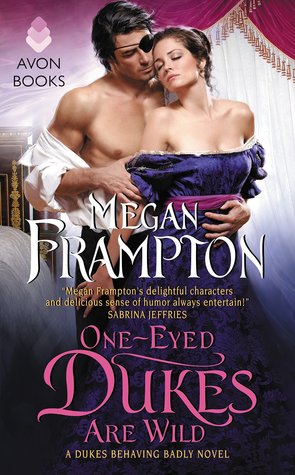 One-Eyed Dukes are Wild (Dukes Behaving Badly #3) by Megan Frampton (historical romance)
The scandalously unmarried Lady Margaret Sawford is looking for adventure—and is always up for a challenge. Her curiosity is aroused by a dangerous-looking stranger with an eye patch, an ideal companion for the life she longs for, no matter what Society might say. So when the piratical gentleman turns out to be a duke—and just as boringly proper as any other nobleman—she can't help but incite him to walk on the wild side.
Well-heeled, well-mannered, and well beyond any interest in society's expectations, the Duke of Lasham is tired of being perfect. Margaret's lush beauty and gently laughing eyes are an irresistible temptation to embrace the imperfect—and her. But if a little misbehavior is appealing, unleashing his wild side is completely seductive—as long as the lovely Margaret is the object of his passion.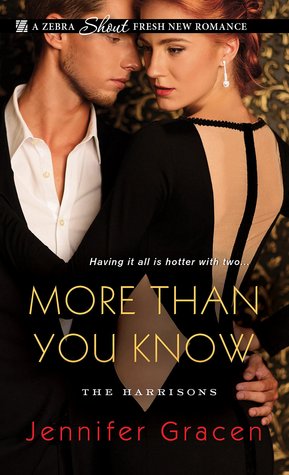 More Than You Know (The Harrisons #1) by Jennifer Gracen (contemporary romance)
Hotel owner Dane Harrison, middle brother of a wealthy Long Island family, needs a lounge singer for his new luxury property. With her stunning voice and amazing curves, Julia Shay is perfect. She also seems be the only woman in New York City who isn't falling at Dane's feet. And despite her feisty attitude and his rule against workplace affairs, he wants her—in his arms, in his bed, anywhere and everywhere.
Julia loves her new job, and she knows better than to think she can keep itand Dane. Even if he wasn't her boss, Julia's painful history has given her ample reason to steer clear of rich, powerful charmers. Still, their chemistry is unlike anything she's known, and when it becomes too much to resist, they agree to one no-strings night together. But instead of quenching the fire, the intense encounter only proves how much they have to lose—or win…
The Lie and the Lady (Winner Takes All #2) by Kate Noble (historical romance)
Clerk John Turner thought only of winning a bet when he switched places with his friend, Lord Edward Granville, at a country house party. But while posing as a lord, he fell for a lady—the Countess Letitia! Now she's learned the truth, and he must win her back as plain John Turner. He'd better hope that love truly conquers all...
Lady Letty was publicly humiliated when it came out that she had fallen for the man, not the master. When she meets him again, she's determined to avoid him, but some things are too intoxicating to be denied. Letty knows what choice she must make to survive, but if she turns her back on her dashing rogue—again—will she lose her chance at love forever?