This is part of a feature where I focus on a specific theme (or trope) that I have found in my years as a voracious reader/blogger. I love finding commonalities between my favorite books and how that helps define me as a reader.

Please note this is not meant to be a comprehensive list. I am just picking a few examples of this trope. So, if you have a favorite example of this theme, let me know about it in the comments. I'm always on the lookout for more books to be added to my wishlist.
IRELAND IN ROMANCE
Ireland is a country that has always fascinated me, but, unfortunately, it isn't represented in romance as much as Scotland and England. This is particularly true in historical romance and I kinda get it. The history of Ireland is so tragic and violent at times that it can be difficult to provide readers the fantasy they expected from romance. But, I am determined to read more romances set in this country so that is why I decided to focus on it for this week's theme.
The Wife Trap by Tracy Anne Warren --
I gave it 3 stars.
Historical Romance, 19th Century
After orchestrating a scandalous high-society ruse, Lady Jeannette Brantford is banished from her family's estate in England and sent to live with boring elderly cousins in the Irish countryside. But Jeannette's exile is surprisingly eventful. En route to her dreaded destination, she encounters Darragh O'Brien, a devilishly handsome architect who transforms Jeannette's punishment into a delicious whirlwind of wits, words, and undeniable passion.
Although no less than a duke could satisfy a lady of her status, Jeannette is unable to extinguish the burning desire she has for Darragh's smoldering looks and sizzling kisses. Little does she know, her dashing Irishman is no commoner. He's the eleventh Earl of Mulholland-and he's thoroughly enjoying the irresistible game of hard-to-get. But before he reveals his true identity, a little temptation and trickery are in order to teach his fair lady a lesson or two about love.
Countess of Scandal by Laurel McKee
Historical Romance, 18th Century
As children, Eliza Blacknall and William Denton ran wild over the fields of southern Ireland and swore they would be friends forever. Then fate took Will away to England, while Eliza stayed behind to become a proper Irish countess.

Years later, Will finally makes his way home—as an English soldier sent to crush the Irish uprising. When he spies the lovely Eliza, he is captivated by the passionate woman she has become. But Eliza's passions have led her to join the Irish rebel cause, and Will and Eliza now find themselves on opposite sides of a dangerous conflict.

When Ireland explodes in bloody rebellion, Will's regiment is ordered to the front lines, and he is forced to choose between his duty to the English king and his love for Eliza and their Irish homeland.


Her Warrior Slave by Michelle Willingham
Historical Romance, Medieval
Kieran Ó Brannon is no ordinary slave—defiant, daring and dangerous, he is untamable! Iseult MacFergus is drawn to this powerful man with the strength of a warrior and the honor of a king. She trusts him to help find her lost child….
Kieran sold himself into slavery to save his brother's life, but Iseult, with the face of an angel, gives him hope that he can again be a free man. Determined to find her child, Kieran may finally have his freedom—although now his heart is tied to Iseult's forever….
The Irish Warrior by Kris Kennedy
Historical Romance, Medieval
As his men are slaughtered around him, legendary Irish warrior Finian O'Melaghlin is held captive by the despised English Lord Rardove. Struggling to break free, Finian finds aid from an unlikely source: the beautiful Senna de Valery, who is also trying to escape Rardove's bloodthirsty grasp. Risking both their lives, Senna releases Finian from his shackles so they can both flee, but their plight has just begun...
Seeking safe refuge, Finian and Senna have only each other to depend on for survival. Neither can deny their immediate attraction, but indulging their desires will put them both in grave danger. Finian vows to protect the woman who saved his life, but he soon learns she is a pawn in a much larger battle. For Senna has an unbreakable link to a priceless treasure many centuries old. It is the stuff from which dreams are made and for which men will kill—and not even Finian may be strong enough to save her.


Lady of Conquest by Teresa Medeiros
Historical Romance, 2nd Century
She had the fierce spirit of a warrior--and the passionate heart of a woman in love.
He is called Conn of the Hundred Battles, the warrior-king who forged a nation from a land of isolated clans. As High King of Ireland, he rides with the legendary Fianna, his elite band of warriors. But a threat to the throne looms from a mysterious scourge who has vanquished several of Conn's bravest warriors. Conn rides out alone to face a seemingly invincible foe, never expecting that he will confront a grief-maddened hellcat with emerald eyes and hair like liquid flame....
Wielding a sword called Vengeance, Gelina ó Monaghan has sworn to defeat the man she holds responsible for her family's ruin. She never dreamed she'd be bested by him in combat...and lose her heart in the bargain. Their forbidden passion will become a private war fought with swords and kisses, promises and betrayal--and surrender will be only the beginning....
On Dublin Street by Samantha Young
Contemporary Romance
Jocelyn Butler has been hiding from her past for years. But all her secrets are about to be laid bare…
Four years ago, Jocelyn left her tragic past behind in the States and started over in Scotland, burying her grief, ignoring her demons, and forging ahead without attachments. Her solitary life is working well—until she moves into a new apartment on Dublin Street where she meets a man who shakes her carefully guarded world to its core.
Braden Carmichael is used to getting what he wants, and he's determined to get Jocelyn into his bed.
Knowing how skittish she is about entering a relationship, Braden proposes an arrangement that will satisfy their intense attraction without any strings attached.
But after an intrigued Jocelyn accepts, she realizes that Braden won't be satisfied with just mind-blowing passion. The stubborn Scotsman is intent on truly knowing her… down to the very soul.
Born in Fire by Nora Roberts
Contemporary Romance
Gifted, reclusive, stubborn, free-spirited...Maggie Concannon is a glassmaker whose exquisite works are more than mere objects of beauty, but reflections of her own true nature. One man saw the soul in her art, and vowed to help this complex woman build a lucrative career. When gallery owner Rogan Sweeney came to Maggie's isolated studio, her heart was enflamed by their fierce attraction - and her dark past was slowly healed by a gentle and forgiving love...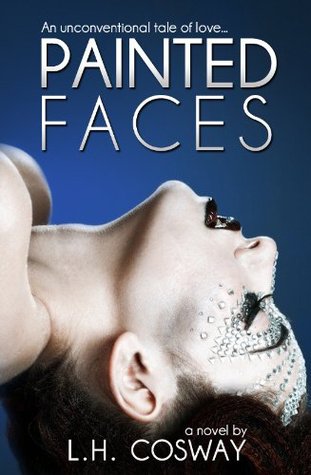 Painted Faces by L.H. Cosway --
I gave it 4 stars.
Contemporary Romance
Come forth with an open mind, for an unconventional tale of love...
Dublin native Freda Wilson considers herself to be an acquired taste. She has a habit of making offensive jokes and speaking her mind too often. She doesn't have the best track record with first impressions, which is why she gets a surprise when her new neighbour Nicholas takes a shine to her.
Nicholas is darkly handsome, funny and magnetic, and Freda feels like her black and white existence is plunged into a rainbow of colour when she's around him. When he walks into a room he lights it up, with his quick wit and charisma. He is a travelling cabaret performer, but Freda doesn't know exactly what that entails until the curtains pull back on his opening night.
She is gob-smacked and entirely intrigued to see him take to the stage in drag. Later on, Nicholas asks her if she would like to become his show assistant. Excited by the idea, she jumps at the chance. Soon she finds herself immersed in a world of wigs, make-up and high heels, surrounded by pretty men and the temptation of falling for her incredibly beautiful employer.
In this story of passion and sexual discovery, Nicholas and Freda will contend with jealousy, emotional highs and lows, and the kind of love that only comes around once in a lifetime.
Darkfever by Karen Marie Moning --
I gave it 4 stars.
Urban Fantasy
"My name is MacKayla, Mac for short. I'm a sidhe-seer, one who sees the Fae, a fact I accepted only recently and very reluctantly. My philosophy is pretty simple - any day nobody's trying to kill me is a good day in my book. I haven't had many good days lately. Not since the walls between Man and Fae came down. But then, there's not a sidhe-seer alive who's had a good day since then."
When MacKayla's sister was murdered, she left a single clue to her death, a cryptic message on Mac's cel phone. Journeying to Ireland in search of answers, Mac is soon faced with an even greater challenge: staying alive long enough to master a power she had no idea she possessed - a gift that allows her to see beyond the world of man, into the dangerous realm of the Fae.
As Mac delves deeper into the mystery of her sister's death, her every move is shadowed by the dark, mysteriou Jericho...while at the same time, the ruthless V'lane - an alpha Fae who makes sex an addiction for human women - closes in on her. As the boundary between worlds begins to crumble, Mac's true mission becomes clear: to find the elusive Sinsar Dubh before someone else claims the all-powerful Dark Book - because whoever gets to it first holds nothing less than complete control both worlds in their hands.