This is part of a feature where I focus on a specific theme (or trope) that I have found in my years as a voracious reader/blogger. I love finding commonalities between my favorite books and how that helps define me as a reader.

Please note this is not meant to be a comprehensive list. I am just picking a few examples of this trope. So, if you have a favorite example of this theme, let me know about it in the comments. I'm always on the lookout for more books to be added to my wishlist.
FOOD PROFESSIONALS IN ROMANCE
I am not a very good cook or baker, but I am obsessed with watching them on TV. So I decided to hunt down the chefs, bakers, chocolatiers, etc. that can be found in romance novels. All of these people work with food as their job. No amateur bakers or chefs in this list.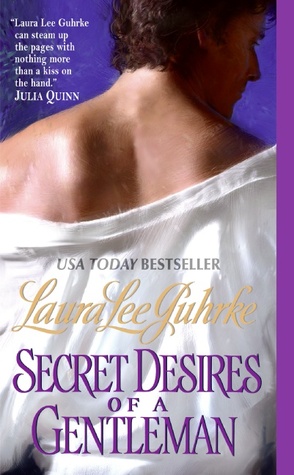 Secret Desires of a Gentleman by Laura Lee Guhrke --
Heroine is opening a patisserie.
Historical Romance -- Victorian England
Maria Martingale was going to elope. But Phillip Hawthorne, Marquess of Kayne, put a stop to those plans when he learned his younger brother intended to marry a cook's daughter. Now, twelve years later, Maria discovers that the man who holds her fate in his hands is none other than the haughty gentleman who sent her packing—and he's as handsome and arrogant as ever.
Always the proper gentleman, Phillip will do anything to protect his family from scandal, and when Maria dares to move in right next door, he knows scandal will surely follow. She is as tempting as he remembered . . . and the more he sees her, the harder it is for Phillip to keep his own secret desire for her a secret.
A Taste for Scandal by Erin Knightley --
Heroine's family owns a bakery.
Historical Romance -- Regency England
One taste will bring him back for more . . .

Things have always fallen into place for Richard Moore, Earl of Raleigh. His good looks, abundance of charm, and the small matter of being heir to a marquisate make him quite the catch. So when a delectable young woman wants nothing to do with him, he can't help but seize the irresistible challenge.

Jane Bunting knows all about responsibility—she has managed to support herself and her brother with their bakery—but she knows nothing of excitement or passion. When dashing Lord Raleigh crosses the threshold of her shop, she has no idea of the potential danger to her reputation . . . or to her heart.

Neither imagined things would go so far—until the night their worlds collide, irrevocably changing both their lives. But when duty calls for Richard, and with everything Jane has worked for suddenly at stake, will their taste for scandal be their downfall?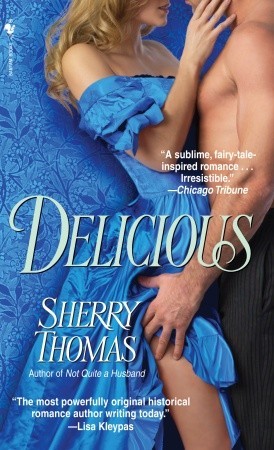 Delicious by Sherry Thomas --
Heroine is a famous chef.
Historical Romance -- Victorian England
Famous in Paris, infamous in London, Verity Durant is as well-known for her mouthwatering cuisine as for her scandalous love life. But that's the least of the surprises awaiting her new employer when he arrives at the estate of Fairleigh Park following the unexpected death of his brother.
To rising political star Stuart Somerset, Verity Durant is just a name and food is just food, until her first dish touches his lips. Only one other time had he felt such pure arousal–a dangerous night of passion with a stranger, who disappeared at dawn. Ten years is a long time to wait for the main course, but when Verity Durant arrives at his table, there's only one thing that will satisfy Stuart's appetite for more. But is his hunger for lust, revenge–or that rarest of delicacies, love? For Verity's past has a secret that could devour them both even as they reach for the most delicious fruit of all.…
Never Resist Temptation by Miranda Neville --
Heroine is disguised as a royal chef.
Historical Romance -- Regency England
Beautiful, spirited Jacobin de Chastelux would have been the perfect prize for any man . . . but she never imagined one would win her at a game of cards! When she learns that her dissolute, dastardly uncle and guardian had wagered her virtue—and lost—she flees. A cunning disguise and her culinary talents land her in the royal kitchen as a chef. All is well until her uncle is poisoned by one of her desserts. Jacobin must escape again . . . to the home of the very man who won her in that infamous game!
Lord Storrington knows nothing of Jacobin's true identity. All he knows is that things are heating up—and the sparks aren't coming from the stove. A delicious ecstasy tempts the scoundrel and the chef . . . one that can only end with sweet, sweet surrender.
The Chocolate Thief by Laura Florand --
Hero is a chocolatier.
Contemporary Romance
Paris
Breathtakingly beautiful, the City of Light seduces the senses, its cobbled streets thrumming with possibility. For American Cade Corey, it's a dream come true, if only she can get one infuriating French chocolatier to sign on the dotted line...
Chocolate
Melting, yielding yet firm, exotic, its secrets are intimately known to Sylvain Marquis. But turn them over to a brash American waving a fistful of dollars? Jamais Not unless there's something much more delectable on the table...
Stolen Pleasure
Whether confections taken from a locked shop or kisses in the dark, is there anything sweeter?
The Marquess of Cake by Heather Hiestand --
Heroine's family owns a bakery.
Historical Romance -- Victorian England
Scotch trifle fit for Queen Victoria, scones with clotted cream…Alys Redcake knows the way to a man's heart. Yet she is unaware that with each morsel—and flash of ankle—she is seducing the handsome marquess frequenting her father's tea shop. Unmarried at twenty-six, Alys's first love is the family business. But thoughts of the gentleman's touch are driving her to distraction…
With his weakness for sugar, the Marquess of Hatbrook can imagine no more desirable woman than one scented with cake and spice. Mistaking Alys for a mere waitress, he has no doubt she would make a most delicious mistress. And when he finds himself in need of an heir, he plans to make her his convenient bride. Yet as they satisfy their craving for one another, business and pleasure suddenly collide. Will Hatbrook's passion for sweets—and for Alys—be his heart's undoing?
Trust Me by Jayne Ann Krentz --
Heroine is a caterer.
Contemporary Romance
Desdemona Wainwright didn't want to be in Sam Stark's office, but her catering business was at stake. Someone had to pay the bill, and she wasn't going to leave until she had a check from Sam Stark. It wasn't her fault he was jilted at the altar.
Stark can't believe he's sharing details of his life with a caterer. He's a private person, not one to have long, meaningful conversations with a complete stranger. So when Desdemona asks him, on a whim, to join her that evening for a play…he surprises himself by saying yes. A much bigger shock awaits—he's about to meet Desdemona's unusual family…
Color of Grace by A.M. Arthur --
One of the heroes is a diner cook.
M/M Romance -- Contemporary
Barrett McCall once lived like there was no tomorrow. Now the reformed party animal savors each day as a gift. His short order cook job at Dixie's Cup pays the rent, and he's content with his sober—if solitary—life.

When a fire leaves him homeless, Dixie's offer to let him move into her basement apartment puts him on a collision course with her nephew, art teacher Schuyler Rhodes. The heat between them crackles, but in Schuyler's eyes Barrett recognizes the same demons he exorcised long ago.
Dixie's kind-hearted offer couldn't come at a worse time for Schuyler. It's the anniversary of his teenage cousin Matty's drowning. Everyone believes it was an accident, but Schuyler knows the truth—and so does the culprit. For fifteen years that truth has burned a hole in his soul…and now it keeps Barrett at arm's length.
One lingering kiss melts away the barriers between them, but when the other witness to Matty's death shows up in town, Schuyler is forced into a confrontation that could cost him Barrett's love—and possibly his own life.