This is part of a feature where I focus on a specific theme (or trope) that I have found in my years as a voracious reader/blogger. I love finding commonalities between my favorite books and how that helps define me as a reader.

Please note this is not meant to be a comprehensive list. I am just picking a few examples of this trope. So, if you have a favorite example of this theme, let me know about it in the comments. I'm always on the lookout for more books to be added to my wishlist.
CABIN ROMANCE
Not all of these romances take place in a cabin, but they do include situations where the hero/heroine are forced into close proximity for an extended period of time. This can include captivity, being snowed in, being at sea, etc.
Untouched by Anna Campbell --
I gave it 4 stars.
Historical Romance -- Regency England
"I am many things," Lord Sheene said. "Kind is not one of them."
Beautiful Grace Paget has no reason not to believe these words. After all, she was kidnapped, spirited away to a remote country manor, and told she is to grant this man his every desire . . . or lose her life. But Grace is no common trollop. So she risks everything to save her virtue by planning a daring escape, even though she finds herself tempted by this handsome man. There is something in his eyes that makes her wonder if he is as dangerous as he would have her believe.
Sheene knew nothing of the plan to bring him this woman. Locked up as a prisoner, called "mad" by all of the world, he will do anything to reclaim his life, and Grace's sensuous beauty has distracted him from his goals. And although he finds her irresistible, he is horrified to hold her against her will. Now, together, they must both revolt against the strange set of circumstances that have forced them together—for only then will Grace truly surrender to him . . . forever.
Seduction of a Highland Lass by Maya Banks -- I gave it 4 stars and my review is here.
Historical Romance -- Medieval Scotland
Fiercely loyal to his elder brother, Alaric McCabe leads his clan in the fight for their birthright. Now he is prepared to wed for duty, as well. But on his way to claim the hand of Rionna McDonald, daughter of a neighboring chieftain, he is ambushed and left for dead. Miraculously, his life is saved by the soft touch of a Highland angel, a courageous beauty who will put to the test his fealty to his clan, his honor, and his deepest desires.
An outcast from her own clan, Keeley McDonald was betrayed by those she loved and trusted. When the wounded warrior falls from his horse, she is drawn to his strong, lean body. The wicked glint in his green eyes ignites a passion that will follow them back to Alaric's keep, where their forbidden love draws them deeper into the pleasures of the flesh. But as conspiracy and danger circle closer, Alaric must make an impossible choice: Will he betray his blood ties for the woman he loves?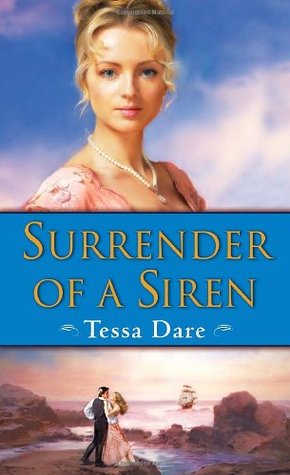 Surrender of a Siren by Tessa Dare --
I gave it 3.5 stars.
Historical Romance -- Regency England
Desperate to escape a loveless marriage and society's constraints, pampered heiress Sophia Hathaway jilts her groom, packs up her paints and sketchbook, and assumes a new identity, posing as a governess to secure passage on the Aphrodite. She wants a life of her own: unsheltered, unconventional, uninhibited. But it's one thing to sketch all her wildest, most wanton fantasies, and quite another to face the dangerously handsome libertine who would steal both her virtue and her gold.
To any well-bred lady, Benedict "Gray" Grayson is trouble in snug-fitting boots. A conscienceless scoundrel who sails the seas for pleasure and profit, Gray lives for conquest—until Sophia's perception and artistry stir his heart. Suddenly, he'll brave sharks, fire, storm, and sea just to keep her at his side. She's beautiful, refined, and ripe for seduction. Could this counterfeit governess be a rogue's redemption? Or will the runaway heiress's secrets destroy their only chance at love?
This Heart of Mine by Susan Elizabeth Phillips --
I gave it 5 stars.
Contemporary Romance
Molly Somerville knows she has a reputation for trouble. She did give away her fifteen-million-dollar inheritance, but, hey, nobody's perfect. Still, if anyone has an almost perfect life, it's Molly. While her Daphne the Bunny children's books could be selling better, she loves her cramped loft, her French poodle, and her career creating the fictional animals who live in Nightingale Woods. She even loves her sister, Phoebe.

True, it was a little tough growing up in her shadow. Phoebe is beautiful, blissfully married, and the owner of the most successful professional football team in America. But who other than your sister knows you're about to do something drastic every time you change your hair? Yes, Molly's happy about almost everything ... except her long-term crush on the daredevil quarterback for the Chicago Stars, that awful, gorgeous Kevin Tucker, a man who can't even remember her name!
One night Molly's penchant for running into trouble runs right into Kevin himself, turning her world upside down. Heartbreak follows, and just when she's certain things can't get worse, Kevin forces his way back into her life. If only the overpaid, Ferrari-driving, poodle-hating jock was as shallow as she wants him to be, she could get on with her almost perfect life. But Kevin's hidden depths and iron will propel Molly out of her comfortable existence into an unforgettable summer at a place called Wind Lake.
Surrounded by paintbox cottages and a charming old bed-and-breakfast, she and Kevin battle their attraction while trying to cope with an aging sexpot actress, a cranky world-famous artist, and a pair of teenage newlyweds.
Their careers and lives are in crisis ... yet they can't seem to stay away from each other. Before the summer is over, will they be able to learn one of life's most important lessons? Sometimes falling in love hurts, sometimes it makes you mad as hell, and sometimes if you're very lucky it can heal in the most special and unexpected way.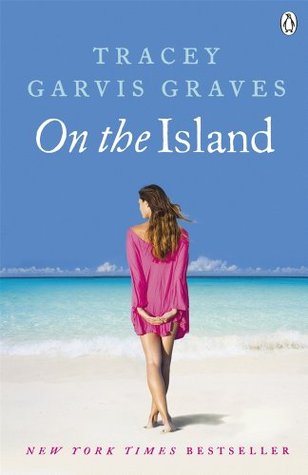 On the Island by Tracey Garvis-Graves --
I gave it 4 stars.
Contemporary Romance
When thirty-year-old English teacher Anna Emerson is offered a job tutoring T.J. Callahan at his family's summer rental in the Maldives, she accepts without hesitation; a working vacation on a tropical island trumps the library any day.
T.J. Callahan has no desire to leave town, not that anyone asked him. He's almost seventeen and if having cancer wasn't bad enough, now he has to spend his first summer in remission with his family - and a stack of overdue assignments -- instead of his friends.

Anna and T.J. are en route to join T.J.'s family in the Maldives when the pilot of their seaplane suffers a fatal heart attack and crash-lands in the Indian Ocean. Adrift in shark-infested waters, their life jackets keep them afloat until they make it to the shore of an uninhabited island. Now Anna and T.J. just want to survive and they must work together to obtain water, food, fire, and shelter.
Their basic needs might be met but as the days turn to weeks, and then months, the castaways encounter plenty of other obstacles, including violent tropical storms, the many dangers lurking in the sea, and the possibility that T.J.'s cancer could return. As T.J. celebrates yet another birthday on the island, Anna begins to wonder if the biggest challenge of all might be living with a boy who is gradually becoming a man.
Contemporary Romance
"If Singletree's only florist didn't deliver her posies half-drunk, I might still be married to that floor-licking, scum-sucking, receptionist-nailing hack-accountant, Mike Terwilliger."
Lacey Terwilliger's shock and humiliation over her husband's philandering prompt her to add some bonus material to Mike's company newsletter: stunning Technicolor descriptions of the special brand of "administrative support" his receptionist gives him. The detailed mass e-mail to Mike's family, friends, and clients blows up in her face, and before one can say "instant urban legend," Lacey has become the pariah of her small Kentucky town, a media punch line, and the defendant in Mike's defamation lawsuit.
Her seemingly perfect life up in flames, Lacey retreats to her family's lakeside cabin, only to encounter an aggravating neighbor named Monroe. A hunky crime novelist with a low tolerance for drama, Monroe is not thrilled about a newly divorced woman moving in next door. But with time, beer, and a screen door to the nose, a cautious friendship develops into something infinitely more satisfying.

Lacey has to make a decision about her long-term living arrangements, though. Should she take a job writing caustic divorce newsletters for paying clients, or move on with her own life, pursuing more literary aspirations? Can she find happiness with a man who tells her what he thinks and not what she wants to hear? And will she ever be able to resist saying one . . . last . . . thing?
Demon from the Dark by Kresley Cole --
I gave it 5 stars.
Paranormal Romance
A DANGEROUS DEMON SHE CAN'T RESIST . . .
Malkom Slaine: tormented by his sordid past and racked by vampiric hungers, he's pushed to the brink by the green-eyed beauty under his guard.
A MADDENING WITCH HE ACHES TO CLAIM . . .
Carrow Graie: hiding her own sorrows, she lives only for the next party or prank. Until she meets a tortured warrior worth saving.
TRAPPED TOGETHER IN A SAVAGE PRISON . . .
In order for Malkom and Carrow to survive, he must unleash both the demon and vampire inside him. When Malkom becomes the nightmare his own people feared, will he lose the woman he craves body and soul?
Rogue Rider by Larissa Ione -- I gave it 5 stars and my review is here.
Paranormal Romance
Jillian Cardiff came to this remote mountain town to forget the demon attack that almost killed her. Instead, she rescues-and falls for-a gorgeous stranger who has no memory of anything other than his name. Handsome, charming, and protective, Reseph seems like the kind of man whom Jillian can trust. But with hints of a troubling history of his own, he's also the kind of man who can be very dangerous . . .

Reseph may not know why he mysteriously appeared in Jillian's life, but he knows he wants to stay. Yet when Jillian's neighbors are killed, and demon hunters arrive on the scene, Reseph fears that he's putting Jillian in danger. And once it's revealed that Reseph is also Pestilence, the Horseman responsible for ravaging the world, he and Jillian must face the greatest challenge of all: Can they forget the horrors of a chilling past to save the future they both desire?
Dance with the Devil by Sherrilyn Kenyon --
I gave it 5 stars.
Paranormal Romance
Dark-Hunter: A soulless guardian who stands between mankind and those who would see mankind destroyed. Yeah, right. The only part of that Code of Honor I got was eternity and solitude.

Insanity: A condition many say I suffer from after being alone for so long. But I don't suffer from my insanity-I enjoy every minute of it.

Trust: I can't trust anyone...not even myself. The only thing I trust in is my ability to do the wrong thing in any situation and to hurt anyone who gets in my way.
Truth: I endured a lifetime as a Roman slave, and 900 years as an exiled Dark-Hunter. Now I'm tired of enduring. I want the truth about what happened the night I was exiled-I have nothing to lose and everything to gain.
Astrid (Greek, meaning star): An exceptional woman who can see straight to the truth. Brave and strong, she is a point of light in the darkness. She touches me and I tremble. She smiles and my cold heart shatters.
Zarek: They say even the most damned man can be forgiven. I never believed that until the night Astrid opened her door to me and made this feral beast want to be human again. Made me want to love and be loved. But how can an ex-slave whose soul is owned by a Greek goddess ever dream of touching, let alone holding, a fiery star?