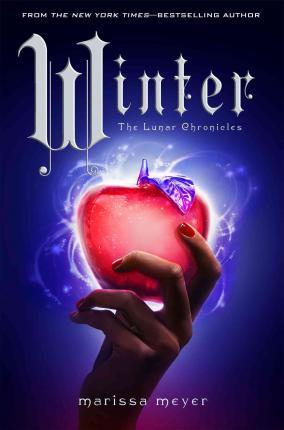 (Lunar Chronicles #4)

For Ages 14+ (Language, Violence)
Young Adult -- Science Fiction

Feiwel and Friends -- Published on November 10, 2015
Hardcover, 827 pages
Read in November 2015
Purchased from Amazon

RATING: 5 STARS
THEMES/TROPES
Fairy Tale Retelling, Childhood Friends
SUMMARY
Princess Winter is admired by the Lunar people for her grace and kindness, and despite the scars that mar her face, her beauty is said to be even more breathtaking than that of her stepmother, Queen Levana.

Winter despises her stepmother, and knows Levana won't approve of her feelings for her childhood friend—the handsome palace guard, Jacin. But Winter isn't as weak as Levana believes her to be and she's been undermining her stepmother's wishes for years. Together with the cyborg mechanic, Cinder, and her allies, Winter might even have the power to launch a revolution and win a war that's been raging for far too long.

Can Cinder, Scarlet, Cress, and Winter defeat Levana and find their happily ever afters?
FIRST LINE
"Winter's toes had become ice cubes."
MY THOUGHTS
Holy smokes! It takes an amazing book to make me squee in a review nowadays and that is definitely what Marissa Meyer gave me in this conclusion to the already fabulous Lunar Chronicles series. It did everything I wanted it to do and is making me want to re-read the entire series again.
Winter is the stepdaughter of Queen Levana and is considered to be one of the most beautiful women on Luna. She is also being driven insane due to the fact that she refuses to use her glamour powers. The only time she feels and acts "normal" is when she is around Jacin Clay, her childhood friend and personal guard. When Levana decides that Winter is too popular with the Lunar population, she tries to have her eliminated. This forces the princess to escape the city and dive into the revolution that Cinder and the gang are attempting to start.
I will admit that I was worried when I first started this book because I wasn't sure how everything would end up and whether Meyer would be able to balance all the characters that she had introduced. Thankfully, my fears were never realized and I was able to become completely engrossed in this book though it took awhile to read due to the page length. The plot was able to move forward while helping the main characters develop in a realistic fashion. There was a nice balance between action, political intrigue, and, of course, romance as well.
I can't really say much more about the book in order to avoid spoiling it for future readers, but I do want to give shout-outs to some key moments. My favorite couple is definitely Cress and Thorne so I enjoyed the scene between them in the Lunar palace. It made me so happy that I think I re-read a few times before moving on. I also enjoyed getting to see Cinder and Kai figure out how to use one another's strengths in order to achieve their mission, I was especially impressed with the way that Kai reacted to all the events around him and how brave he was at certain points.
Wolf and Scarlet's story was the most angst-filled (I felt) and I was really scared about how that would end. Jacin and Winter's romance was the least developed due to this being the final book, but I still felt like it was handled appropriately. I love a reformed villain and Jacin definitely made up for his earlier actions in the books. And, of course, I can't do a review for this series without gushing all over Iko whose journey was just as harrowing as the others, but she managed it with a positive attitude and some hilarious one-liners.
I highly recommend this series to anyone looking for an epic tale with unique female characters and plenty of action. The suspense involved in reading these books was unimaginable and the author really excelled at keeping me on the edge of my seat at times. As a conclusion, I thought
Winter
did an amazing job at bringing everyone together and figuring out a resolution to their problem. It was addicting, emotional, and just a wonderful reading experience.
"Right now, a kiss is the going rate for near-death experiences. It's kind of a point system."
BOOKS IN THE SERIES