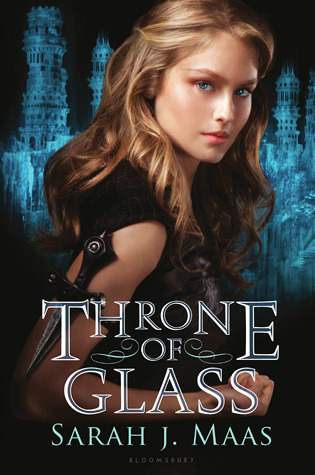 (Throne of Glass #1)

For Ages 14+ (Language, Violence)
Young Adult -- Fantasy

Bloomsbury USA -- Published on August 17, 2012
Hardcover, 404 pages
Read in November 2015
Purchased from Barnes & Noble

RATING: 3.5 STARS
THEMES/TROPES
Alternate Universe, Kick-Ass Heroine, Love Triangle
SUMMARY
After serving out a year of hard labor in the salt mines of Endovier for her crimes, 18-year-old assassin Celaena Sardothien is dragged before the Crown Prince. Prince Dorian offers her her freedom on one condition: she must act as his champion in a competition to find a new royal assassin.

Her opponents are men-thieves and assassins and warriors from across the empire, each sponsored by a member of the king's council. If she beats her opponents in a series of eliminations, she'll serve the kingdom for four years and then be granted her freedom. Celaena finds her training sessions with the captain of the guard, Westfall, challenging and exhilirating. But she's bored stiff by court life. Things get a little more interesting when the prince starts to show interest in her... but it's the gruff Captain Westfall who seems to understand her best.

Then one of the other contestants turns up dead... quickly followed by another. Can Celaena figure out who the killer is before she becomes a victim? As the young assassin investigates, her search leads her to discover a greater destiny than she could possibly have imagined.
FIRST LINE
"After a year of slavery in the Salt Mines of Endovier, Celaena Sardothien was accustomed to being escorted everywhere in shackles and at sword-point."


MY THOUGHTS
Read for the 2015 TBR Challenge--November--It's All About The Hype. The challenge is hosted by Wendy the Super Librarian.

Why I Chose it for my TBR Challenge Read: I bought this book shortly after its release due to all the fabulous publicity I saw about it. The heroine being a famous assassin was an intriguing concept to me. Then I got gun shy about reading it since I was afraid that it wouldn't live up to my expectations. And, over the years, I have continued to see hype surrounding the series so I decided to finally pull it out for this month's theme.
Throne of Glass
begins with the heroine, Celaena, being taken from the salt mines where she has been imprisoned for over a year. She is given an opportunity to earn her freedom by representing the Crown Prince in a competition to find the king's champion aka personal assassin. The first half of the book involves Celaena's journey to the capital and the second part focuses on the competition itself.
Celaena's character was interesting and I liked how the author slowly revealed how deadly she really could be. I know some people might have issues with the early portrayal of her which is on the vulnerable side, but I think that is on purpose so that readers underestimate her abilities like the rest of the characters. I also enjoyed meeting the various people at the capital. My personal favorites were the captain of the guard, Chaol, and the visiting princess with a mysterious mission, Nehemia.
There is some romance hinted at throughout the book and it wasn't really my favorite part, surprisingly. A love triangle is definitely looming on the horizon and I don't have much patience for that particular trope. But, I do like both guys in the triangle so it wasn't a big issue in this book. Depending on how it is handled in later books, I can see it as being a deterrent for me as happens in other series.
I think the main reason that I am not rating this as high as I would have hoped is the way that the action is handled. I was expecting (due to the premise) for there to be much more. The first half of the book really dragged for me as things were explained and characters were put into place. I caught myself wanting to put it down for other books a couple times which is never a good sign. The latter parts were able to draw me in, but I still felt like there was more talking rather than action even during the competition scenes.
While
Throne of Glass
did not really merit (IMO) the hype that I have seen, I don't regret reading it and can see myself giving the next book in the series a try. If you enjoy politically charged YA fantasy with a pretty obvious love triangle, you might like this more than I did. The characters were interesting and I am intrigued by what is going to happen to them next.
"Libraries were full of ideas–perhaps the most dangerous and powerful of all weapons."
BOOKS IN THE SERIES
0.5. Assassin's Blade