This is part of a feature where I focus on a specific theme (or trope) that I have found in my years as a voracious reader/blogger. I love finding commonalities between my favorite books and how that helps define me as a reader.

Please note this is not meant to be a comprehensive list. I am just picking a few examples of this trope. So, if you have a favorite example of this theme, let me know about it in the comments. I'm always on the lookout for more books to be added to my wishlist.
RECLUSIVE HEROINES
Due to the popularity of the Beauty and the Beast trope, reclusive heroes are a common theme in romance. This week's list is focusing on the rare
heroine
who has become a recluse whether voluntarily or by force. What fascinates me the most about these types of stories is the variety of reasons why the heroines are hidden away or in exile and how they come to meet their heroes.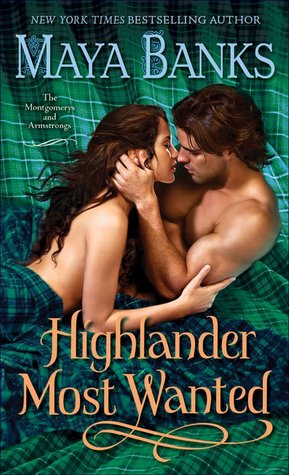 Highlander Most Wanted by Maya Banks (historical romance)
Genevieve McInnes is locked behind the fortified walls of McHugh Keep, captive of a cruel laird who takes great pleasure in ruining her for any other man. Yet when Bowen Montgomery storms the gates on a mission of clan warfare, Genevieve finds that her spirit is bent but not broken. Still, her path toward freedom remains uncertain. Unable to bear the shame of returning to a family that believes her dead or to abandon others at the keep to an imposing new laird, Genevieve opts for the peaceful life of an abbess. But Bowen's rugged sensuality stirs something deep inside her that longs to be awakened by his patient, gentle caress—something warm, wicked, and tempting.
Bowen seizes his enemy's keep, unprepared for the brooding and reclusive woman who captures his heart. He's enchanted by her fierce determination, her unusual beauty, and her quiet, unfailing strength. But wooing her will take more than a seasoned seducer's skill. For loving Genevieve, he discovers, means giving her back the freedom that was stolen from her—even if it means losing her forever.
My False Heart by Liz Carlyle (historical romance)
When Elliot Armstrong, the dissolute marquis of Rannoch, pursues a spiteful mistress into the wilds of Essex to sever their relationship, he is surprised to find himself hopelessly lost -- in more ways than one. Inexplicably drawn to a warmly fit house along an isolated country lane, he is mistaken for an overdue guest -- but he dares not reveal his identity for fear of being tossed back out into the torrential rain, a fate he admittedly deserves. The loving family that innocently welcomes Rannoch into their midst soon challenges his cynical convictions, and ultimately, resurrects his shattered dreams.
Drawn by desire, Elliot and Evangeline discover a powerful love neither thought possible. But malevolent forces surround them, and soon their secrets will be exposed and their hearts tested to unthinkable limits. Only if they can forgive the past will they have a future....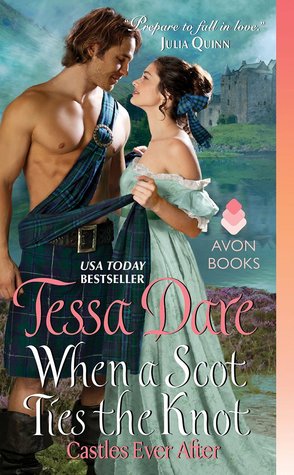 When a Scot Ties the Knot by Tessa Dare (historical romance)
On the cusp of her first London season, Miss Madeline Gracechurch was shyly pretty and talented with a drawing pencil, but hopelessly awkward with gentlemen. She was certain to be a dismal failure on the London marriage mart. So Maddie did what generations of shy, awkward young ladies have done: she invented a sweetheart.
A Scottish sweetheart. One who was handsome and honorable and devoted to her, but conveniently never around. Maddie poured her heart into writing the imaginary Captain MacKenzie letter after letter … and by pretending to be devastated when he was (not really) killed in battle, she managed to avoid the pressures of London society entirely.
Until years later, when this kilted Highland lover of her imaginings shows up in the flesh. The real Captain Logan MacKenzie arrives on her doorstep—handsome as anything, but not entirely honorable. He's wounded, jaded, in possession of her letters… and ready to make good on every promise Maddie never expected to keep.
Again the Magic by Lisa Kleypas (historical romance)
Lady Aline Marsden was brought up for one reason: to make an advantageous marriage to a member of her own class. Instead, she willingly gave her innocence to John McKenna, a servant on her father's estate. Their passionate transgression was unforgivable—John was sent away, and Aline was left to live in the countryside…an exile from London society.
Now McKenna has made his fortune, and he has returned—more boldly handsome and more mesmerizing than before. His ruthless plan is to take revenge on the woman who shattered his dreams of love. But the magic between them burns as bright as ever. And now he must decide whether to let vengeance take its toll…or risk everything for his first, and only, love.
The Lass Wore Black by Karen Ranney (historical romance)
Catriona Cameron was once famed for her seductive beauty and charm. Now she saw no one, hiding from the world...and no one dared break through her self-imposed exile.
No one, that is, until Mark Thorburn burst into her home, and Catriona's darkened world began to have color again. Thorburn, secretly the heir to an Earldom, claimed he was a footman. But Catriona didn't care about the scandal their passion could cause...for this very touch sparked her back to a life of sensuality, one she thought she'd never have again.
Little does she know that Mark is part of a masquerade. One that will end when they become the target of a madman set on revenge. Mark realizes he will have to do more than win her love...he will have to save her life as well.
Highlander Undone by Connie Brockway (historical romance)
While recovering at his uncle's estate from wounds sustained in the Sudan, Jack Cameron—a loyal Scottish captain in the British army—is haunted by the words of a dying officer: one of Her Majesty's Black Dragoons is aiding the slavers they were sent to suppress. But how will he find the traitor without sending the culprit to ground? He finds a way while listening to the voices beneath his open window—particularly those of Addie Hoodless, a beautiful widow, and her brother, Ted, a famed artist commissioned to paint portraits of the Black Dragoons' senior officers.
Posing as an artist, Jack decides to infiltrate the close circle of friends at Ted's studio to listen in on the unguarded conversations of the officers. But first, he must win Addie's trust despite the emotional wounds of her past. Will Jack dupe the only woman he has ever loved or stand down from hunting the traitor? If his real identity is exposed, Addie's life will be in terrible danger.


Morning Glory by Lavyrle Spencer (historical romance)
In town, they called her "Crazy Widow Dinsmore." But Elly was no stranger to their ridicule--she had been an outsider all her life, growing up in a boarded-up old house under the strict eye of her eccentric grandparents. Now she was all alone, with two little boys to raise, and a third child on the way.
He drifted into Whitney, Georgia, one lazy afternoon in the summer of 1941, hoping to put his lonely past behind him. He yearned for the tenderness he had never known, the home he'd never had. All he needed was for someone to give him a chance.
Then he saw her classified ad: WANTED--A husband. When he stepped across Elly Dinsmore's cluttered yard, Will Parker knew he had come home at last ...
Rebel by Zoe Archer (historical/paranormal romance)
On the Canadian frontier in 1875, nature is a harsh mistress. But the supernatural can really do you in...

A Lone Wolf, Nathan Lesperance, is used to being different. He's the first Native attorney in Vancouver, and welcome neither with white society nor his sometime tribe. Not to mention the powerful wildness he's always felt inside him, too dangerous to set free.

Then he met Astrid Bramfield and saw his like within her piercing eyes. Now, unless she helps him through the harsh terrain and the harsher unknowns of his true abilities, it could very well get him killed...
And The Woman Who Left The Pack, Astrid, has traveled this path before. Once she was a Blade of the Rose, protecting the world's magic from unscrupulous men, with her husband by her side. But she's loved and lost, and as a world-class frontierswoman, she knows all about survival. Nathan's searing gaze and long, lean muscles mean nothing but trouble. Yet something has ignited a forgotten flame inside her: a burning need for adventure, for life--and perhaps even for love...
The Bollywood Bride by Sonali Dev (contemporary romance)
Ria Parkar is Bollywood's favorite Ice Princess--beautiful, poised, and scandal-proof--until one impulsive act threatens to expose her destructive past. Traveling home to Chicago for her cousin's wedding offers a chance to diffuse the coming media storm and find solace in family, food, and outsized celebrations that are like one of her vibrant movies come to life. But it also means confronting Vikram Jathar.

Ria and Vikram spent childhood summers together, a world away from Ria's exclusive boarding school in Mumbai. Their friendship grew seamlessly into love--until Ria made a shattering decision. As far as Vikram is concerned, Ria sold her soul for stardom and it's taken him years to rebuild his life. But beneath his pent-up anger, their bond remains unchanged. And now, among those who know her best, Ria may find the courage to face the secrets she's been guarding for everyone else's benefit--and a chance to stop acting and start living.
Deep Desires by Charlotte Stein (contemporary romance)
Abbie Gough has done her best to escape a violent past. But in the process, she's avoided life, desire and love. So when she sees her equally closed off neighbour, Ivan, performing for her one night through his window, she can't stop looking.

Voyeuristic pleasures become Abbie's lifeline. But as she comes alive and craves more, Ivan backs away. He has his own secrets , the kind that draw her into kinky games and her own shameful desires, while also preventing real intimacy between them. But now she's found someone so special, she's not about to give up easily. And she's willing to do whatever it takes to melt Ivan's cool exterior. Even if captivating him means pushing through her limits to whatever lies beyond.