This is part of a feature where I focus on a specific theme (or trope) that I have found in my years as a voracious reader/blogger. I love finding commonalities between my favorite books and how that helps define me as a reader.

Please note this is not meant to be a comprehensive list. I am just picking a few examples of this trope. So, if you have a favorite example of this theme, let me know about it in the comments. I'm always on the lookout for more books to be added to my wishlist.
ENEMIES TO LOVERS
This is one of my favorite themes! I love banter and that usually happens when there is a couple that doesn't really care for one another at first. When done right, the transition from enemies to lovers is tons of fun and fascinating to watch.
Untamed by Elizabeth Lowell -- I gave it 4.5 stars.
Historical Romance -- Medieval Scotland
A hero of the crusades, Dominic le Sabre has returned in glory and in triumph to claim his reward: the beautiful Saxon bride awarded to him by the conqueror king. But Lady Margaret of the Blackthorne cannot yield to the bold Norman invader. The beloved daughter of a sacred tribe of the Celtic mystics, she fears an ancient curse that could bring further turmoil to her battle-scarred land...and sorrow to her marriage bed.
With a word, the lady could turn her wedding into war. But there awaits in the noble knight's embrace a promise of passion unbound - and a love that neither violence nor treachery can tear asunder, a love both invincible and...untamed.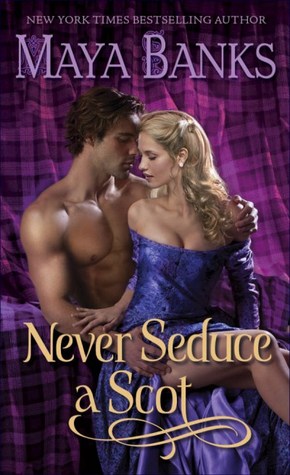 Never Seduce a Scot by Maya Banks -- I gave it 4 stars.
Historical Romance -- Medieval Scotland
Eveline Armstrong is fiercely loved and protected by her powerful clan, but outsiders consider her "touched." Beautiful, fey, with a level, intent gaze, she doesn't speak. No one, not even her family, knows that she cannot hear. Content with her life of seclusion, Eveline has taught herself to read lips and allows the outside world to view her as daft. But when an arranged marriage into a rival clan makes Graeme Montgomery her husband, Eveline accepts her duty—unprepared for the delights to come. Graeme is a rugged warrior with a voice so deep and powerful that his new bride can hear it, and hands and kisses so tender and skilled that he stirs her deepest passions.
Graeme is intrigued by the mysterious Eveline, whose silent lips are ripe with temptation and whose bright, intelligent eyes can see into his soul. As intimacy deepens, he learns her secret. But when clan rivalries and dark deeds threaten the wife he has only begun to cherish, the Scottish warrior will move heaven and earth to save the woman who has awakened his heart to the beautiful song of a rare and magical love.
The Viscount Who Loved Me by Julia Quinn -- I gave it 5 stars.
Historical Romance -- Regency England
1814 promises to be another eventful season, but not, this author believes, for Anthony Bridgerton, London's most elusive bachelor, who has shown no indication that he plans to marry. And in truth, why should he? When it comes to playing the consummate rake, nobody does it better...—Lady Whistledown's Society Papers, April 1814
But this time, the gossip columnists have it wrong. Anthony Bridgerton hasn't just decided to marry—he's even chosen a wife! The only obstacle is his intended's older sister, Kate Sheffield—the most meddlesome woman ever to grace a London ballroom. The spirited schemer is driving Anthony mad with her determination to stop the betrothal, but when he closes his eyes at night, Kate is the woman haunting his increasingly erotic dreams...
Contrary to popular belief, Kate is quite sure that reformed rakes do notmake the best husbands—and Anthony Bridgerton is the most wicked rogue of them all. Kate is determined to protect her sister—but she fears her own heart is vulnerable. And when Anthony's lips touch hers, she's suddenly afraid she might not be able to resist the reprehensible rake herself...
My Dearest Enemy by Connie Brockway -- I gave it 5 stars.
Historical Romance -- Victorian England
"Dear Mr. Thorne, For the next five years, I will profitably manage this estate. I will deliver to you an allowance and I will prove that women are just as capable as men."
Lillian Bede is shocked when she is tapped to run the affairs of an exquisite country manor. But she accepts the challenge, taking the opportunity to put her politics into practice. There's only one snag: Lily's ward, the infuriating, incorrigible globe-trotter Avery Thorne.

"My Dear Miss Bede, Forgive me if I fail to shudder. Pray, do whatever you bloody well want, can, or must."
Avery's inheritance is on hiatus after his uncle dies—and his childhood home is in the hands of some domineering usurper. But when he finally returns, Avery finds that his antagonist is not at all what he expected. In fact, Lily Bede is stunning, exotic, provocative—and impossible to resist.
It Happened One Autumn by Lisa Kleypas -- I gave it 4.25 stars.
Historical Romance -- Victorian England
It happened at the ball...
Where beautiful but bold Lillian Bowman quickly learned that her independent American ways weren't entirely "the thing." And the most disapproving of all was insufferable, snobbish, and impossible Marcus, Lord Westcliff, London's most eligible aristocrat.
It happened in the garden...
When Marcus shockingly—and dangerously—swept her into his arms. Lillian was overcome with a consuming passion for a man she didn't even like. Time stood still; it was as if no one else existed... thank goodness they weren't caught very nearly in the act!
It happened one autumn...
Marcus was a man in charge of his own emotions, a bedrock of stability. But with Lillian, every touch was exquisite torture, every kiss an enticement for more. Yet how could he consider taking a woman so blatantly unsuitable... as his bride?
Halfway to the Grave by Jeaniene Frost -- I gave it 5 stars.
Urban Fantasy
Half-vampire Catherine Crawfield is going after the undead with a vengeance, hoping that one of these deadbeats is her father - the one responsible for ruining her mother's life. Then she's captured by Bones, a vampire bounty hunter, and is forced into an unholy partnership.
In exchange for finding her father, Cat agrees to train with the sexy night stalker until her battle reflexes are as sharp as his fangs. She's amazed she doesn't end up as his dinner - are there actually good vampires? Pretty soon Bones will have her convinced that being half-dead doesn't have to be all bad. But before she can enjoy her newfound status as kick-ass demon hunter, Cat and Bones are pursued by a group of killers. Now Cat will have to choose a side . . . and Bones is turning out to be as tempting as any man with a heartbeat.
A Hunger Like No Other by Kresley Cole -- I gave it 4 stars.
Paranormal Romance
A mythic warrior who'll stop at nothing to possess her...
After enduring years of torture from the vampire horde, Lachlain MacRieve, leader of the Lykae Clan, is enraged to find the predestined mate he's waited millennia for is a vampire. Or partly one. This Emmaline is a small, ethereal half Valkyrie/half vampire, who somehow begins to soothe the fury burning within him.
A vampire captured by her wildest fantasy...
Sheltered Emmaline Troy finally sets out to uncover the truth about her deceased parents—until a powerful Lykae claims her as his mate and forces her back to his ancestral Scottish castle. There, her fear of the Lykae—and their notorious dark desires—ebbs as he begins a slow, wicked seduction to sate her own dark cravings.
An all-consuming desire...
Yet when an ancient evil from her past resurfaces, will their desire deepen into a love that can bring a proud warrior to his knees and turn a gentle beauty into the fighter she was born to be?
Pleasure Unbound by Larissa Ione -- I gave it 4.25 stars.
Paranormal Romance
In a place where ecstasy can cost you your life . . .
She's a demon-slayer who hungers for sensual pleasure-but fears it will always be denied her. Until Tayla Mancuso lands in a hospital run by demons in disguise, and the head doctor, Eidolon, makes her body burn with unslakable desire. But to prove her ultimate loyalty to her peers, she must betray the surgeon who saved her life.

Two lovers will dare to risk all.
Eidolon cannot resist this fiery, dangerous woman who fills him with both rage and passion. Not only is she his avowed enemy, but she could very well be the hunter who has been preying upon his people. Torn between his need for the truth and his quest to find his perfect mate before a horrific transformation claims him forever, Eidolon will dare the unthinkable-and let Tayla possess him, body and soul . . .
It Had To Be You by Susan Elizabeth Phillips -- I gave it 5 stars.
Contemporary Romance
The Windy City isn't quite ready for Phoebe Somerville—the outrageous, curvaceous New York knockout who has just inherited the Chicago Stars football team. And Phoebe is definitely not ready for the Stars' head coach, former gridiron legend Dan Calebow, a sexist jock taskmaster with a one-track mind. Calebow is everything Phoebe abhors. And the sexy new boss is everything Dan despises—a meddling bimbo who doesn't know a pigskin from a pitcher's mound.
So why is Dan drawn to the shameless sexpot like a heat-seeking missile? And why does the coach's good ol' boy charm leave cosmopolitan Phoebe feeling awkward, tongue-tied...and ready to fight?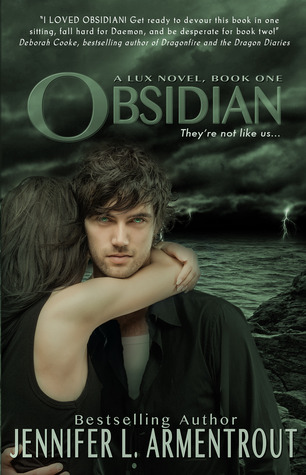 Obsidian by Jennifer L. Armentrout -- I gave it 5 stars.
YA Science Fiction
Starting over sucks.
When we moved to West Virginia right before my senior year, I'd pretty much resigned myself to thick accents, dodgy internet access, and a whole lot of boring… until I spotted my hot neighbor, with his looming height and eerie green eyes. Things were looking up.
And then he opened his mouth.
Daemon is infuriating. Arrogant. Stab-worthy. We do not get along. At all. But when a stranger attacks me and Daemon literally freezes time with a wave of his hand, well, something… unexpected happens.

The hot alien living next door marks me.
You heard me. Alien. Turns out Daemon and his sister have a galaxy of enemies wanting to steal their abilities, and Daemon's touch has me lit up like the Vegas Strip. The only way I'm getting out of this alive is by sticking close to Daemon until my alien mojo fades.
If I don't kill him first, that is.
The Ghost and the Goth by Stacey Kade -- I gave it 4 stars.
YA Paranormal
Alona Dare–Senior in high school, co-captain of the cheerleading squad, Homecoming Queen three years in a row, voted most likely to marry a movie star… and newly dead.
I'm the girl you hated in high school. Is it my fault I was born with it all-good looks, silky blond hair, a hot body, and a keen sense of what everyone else should not be wearing? But my life isn't perfect, especially since I died. Run over by a bus of band geeks—is there anything more humiliating? As it turns out, yes—watching your boyfriend and friends move on with life, only days after your funeral. And you wouldn't believe what they're saying about me now that they think I can't hear them. To top it off, I'm starting to disappear, flickering in and out of existence. I don't know where I go when I'm gone, but it's not good. Where is that freaking white light already?
Will Killian–Senior in high school, outcast, dubbed "Will Kill" by the popular crowd for the unearthly aura around him, voted most likely to rob a bank…and a ghost-talker.
I can see, hear, and touch the dead. Unfortunately, they can also see, hear and touch me. Yeah, because surviving high school isn't hard enough already. I've done my best to hide my "gift." After all, my dad, who shared my ability, killed himself because of it when I was fifteen. But lately, pretending to be normal has gotten a lot harder. A new ghost—an anonymous, seething cloud of negative energy with the capacity to throw me around—is pursuing me with a vengeance. My mom, who knows nothing about what I can do, is worrying about the increase in odd incidents, my shrink is tossing around terms like "temporary confinement for psychiatric evaluation," and my principal, who thinks I'm a disruption and a faker, is searching for every way possible to get rid of me. How many weeks until graduation?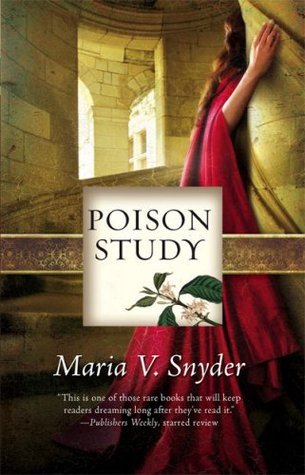 Poison Study by Maria V. Snyder -- I gave it 5 stars.
YA Fantasy
Choose: A quick death…Or slow poison...
About to be executed for murder, Yelena is offered an extraordinary reprieve. She'll eat the best meals, have rooms in the palace—and risk assassination by anyone trying to kill the Commander of Ixia.
And so Yelena chooses to become a food taster. But the chief of security, leaving nothing to chance, deliberately feeds her Butterfly's Dust—and only by appearing for her daily antidote will she delay an agonizing death from the poison.
As Yelena tries to escape her new dilemma, disasters keep mounting. Rebels plot to seize Ixia and Yelena develops magical powers she can't control. Her life is threatened again and choices must be made. But this time the outcomes aren't so clear...