This is part of a feature where I focus on a specific theme (or trope) that I have found in my years as a voracious reader/blogger. I love finding commonalities between my favorite books and how that helps define me as a reader.

Please note this is not meant to be a comprehensive list. I am just picking a few examples of this trope. So, if you have a favorite example of this theme, let me know about it in the comments. I'm always on the lookout for more books to be added to my wishlist.
DANCERS AS MAIN CHARACTERS
A Private Duel with Agent Gunn by Jillian Stone (historical romance)
Prima ballerina Catriona de Dovia lives the glamorous life of a starlet, filled with glittering jewels, sumptuous dinners, and admiring suitors. She's grown up considerably since losing her heart to Hugh Curzon once upon a time, no longer wasting her emotions on the empty promises of wealthy gentlemen. On her own since the untimely death of her parents, she will do anything for the only family she has left: her brother, a notorious anarchist.
Scotland Yard Agent Phineas Gunn—sometimes known as Hugh Curzon—receives his new assignment reluctantly. He's up for something a little more strenuous than playing nanny to a ballerina, until he sees who his charge is. Then, it's a completely different story, because he'd been unable to forget the trusting, beautiful Cate since he had to leave her behind.
As the two race across the Continent—by land, by sea, even through the air by zephyr—it becomes uncertain who is keeping tabs on whom, and Finn and Cate must battle the sexual tension that snaps and sizzles between them every step of the way.
Ways to be Wicked by Julie Anne Long (historical romance)
Dazzling!
Sylvie Lamoureux is the darling of the Paris ballet, renowned for her beauty and passionate dedication to her art. But when a mysterious letter sends her across the English Channel, she finds herself literally landing in the lap of one of London's most notorious men.
Daring!
With a face that has charmed many a London lady, theater impresario Tom Shaughnessy is used to women falling into his arms. But from the moment this feisty young Frenchwoman leaps into his carriage, he senses he's met his rival in wit, daring...and sensuality.
Destined!
When fate pulls Sylvie into the bawdy world of Tom's theater, a desire neither of them fully expects threatens to upend their well-laid plans. But the past Sylvie never knew she had will force her to make a decision. She can either let it bring down the curtain on their fiery pas de deux...or trust this wicked man with her heart.
The Sword Dancer by Jeannie Lin (historical romance)
Sword dancer Li Feng is used to living life on the edge of the law—a woman alone in the dangerous world of the Tang Dynasty has only her whirlwind reflexes to trust. She will discover the truth about her past, even if that means outwitting the most feared thief-catcher of them all...
Relentless, handsome and determined, Han sees life—and love—as black and white. Until he finally captures the spirited, courageous Li Feng, who makes him question everything he thought he knew about right and wrong. Soon he's faced with an impossible choice: betray the elusive sword dancer he is learning to love, or trust his long-disregarded heart and follow her to dangerous, tempting rebellion...
A Company of Swans by Eva Ibbotson (historical fiction)
For nineteen-year-old Harriet Morton, life in 1912 Cambridge is as dry and dull as a biscuit. Her stuffy father and her opressive aunt Louisa allow her only one outlet: ballet. When a Russian ballet master comes to class searching for dancers to fill the corps of his ballet company before their South American tour, Harriet's world changes. Defying her father's wishes and narrowly escaping the clutches of the man who wishes to marry her, Harriet sneaks off to join the ballet on their journey to the Amazon. There, in the wild, lush jungle, they perform Swan Lake in grand opera houses for the wealthy and culture-deprived rubber barons, and Harriet meets Rom Verney, the handsome and mysterious British exile who owns the most ornate opera house. Utterly enchanted by both the exotic surroundings and by Rom's affections, Harriet is swept away by her new life, completely unaware that her father and would-be fiancé have begun to track her down...
Dark Needs at Night's Edge by Kresley Cole (paranormal romance) -- I gave it 4 stars.
A RAVEN-HAIRED TEMPTRESS OF THE DARK...
Naomi Laress, a famous ballerina from a past century, became a phantom the night she was murdered. Imbued with otherworldly powers but invisible to the living, she haunts her beloved home, scaring away trespassers -- until she encounters a ruthless

A VAMPIRE WARRIOR CONSUMED BY MADNESS...
To prevent him from harming others, Conrad Wroth's brothers imprison him in an abandoned manor. But there, a female only he can see seems determined to drive him further into madness. The exquisite creature torments him with desire, leaving his body racked with lust and his soul torn as he finds himself coveting her for his own.
HOW FAR WILL HE GO TO CLAIM HER?
Yet even if Conrad can win Naomi, evil still surrounds her. Once he returns to the brutality of his past to protect her, will he succumb to the dark needs seething inside him?
How Beauty Met the Beast by Jax Garren (urban fantasy) -- I gave it 4.5 stars.
The Beast
Scarred. Damaged. Living with a terrible secret. Agent of the Underlight Wesley "Hauk" Haukon has nothing left but the fight for liberty against the oppressive Order of Ananke. He's starting to lose hope…and then he sees her.
The Beauty
Despite her night job as a burlesque dancer, grad student Jolie Benoit has always played the mostly good girl. That all changes following a scorching sexual encounter with a stranger whose face she doesn't see. After she's kidnapped by thugs and rescued by a man with a very familiar voice, Jolie becomes a pawn in a struggle she never knew existed.
Hauk knows he cannot have her, and resolves to protect his heart and his secrets. But as they work together and grow closer, he finds new reason to keep fighting. Dare he risk hope in a new life, one where Jolie can see past his ravaged face and where their friendship can grow into something more?
The Muse by Jessica Evans (NA contemporary)
Elizabeth Bennet, the newest corps de ballet dancer at Ballet Theater of New York, dreams of rising through the prestigious company's ranks to become a prima ballerina. When she's cast in superstar choreographer William Darcy's newest work, she believes she's one step closer to realizing her dream-until she meets him.
William Darcy, the former dance legend and ballet bad boy, is a jaded perfectionist whom dancers both fear and admire. Although touted as the next big thing in the ballet world, he secretly battles a bad case of artist's block-until he meets Elizabeth Bennet.
Tempers ignite between Elizabeth and Darcy, but he's irresistibly drawn to the stubborn and beautiful corps de ballet dancer. Could she be the muse he needs to reignite his passion for ballet?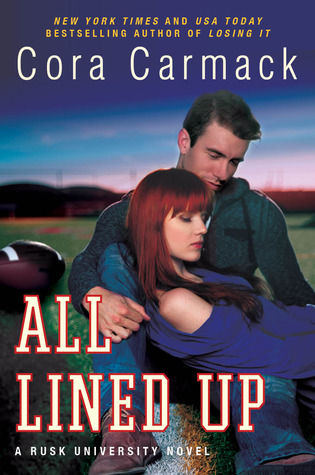 All Lined Up by Cora Cormack (NA contemporary)
In Texas, two things are cherished above all else—football and gossip. My life has always been ruled by both.
Dallas Cole loathes football. That's what happens when you spend your whole childhood coming in second to a sport. College is her time to step out of the bleachers, and put the playing field (and the players) in her past.
But life doesn't always go as planned. As if going to the same college as her football star ex wasn't bad enough, her father, a Texas high school coaching phenom, has decided to make the jump to college ball… as the new head coach at Rusk University. Dallas finds herself in the shadows of her father and football all over again.
Carson McClain is determined to go from second-string quarterback to the starting line-up. He needs the scholarship and the future that football provides. But when a beautiful redhead literally falls into his life, his focus is more than tested. It's obliterated.
Dallas doesn't know Carson is on the team. Carson doesn't know that Dallas is his new coach's daughter.
And neither of them know how to walk away from the attraction they feel.
Beyond the Seduction by M.A. Stacie (contemporary romance)
For a man who thought he had everything, Trace Jacks sure had nothing now.After one letter blows his life apart, Trace is clueless how he can move on. He stumbles through the days, never accepting the grief that flows within him, and finding it easier to bury his loss. Hiding becomes a lot easier after he takes his niece to her dance class, striking up an interesting conversation with her teacher.
Shae Bennett is happy to keep things fun, enjoying Trace's seduction and his spontaneity. With him she can forget about her concerns for her mom and stress of running the dance studio. With him she can be herself, and it is all-consuming.
When the fun beings to slip, when reality starts to encroach in the worst way, their relationship unravels at an alarming speed, leaving Trace and Shae battling for a way back to one another.
Love Waltzes In by Alana Albertson (contemporary romance)
In another life, I'd been a ballroom champion, Reality star Selena Marcil had been my partner. Our lives have gone our separate ways. Nothing left but childhood dreams and memories of first love. Until I received the offer.
A letter from our former master coach bribing me with five thousand dollars a week to appear on one season of the hit show, Dancing Under the Stars. My impulse was to reject it in a heartbeat. I have no desire for fame or fortune.

Except I made a promise once. To a dying man. My best friend. I swore to him that I'd take care of his wife and kids after he passed away on the battlefield.

Fifty thousand dollars. For humiliating myself on national television, spending time with the woman who'd betrayed me, losing my privacy, becoming the laughing stock of the Marine Corps.

One season, ten weeks, a small sacrifice to make for the man who'd saved my life.

Hand me my dance shoes. I'm in.
Grease Monkey Jive by Ainslie Paton (contemporary romance)
A romance about changing the game, finding the truth and fancy footwork. She thought love was make-believe and the last person to prove her wrong would be a player.
When ballroom teacher Alex Gibson danced with Dan Maddox she's reminded of the time she stuck a knife in the toaster, gave herself an electric shock and saw stars. He's precisely the type of man Alex's mother warned her off – a player, like the father who abandoned her.

Dan Maddox comes from a long line of men who were hiding under the hood of a beat up old car when the 'successful relationship' gene was given out, but he was first in the queue for an extra jolt of chick pulling power.

The chicks in Dan's life are universally gorgeous, random, disposable, and answer to the name Baby until one drunken night when he picks the wrong girl, hurts a good friend and realises that unless he does something to change, he'll end up like his violent, unstable father.

It's Pimp My Ride meets Dancing With The Stars as Alex and Dan come together to compete in a ballroom dancing competition that changes the way they both feel about relationships and love.
Dance with Me by Heidi Cullinan (M/M contemporary) -- I gave it 5 stars.
Sometimes life requires a partner.
Ed Maurer has bounced back, more or less, from the neck injury that permanently benched his semipro football career. He hates his soul-killing office job, but he loves volunteering at a local community center. The only fly in his ointment is the dance instructor, Laurie Parker, who can't seem to stay out of his way.
Laurie was once one of the most celebrated ballet dancers in the world, but now he volunteers at Halcyon Center to avoid his society mother's machinations. It would be a perfect escape, except for the oaf of a football player cutting him glares from across the room.
When Laurie has a ballroom dancing emergency and Ed stands in as his partner, their perceptions of each other turn upside down. Dancing leads to friendship, being friends leads to becoming lovers, but most important of all, their partnership shows them how to heal the pain of their pasts. Because with every turn across the floor, Ed and Laurie realize the only escape from their personal demons is to keep dancing—together.