This is part of a feature where I focus on a specific theme (or trope) that I have found in my years as a voracious reader/blogger. I love finding commonalities between my favorite books and how that helps define me as a reader.

Please note this is not meant to be a comprehensive list. I am just picking a few examples of this trope. So, if you have a favorite example of this theme, let me know about it in the comments. I'm always on the lookout for more books to be added to my wishlist.
CLASS DIFFERENCES
This is one of my favorite tropes! I love to see unlikely couples get together and find happiness through major obstacles. In historical romance, marrying above or below one's class is a difficult situation so it provides some internal and external drama. I would like to think that class differences wouldn't be such a big deal in modern-day society, but, of course, it still can be. I don't see the issue pop up too often in contemporaries, but I enjoy them when they do.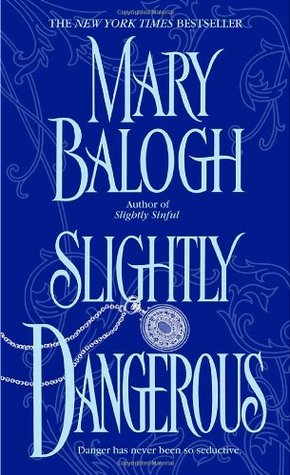 Slightly Dangerous by Mary Balogh
All of London is abuzz over the imminent arrival of Wulfric Bedwyn, the reclusive, cold-as-ice Duke of Bewcastle, at the most glittering social event of the season. Some whisper of a tragic love affair. Others say he is so aloof and passionless that not even the greatest beauty could capture his attention.

But on this dazzling afternoon, one woman did catch the duke's eye—and she was the only female in the room who wasn't even trying. Christine Derrick is intrigued by the handsome duke…all the more so when he invites her to become his mistress.

What red-blooded woman wouldn't enjoy a tumble in the bedsheets with a consummate lover—with no strings and no questions asked. An infuriating lady with very definite views on men, morals, and marriage, Christine confounds Wulfric at every turn. Yet even as the lone wolf of the Bedwyn clan vows to seduce her any way he can, something strange and wonderful is happening. Now for a man who thought he'd never lose his heart, nothing less than love will do.
With her trademark wit, riveting storytelling, and sizzling sexual sparks, Mary Balogh once again brings together two polar opposites: an irresistible, high-and-mighty aristocrat and the impulsive, pleasure-loving woman who shows him what true passion is all about. A man and a woman so wrong for each other, it can result only in the perfect match.

A Lady's Guide to Skirting Scandal by Kelly Bowen
Lady Viola Hextall is bored—of the ocean, her chaperones, and the woeful lack of available dukes on the ocean voyage from London to New York. Scrambling for any diversion short of jumping overboard, Viola strikes up a conversation with the ship's rough-hewn, blue-eyed surgeon—and discovers an immediate cure for what ails her...

To Nathaniel Shaw, Viola has the bearing of a lady and the spirit of an adventurer—an unlikely combination that he finds utterly irresistible. So he's hoping to convince Viola to leave the stifling ballrooms of London high society behind because there is a big, wide world just waiting for them to explore—together.
The Leopard Prince by Elizabeth Hoyt
Wealthy Lady Georgina Maitland doesn't want a husband, though she could use a good steward to run her estates. One look at Harry Pye, and Georgina knows she's not just dealing with a servant, but a man.
Harry has known many aristocrats—including one particular nobleman who is his sworn enemy. But Harry has never met a beautiful lady so independent, uninhibited, and eager to be in his arms.

Still, it's impossible to conduct a discreet liaison when poisoned sheep, murdered villagers, and an enraged magistrate have the county in an uproar. The locals blame Harry for everything. Soon it's all Georgina can do to keep her head above water and Harry's out of the noose…without missing another night of love.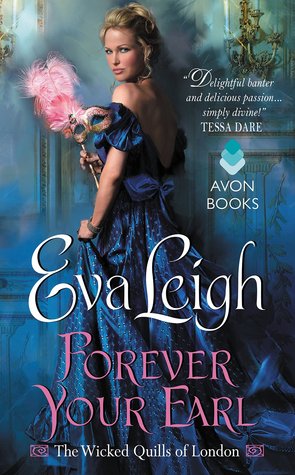 Forever Your Earl by Zoe Archer
Eleanor Hawke loves a good scandal. And readers of her successful gossip rag live for the exploits of her favorite subject: Daniel Balfour, the notorious Earl of Ashford. So when the earl himself marches into her office one day and invites her to experience his illicit pursuits firsthand, Eleanor is stunned. Gambling hells, phaeton races, masquerades…What more could a scandal writer want than a secret look into the life of this devilishly handsome rake?
Daniel has secrets and if The Hawk's Eye gets wind of them, a man's life could be at stake. And what better way to distract a gossip than by feeding her the scandal she desperately craves? But Daniel never expected the sharp mind and biting wit of the beautiful writer, and their desire for each other threatens even his best laid plans.
But when Eleanor learns the truth of his deception, Daniel will do anything to prove a romance between a commoner and an earl could really last forever.
Any Duchess Will Do by Tessa Dare
What's a duke to do, when the girl who's perfectly wrong becomes the woman he can't live without?
Griffin York, the Duke of Halford, has no desire to wed this season—or any season—but his diabolical mother abducts him to "Spinster Cove" and insists he select a bride from the ladies in residence. Griff decides to teach her a lesson that will end the marriage debate forever. He chooses the serving girl.
Overworked and struggling, Pauline Simms doesn't dream about dukes. All she wants is to hang up her barmaid apron and open a bookshop. That dream becomes a possibility when an arrogant, sinfully attractive duke offers her a small fortune for a week's employment. Her duties are simple: submit to his mother's "duchess training"... and fail miserably.
But in London, Pauline isn't a miserable failure. She's a brave, quick-witted, beguiling failure—a woman who ignites Griff's desire and soothes the darkness in his soul. Keeping Pauline by his side won't be easy. Even if Society could accept a serving girl duchess—can a roguish duke convince a serving girl to trust him with her heart?
Silk is for Seduction by Loretta Chase
Brilliant and ambitious dressmaker Marcelline Noirotis London's rising star. And who better to benefit from her talent than the worst-dressed lady in the ton, the Duke of Clevedon's intended bride? Winning the future duchess's patronage means prestige and fortune for Marcelline and her sisters. To get to the lady, though, Marcelline must win over Clevedon, whose standards are as high as his morals are . . . not.
The prize seems well worth the risk—but this time Marcelline's met her match. Clevedon can design a seduction as irresistible as her dresses;and what begins as a flicker of desire between two of the most passionately stubborn charmers in London soon ignites into a delicious inferno . . .and a blazing scandal.
And now both their futures hang by an exquisite thread of silk . . .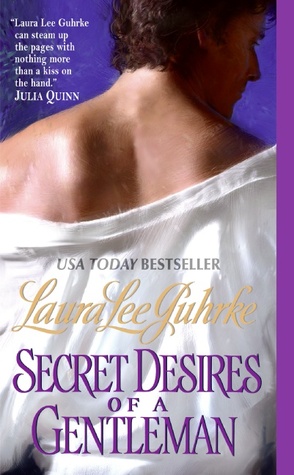 Secret Desires of a Gentleman by Laura Lee Guhrke
Maria Martingale was going to elope. But Phillip Hawthorne, Marquess of Kayne, put a stop to those plans when he learned his younger brother intended to marry a cook's daughter. Now, twelve years later, Maria discovers that the man who holds her fate in his hands is none other than the haughty gentleman who sent her packing—and he's as handsome and arrogant as ever.
Always the proper gentleman, Phillip will do anything to protect his family from scandal, and when Maria dares to move in right next door, he knows scandal will surely follow. She is as tempting as he remembered . . . and the more he sees her, the harder it is for Phillip to keep his own secret desire for her a secret.
An Offer from a Gentleman by Julia Quinn
Will she accept his offer before the clock strikes midnight?
Sophie Beckett never dreamed she'd be able to sneak into Lady Bridgerton's famed masquerade ball—or that "Prince Charming" would be waiting there for her! Though the daughter of an earl, Sophie has been relegated to the role of servant by her disdainful stepmother. But now, spinning in the strong arms of the debonair and devastatingly handsome Benedict Bridgerton, she feels like royalty. Alas, she knows all enchantments must end when the clock strikes midnight.
Who was that extraordinary woman? Ever since that magical night, a radiant vision in silver has blinded Benedict to the attractions of any other—except, perhaps this alluring and oddly familiar beauty dressed in housemaid's garb whom he feels compelled to rescue from a most disagreeable situation. He has sworn to find and wed his mystery miss, but this breathtaking maid makes him weak with wanting her. Yet, if he offers his heart, will Benedict sacrifice his only chance for a fairy tale love?
Between the Devil and Desire by Lorraine Heath
The ladies of the ton won't stop whispering about deliciously wicked Jack Dodger—once a thieving street urchin, now the wealthy owner of London's most exclusive gentleman's club. There's no pleasure he hasn't enjoyed, no debauchery the handsome scoundrel won't provide for the lords who flock to his house of carnal intrigue.

Olivia, Duchess of Lovingdon, would never associate with such a rogue. So when Jack is named sole heir to the duke's personal possessions, the beautiful, well-bred lady is outraged. Now, Olivia is forced to share her beloved home with this despicable man.

But Olivia's icy disdain is no match for Jack's dangerous charm. His touch awakens desire. His kiss demands surrender. She will struggle to bar Jack from her heart...but her body, coveting divine release, will not let her bar him from her bed.
Naked in Death by JD Robb
In a world of danger and deception, she walks the line--between seductive passion and scandalous murder...Eve Dallas is a New York police lieutenant hunting for a ruthless killer. In over ten years on the force, she's seen it all--and knows her survival depends on her instincts. And she's going against every warning telling her not to get involved with Roarke, an Irish billionaire--and a suspect in Eve's murder investigation. But passion and seduction have rules of their own, and it's up to Eve to take a chance in the arms of a man she knows nothing about--except the addictive hunger of needing his touch.

Trade Me by Courtney Milan
Tina Chen just wants a degree and a job, so her parents never have to worry about making rent again. She has no time for Blake Reynolds, the sexy billionaire who stands to inherit Cyclone Technology. But when he makes an off-hand comment about what it means to be poor, she loses her cool and tells him he couldn't last a month living her life.
To her shock, Blake offers her a trade: She'll get his income, his house, his car. In exchange, he'll work her hours and send money home to her family. No expectations; no future obligations.
But before long, they're trading not just lives, but secrets, kisses, and heated nights together. No expectations might break Tina's heart...but Blake's secrets could ruin her life.
Sugar Daddy by Lisa Kleypas
SHE'S FROM THE WRONG SIDE OF THE TRACKSLiberty Jones has dreams and determination that will take her far away from Welcome, Texas—if she can keep her wild heart from ruling her mind. Hardy Cates sees Liberty as completely off-limits. His own ambitions are bigger than Welcome, and Liberty Jones is a complication he doesn't need. But something magical and potent draws them to each other, in a dangerous attraction that is stronger than both of them.
HE'S THE ONE MAN SHE CAN'T HAVEWhen Hardy leaves town to pursue his plans, Liberty finds herself alone with a young sister to raise. Soon Liberty finds herself under the spell of a billionaire tycoon—a Sugar Daddy, one might say. But the relationship goes deeper than people think, and Liberty begins to discover secrets about her own family's past.

WILL THEY FIND THEIR HEARTS' DESIRES OR WILL HEARTBREAK TEAR THEM APART?Two men. One woman. A choice that can make her or break her. A woman you'll root for every step of the way. A love story you'll never forget.