When the Duke Was Wicked (Scandalous Gentleman of St. James #1) by Lorraine Heath (historical romance) --
$2.99
Amazon
--
B&N
--
Kobo
--
Google Play
--
All Romance

They are England's most eligible bachelors, with the most scandalous reputations. But for the right woman, even an unrepentant rogue may mend his ways…

Lady Grace Mabry's ample inheritance has made it impossible for her to tell whether a suitor is in love with her—or enamored of her riches. Who better to distinguish beau from blackguard than her notorious childhood friend, the Duke of Lovingdon?

With no interest in marriage, Lovingdon has long lived only for pleasure. He sees little harm in helping Grace find a proper match. After all, he's familiar with all the ploys a scoundrel uses to gain a woman's favor. He simply has to teach the lovely innocent how to distinguish honest emotions from false ones. How better than by demonstrating his wicked ways? But as lessons lead to torrid passion and Grace becomes ensnared in another man's marriage plot, Lovingdon must wage a desperate gamble: Open his heart fully—or risk losing the woman he adores…
**Hero and heroine have been friends for years and this is a classic "love lessons" story. I gave it 4 stars and you can read my review here.

Silk is for Seduction (Dressmakers #1) by Loretta Chase (historical romance) --
$2.99
Amazon
--
B&N
--
Kobo
--
Google Play
--
All Romance
From the Design Book of Marcelline Noirot:
The allure of the perfect gown should be twofold:
ladies would die to wear it . . .
and gentlemen would kill to remove it!

Brilliant and ambitious dressmaker Marcelline Noirotis London's rising star. And who better to benefit from her talent than the worst-dressed lady in the ton, the Duke of Clevedon's intended bride? Winning the future duchess's patronage means prestige and fortune for Marcelline and her sisters. To get to the lady, though, Marcelline must win over Clevedon, whose standards are as high as his morals are . . . not.

The prize seems well worth the risk—but this time Marcelline's met her match. Clevedon can design a seduction as irresistible as her dresses;and what begins as a flicker of desire between two of the most passionately stubborn charmers in London soon ignites into a delicious inferno . . .and a blazing scandal.

And now both their futures hang by an exquisite thread of silk . . .
**The heroine is a dressmaker who is striving to gain the patronage of the woman that the hero is trying to woo. I enjoyed the way the author handled the class differences. I gave it 4 stars and you can read my review here.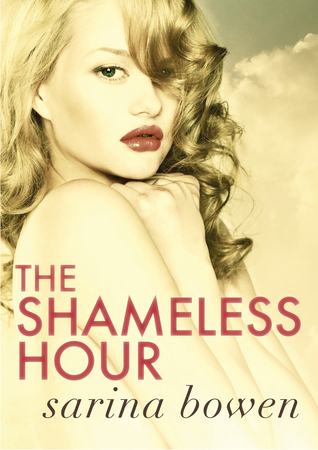 The Shameless Hour (Ivy Years #4) by Sarina Bowen (NA contemporary) --
$0.99
Amazon
--
B&N
--
Kobo

The girl who's had everyone meets the boy who has no one.

For Bella, the sweet-talking, free-loving, hip-checking student manager of the Harkness men's hockey team, sex is a second language. She's used to being fluent where others stutter, and the things people say behind her back don't (often) bother her. So she can't understand why her smoking hot downstairs neighbor has so much trouble staying friends after their spontaneous night together. She knows better than to worry about it, but there's something in those espresso eyes that makes her second guess herself.

Rafe is appalled with himself for losing his virginity in a drunken hookup. His strict Catholic upbringing always emphasized loving thy neighbor—but not with a bottle of wine and a box of condoms. The result is an Ivy League bout of awkwardness. But when Bella is leveled by a little bad luck and a downright sinister fraternity stunt, it's Rafe who is there to pick up the pieces.

Bella doesn't want Rafe's help, and she's through with men. Too bad the undeniable spark that crackles between the two of them just can't be extinguished.
**The heroine has been a fabulous side character throughout the series and the hero is a virgin who falls head over heels for her. I gave it 4.5 stars and you can find my review here.
Focus on Me (Focus #2) by Megan Erickson (M/M contemporary) --
$0.99
Amazon
--
B&N
--
Kobo
--
Google Play

Colin Hartman can now add college to his list of failures. On the coast-to-coast trek home from California, Colin stops at a gas station in the Nevada desert, and can't help noticing the guy in tight jeans looking like he just stepped off a catwalk. When he realizes Catwalk is stranded, Colin offers a ride.

Riley only intended to take a short ride in Colin's Jeep to the Grand Canyon. But one detour leads to another until they finally find themselves tumbling into bed together. However there are shadows in Riley's eyes that hide a troubled past. And when those shadows threaten to bury the man whom Colin has fallen in love with, he vows to get Riley the help he needs. For once in his life, quitting isn't an option…
**I really enjoyed the first book in this series and am intrigued by the portrayal of Riley's past.
The Truth As He Knows It (Perspectives #1) by A.M. Arthur (M/M contemporary) --
$0.99
Amazon
--
B&N
--
Kobo
--
Google Play
--
All Romance

Lies are the chains that keep you weighed down at rock bottom.

Officer Noel Carlson isn't out to anyone in small-town Stratton, Pennsylvania, only to distant friends and family, so a relationship is out of the question. That doesn't stop him from wanting one, though.

When a night-shift call brings him face to thonged butt with a hired stripper whose girl-party gig went terribly wrong, Noel takes pity on the guy and lets him go. But he can't get the encounter out of his mind.

Shane has big-time debts to repay, especially to the brother who sacrificed nearly everything for him. His two jobs, in a deli and as a stripper, leave him no time for a social life. But a non-date of hot sex and takeout food with Noel? He can squeeze that in.

The bond they form is stronger than either expected or wanted. Especially since the step Shane's about to take to put his brother—and his soul—back in the black isn't quite legal. And he never calculated just how much his determination to make things right will cost him in the end.
**I can always count on this author to bring the emotions. I wasn't a huge fan of the amount of lies that one of the characters told though I understand where he was coming from. I gave it 3.5 stars.