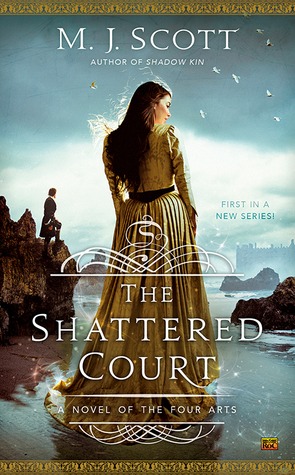 (The Four Arts #1)

For Ages 18+ (Language, Violence, Sensuality)
Fantasy Romance

Roc -- Published on April 28, 2015
Mass Market Paperback, 313 pages
Read in October 2015
Borrowed from library

RATING: 4.25 STARS
THEMES/TROPES
Alternate Universe, Magic, Arranged Marriage, Cliffhanger
SUMMARY
The royal witches of Anglion have bowed to tradition for centuries. If a woman of royal blood manifests powers, she is immediately bound by rites of marriage. She will serve her lord by practicing the tamer magics of the earth—ensuring good harvests and predicting the weather. Any magic more dangerous is forbidden.

Lady Sophia Kendall, thirty-second in line to the throne, is only days away from finding out if she will be blessed—or perhaps cursed—with magic. When a vicious attack by Anglion's ancient enemies leaves the kingdom in chaos, Sophia is forced to flee the court. Her protector by happenstance is Lieutenant Cameron Mackenzie, a member of the royal guard, raised all his life to be fiercely loyal to the Crown.

Then Sophia's powers manifest stronger than she ever imagined they would, and Cameron and she are inextricably linked in the process. As a witch unbound by marriage rites, Sophia is not only a threat to the established order of her country, but is also a weapon for those who seek to destroy it. Faced with old secrets and new truths, she must decide if she will fight for her country or succumb to the delicious temptation of power.
FIRST LINE
"Milady, please pay attention."
MY THOUGHTS
I enjoy fantasy, but I haven't actually been up to date on the genre so, when I heard about
The Shattered Court
on the
DBSA podcast
, I knew that I had to check it out. This book takes place in the fictional country of Anglion in an alternate world heavily inspired by western Europe. On a woman's twenty-first birthday, they learn whether they gain the ability to perform magic or not. If they do, they are bound to an aristocrat in marriage and spend the rest of their lives serving their country.
Sophie is of royal blood and is quickly approaching her all important twenty-first birthday though she isn't sure whether she wants to manifest or not. One day the royal palace is attacked while she is away and she, and a bodyguard named Lieutenant Cameron Mackenzie, are forced on the run. While they are trying to get back to the capital city, Sophie's birthday arrives and her new powers force a link between here and Cameron. Their return is then complicated by Sophie's overwhelming magical prowess and her unbound state.
Sophie is a fabulous heroine and someone I really admired. She has been raised in this strict society, but has an awareness and a desire to do something more with her life than just marry, have children, and do remedial magic to benefit her husband's place. The adventure she is forced on is difficult for her, but she rarely complains and tries to make the best of the situation. I also enjoyed watching her grow through her journey with Cameron and her complex place at the royal court upon her return.
Cameron is a great counterpart for Sophie. He is from an aristocratic family, but, as a younger son, he was trained as a Royal Guard and takes his responsibilities very seriously. While on the run, he is consumed with keeping Sophie safe especially when she manifests. I enjoyed his loyalty and his desire to help Sophie out both at court and away from it.
Most of
The Shattered Court
's plot centers around the establishment of Anglion society, Sophie and Cameron's attempts to return to court, and what happens when it is realized that Sophie is unbound. I thought the pacing was well-done and easy to follow. I will admit that I got a bit bored during the down time right after they got back to court, but, thankfully, the action picked up again and I was glued to the pages until the cliffhanger ending. The romance between Sophie and Cameron was not the focus, but I found it to believable and very sweet.
All in all, I had a good time reading this book and am happy to be back in the fantasy genre. M.J. Scott's world building was creative and easy to understand due to the European influences. I also enjoyed the subtle social commentary that the story offered up. I am definitely excited to read more in the series and recommend it to anyone who likes their fantasy mixed with romance and political intrigue.