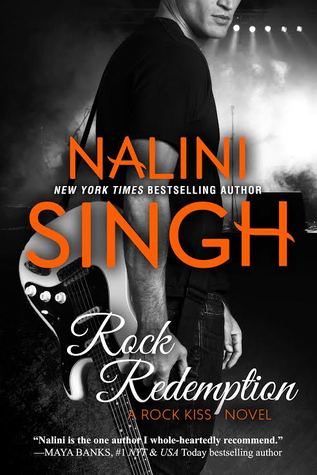 (Rock Kiss #3)

For Ages 18+ (Language, Sensuality)
Contemporary Romance

TKA Distribution -- Published on October 6, 2015
eARC, 314 pages
Read in September 2015
Received from Netgalley

RATING: 4.25 STARS
THEMES/TROPES
Hollywood, Rock Star Hero, Pretend Relationship, Reunited Couple
SUMMARY
Kit Devigny could have loved rock guitarist Noah St. John. Their friendship burned with the promise of intense passion and searing tenderness…until the night Noah deliberately shattered her heart.

Noah knows he destroyed something precious the night he chose to betray Kit, but he'd rather she hate him than learn his darkest secret. All he has left is his music. It's his saving grace, but it doesn't silence the voices that keep him up at night. Chasing oblivion through endless one-night-stands, he earns a few hours' sleep and his bad boy reputation.

When a media error sees Noah and Kit dubbed the new "it" couple, Kit discovers her chance at the role of a lifetime hinges on riding the media wave. Wanting—needing—to give Kit this, even if he can't give her everything, Noah agrees to play the adoring boyfriend. Only the illusion is suddenly too real, too painful, too beautiful…and it may be too late for the redemption of Noah St. John.
FIRST LINE
"Kit smiled when the elevator doors opened as soon as she pressed the button."
MY THOUGHTS
I received a free copy of this book from TKA Distribution via Netgalley in exchange for an honest review.
I will admit that I wasn't sure how I would feel about
Rock Redemption
when I started it. The first chapter has the hero, Noah, deliberately allowing the woman, Kit, to see him in bed with another woman in order to get her to break things off with him. I cannot stand cheating in books so I didn't think I would be able to believe that Noah and Kit could ever get a happy ending after such a scenario. But, I have learned to never doubt the skills of Nalini Singh even when I am unsure. I thought this book was just an amazing story of two people who belong together and have to go through some major events to finally make it as a couple.
The heroine, Kit, is an actress who has had her first big break and is trying to maintain her career's momentum. Just when she feels like she is getting her professional life together, Noah comes back into her life and she not let him distract her from her goals. I really liked Kit's character! She was surprisingly relatable for a character that is a famous movie actress, but I think the author does a good job of establishing her down-to-earth personality and how her unorthodox childhood shaped her. I also admired her determination to not let Noah get away with his behavior, no matter what her feelings were for him.
Noah really made me go from one extreme to another. I hated him for how he acted at the beginning, but, once little bits of the reasons why he did what he did came out, I fell for him. Noah is a truly tortured soul whose BIG SECRET made sense in explaining why he acted like he did. He has no idea how strong he is and just goes through life feeling like he could breakdown at any moment. I felt like this book really showcased his journey to accepting what happened to him and realizing that he doesn't have to punish himself for it. I also respected that the author made sure it was understood that his issues were not going to be easily solved by true love and that he has major work to overcome them.
I love a "pretend relationship" romance so I enjoyed the plot of
Rock Redemption
. The media mistakenly reports that Noah and Kit are dating and the resulting attention starts moving Kit's career along. Noah, who has always cared deeply for Kit, decides that this is something he can do to help. I loved all the little scenes between these two where they start off just acting for the cameras and then getting to spend real time together. I think my favorite part was the music festival since it also forced the couple to deal with the other members of Schoolboy Choir.
And speaking of those super sexy guys! One of the best parts of this series is the friendship between the band members and I thought this book continued with that tradition. Fox and Noah's relationship was a particularly important part since Fox is the only person who actually knows the truth about Noah's past. It was also great to see Kit getting along so nicely with Molly and Thea since female friendship is always a highlight for me.
Rock Redemption
really shows Nalini Singh's characterization skills with her ability to fully reform Noah from the beginning to the end. Kit and Noah's journey to a happy ending is not without plenty of pitfalls, but I think they are a stronger couple because of that. I did use quite a few tissues while reading the latter half so well done, Ms. Singh! I can't wait to read Abe's story next especially with the subplot we got with him and his ex-wife in this book.