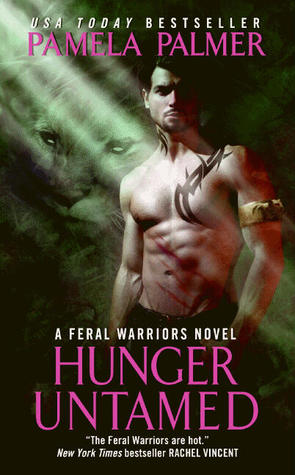 (Feral Warriors #5)

For Ages 18+ (Language, Sensuality, Violence)
Paranormal Romance

Avon -- Published on February 22, 2011
Mass Market Paperback, 357 pages
Read in October 2015
Purchased from Barnes and Noble

RATING: 3 STARS
THEMES/TROPES
Fated Mates, Reunited Couple, Tortured Hero
SUMMARY
They are called Feral Warriors—an elite band of immortals who can change shape at will. Sworn to rid the world of evil, consumed by sorcery and seduction, their wild natures are primed for release . . .

For a thousand years she has haunted him—Ariana, Queen of the linas, a beauty of mist and light. His love, his life mate . . . Kougar believed her lost to him forever, until the truth of her stunning betrayal left him bitter and hungry for revenge. Now she alone holds the power to save two trapped and desperate Feral Warriors.

Ariana, caught in a deadly battle of her own, is neither the soulless creature Kougar believes her to be nor the savior he seeks.

And when darkness threatens to annihilate both races, the greatest danger of all becomes the glorious love Kougar and Ariana once shared. A love that must never rise again. A love that has never died.
FIRST LINE
"Upon the bloody battlefield she took form, a woman of mist and light."
MY THOUGHTS
Read for the 2015 TBR Challenge--October--Paranormal Romance/Romantic Suspense. The challenge is hosted by Wendy the Super Librarian.
Why I Chose it for my TBR Challenge Read: I devoured the first three books in the Feral Warriors series when they first came out six years ago. Since then I have been meaning to get caught up, but my obsession with paranormal romance has waned. I have had Hunger Untamed on my bookshelf since its release and I thought this would be the perfect opportunity to get back into this world.
The Feral Warriors are the soldiers/guardians of an immortal race known as the Therians. They are given supernatural abilities through animal spirits and are even able to shift into those animals at will. The Therian race has been battling against the ghostly Daemons for years and this series takes place during the most recent skirmishes. Kougar is the oldest of the Feral Warriors and he has been a silent observer for most of the books.
Hunger Untamed
throws him into the spotlight and allows him to finally find his happy ending with his long-lost mate, Ariana.
Ariana and Kougar met and mated over a thousand years ago despite the misgivings of both her race, the Ilianas, and his. They had a few blissful years together until something terrible occurred and Kougar was left believing that Ariana had passed away. So one can understand him being pissed off when he discovers that she is actually alive and had tried to destroy their mating bond herself. He doesn't plan on confronting her with his anger until two of the Ferals (Tighe and Hawke) are taken into the same spirit trap that had killed many warriors centuries ago. Ariana and her misting abilities seem to be the only savior for the warriors so Kougar must finally come face to face with his mate.
I had high expectations for this book since I enjoyed Kougar as a side character in the earlier stories which, unfortunately, weren't met. Kougar and Ariana just didn't grabbed me as a couple. They were decently written characters, but I never cared whether they got back together or not. The "fated mates" trope is not one of my favorites so the constant talk of the mating bond got old for me. It seemed like there was little interaction between these two and no actual talking about how they worked as a couple without the supernatural nudging.
I did think the subplots worked much better than the main storyline. I am super intrigued by Wulfe, the scarred healer of the group, and his feelings for Natalie, a human that has learned the truth about the warriors. I also want to know more about Hawke whose connection with his animal spirit is put in serious jeopardy while he was trapped. It was also nice to see some of the past couples return though they never took over the plot as can happen in those reunion scenes.
I wanted to like
Hunger Untamed
more than I did because of my affection for the hero and my admiration for the creativity in the series. I believe it just didn't work for my personal taste at this moment, but I guess it did well enough that I am looking forward to catching up with the series soon.