Hosted by the ladies over at The Broke and the Bookish.
I have seen quite a few blog posts and articles that say that Sarah MacLean is becoming a gateway author for historical romance. So I wanted to create a list for people who have fallen for her books and want to know where to go next!
When I think of a Sarah MacLean historical, I think of unconventional heroines, delightful banter between the hero and heroine, a nice balance between angst and comedy, and some social commentary. All the books I am listing below have one or more of these aspects in them. Enjoy!!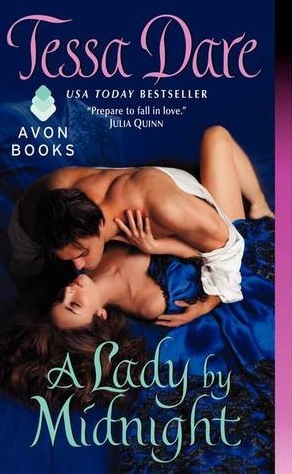 1. A Lady by Midnight by Tessa Dare
After years of fending for herself, Kate Taylor found friendship and acceptance in Spindle Cove—but she never stopped yearning for love. The very last place she'd look for it is in the arms of Corporal Thorne. The militia commander is as stone cold as he is brutally handsome. But when mysterious strangers come searching for Kate, Thorne steps forward as her fiancé. He claims to have only Kate's safety in mind. So why is there smoldering passion in his kiss?
Long ago, Samuel Thorne devoted his life to guarding Kate's happiness. He wants what's best for her, and he knows it's not marriage to a man like him. To outlast their temporary engagement, he must keep his hands off her tempting body and lock her warm smiles out of his withered heart. It's the toughest battle of this hardened warrior's life . . . and the first he seems destined to lose.
2. The Viscount Who Loved Me by Julia Quinn
1814 promises to be another eventful season, but not, this author believes, for Anthony Bridgerton, London's most elusive bachelor, who has shown no indication that he plans to marry. And in truth, why should he? When it comes to playing the consummate rake, nobody does it better...—Lady Whistledown's Society Papers, April 1814
But this time, the gossip columnists have it wrong. Anthony Bridgerton hasn't just decided to marry—he's even chosen a wife! The only obstacle is his intended's older sister, Kate Sheffield—the most meddlesome woman ever to grace a London ballroom. The spirited schemer is driving Anthony mad with her determination to stop the betrothal, but when he closes his eyes at night, Kate is the woman haunting his increasingly erotic dreams...
Contrary to popular belief, Kate is quite sure that reformed rakes do notmake the best husbands—and Anthony Bridgerton is the most wicked rogue of them all. Kate is determined to protect her sister—but she fears her own heart is vulnerable. And when Anthony's lips touch hers, she's suddenly afraid she might not be able to resist the reprehensible rake herself...
3. The Rake by Mary Jo Putney
Disinherited and disgraced, Reginald Davenport's prospects cried for a dire end. But fate has given him one last chance at redemption—by taking his rightful place as the heir of Strickland, his lost ancestral estate. Davenport knows his way around women, yet nothing prepares him for his shocking encounter with Lady Alys Weston.
Masquerading as a man in order to obtain a position as estate manager of Strickland, Alys fled a world filled with mistrust and betrayal. She was finished with men—until Strickland's restored owner awakens a passion she thought she would never feel. A passion that will doom or save them both...if only they can overcome their pasts.

4. Mr. Impossible by Loretta Chase
Impossible...Rupert Carsington, fourth son of the Earl of Hargate, is his aristocratic family's favorite disaster. He is irresistibly handsome, shockingly masculine, and irretrievably reckless, and wherever he goes, trouble follows. Still, Rupert's never met an entanglement--emotional or other--he couldn't escape. Until now.
Outrageous...Now he's in Egypt, stranded in the depths of Cairo's most infamous prison, and his only way out is accepting a beautiful widow's dangerous proposal. Scholar Daphne Pembroke wants him to rescue her brother, who's been kidnapped by a rival seeking a fabled treasure. Their partnership is strictly business: She'll provide the brains, he, the brawn. Simple enough in theory.
Inevitable...Blame it on the sun or the blazing desert heat, but as tensions flare and inhibitions melt, the most disciplined of women and the most reckless of men are about to clash in the most impossibly irresistible way.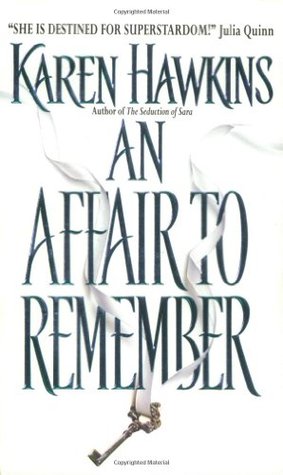 5. An Affair to Remember by Karen Hawkins
Saddled with five unruly orphans, the Earl of Greyley, Anthony Elliot, is at his wits' end. Unfortunately, the only person willing to deal with the adorable little terrors is Anna Thraxton, governess "extraordinaire" --- and the one woman Anthony can't abide. She's too outspoken, too opinionated, and far too beautiful for his peace of mind. A woman should be meek and mild --- words that perfectly describe his prospective bride, not the flame-haired temptress who haunts his dreams.
Anna knew this job would be trouble the moment she set foot in the door --- but it's Anthony who's the problem, not the children! He's too arrogant, too sure of himself, and far, far too wonderfully big and masculine. The young girl he's courting will never be able to handle him, so someone clearly needs to teach Anthony a few things about women. But when lectures turn to kisses, igniting a passion they can't ignore, how will they resolve the battle between honour and their hearts.
6. The Countess Conspiracy by Courtney Milan
Sebastian Malheur is the most dangerous sort of rake: an educated one. When he's not scandalizing ladies in the bedchamber, he's outraging proper society with his scientific theories. He's desired, reviled, acclaimed, and despised—and he laughs through it all.
Violet Waterfield, the widowed Countess of Cambury, on the other hand, is entirely respectable, and she'd like to stay that way. But Violet has a secret that is beyond ruinous, one that ties her irrevocably to England's most infamous scoundrel: Sebastian's theories aren't his. They're hers.
So when Sebastian threatens to dissolve their years-long conspiracy, she'll do anything to save their partnership...even if it means opening her vulnerable heart to the rake who could destroy it for good.
7. My Dearest Enemy by Connie Brockway
"Dear Mr. Thorne, For the next five years, I will profitably manage this estate. I will deliver to you an allowance and I will prove that women are just as capable as men."
Lillian Bede is shocked when she is tapped to run the affairs of an exquisite country manor. But she accepts the challenge, taking the opportunity to put her politics into practice. There's only one snag: Lily's ward, the infuriating, incorrigible globe-trotter Avery Thorne.

"My Dear Miss Bede, Forgive me if I fail to shudder. Pray, do whatever you bloody well want, can, or must."
Avery's inheritance is on hiatus after his uncle dies—and his childhood home is in the hands of some domineering usurper. But when he finally returns, Avery finds that his antagonist is not at all what he expected. In fact, Lily Bede is stunning, exotic, provocative—and impossible to resist.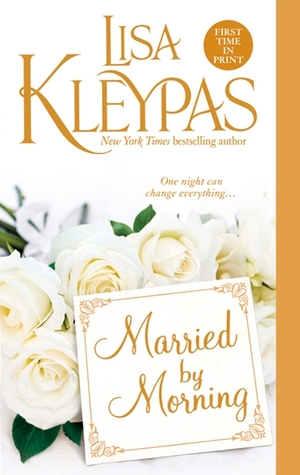 8. Married by Morning by Lisa Kleypas
He is everything she wants to avoid...
For two years, Catherine Marks has been a paid companion to the Hathaway sisters—a pleasant position, with one caveat. Her charges' older brother, Leo Hathaway, is thoroughly exasperating. Cat can hardly believe that their constant arguing could mask a mutual attraction. But when one quarrel ends in a sudden kiss, Cat is shocked at her powerful response—and even more so when Leo proposes a dangerous liaison.
She is not at all what she seems...
Leo must marry and produce an heir within a year to save his family home. Catherine's respectable demeanor hides a secret that would utterly destroy her. But to Leo, Cat is intriguing and infernally tempting, even to a man resolved never to love again. The danger Cat tried to outrun is about to separate them forever—unless two wary lovers can find a way to banish the shadows and give in to their desires...
9. A Gentleman Undone by Cecilia Grant
Lydia Slaughter understands the games men play—both in and out of the bedroom. Not afraid to bend the rules to suit her needs, she fleeces Will Blackshear outright. The Waterloo hero had his own daring agenda for the gaming tables of London's gentlemen's clubs. But now he antes up for a wager of wits and desire with Lydia, the streetwise temptress who keeps him at arm's length.
A kept woman in desperate straits, Lydia has a sharp mind and a head for numbers. She gambles on the sly, hoping to win enough to claim her independence. An alliance with Will at the tables may be a winning proposition for them both. But the arrangement involves dicey odds with rising stakes, sweetened with unspoken promise of fleshly delights. And any sleight of hand could find their hearts betting on something neither can afford to risk: love.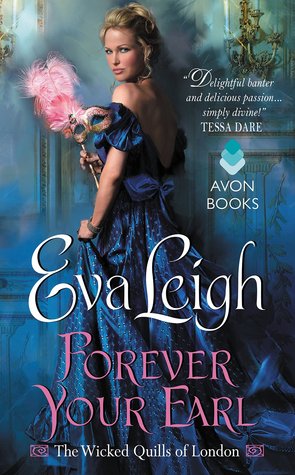 10. Forever Your Earl by Eva Leigh
Eleanor Hawke loves a good scandal. And readers of her successful gossip rag live for the exploits of her favorite subject: Daniel Balfour, the notorious Earl of Ashford. So when the earl himself marches into her office one day and invites her to experience his illicit pursuits firsthand, Eleanor is stunned. Gambling hells, phaeton races, masquerades…What more could a scandal writer want than a secret look into the life of this devilishly handsome rake?
Daniel has secrets and if The Hawk's Eye gets wind of them, a man's life could be at stake. And what better way to distract a gossip than by feeding her the scandal she desperately craves? But Daniel never expected the sharp mind and biting wit of the beautiful writer, and their desire for each other threatens even his best laid plans.
But when Eleanor learns the truth of his deception, Daniel will do anything to prove a romance between a commoner and an earl could really last forever.
HONORABLE MENTIONS: