This is part of a feature where I focus on a specific theme (or trope) that I have found in my years as a voracious reader/blogger. I love finding commonalities between my favorite books and how that helps define me as a reader.

Please note this is not meant to be a comprehensive list. I am just picking a few examples of this trope. So, if you have a favorite example of this theme, let me know about it in the comments. I'm always on the lookout for more books to be added to my wishlist.
PIRATES
The Pirate Prince by Gaelen Foley
Historical Romance
When Allegra Monteverdi, the daughter of Lazar's sworn enemy, throws herself on his mercy, the pirate prince Lazar di Fiori agrees to spare the lives of her family but only if she sails away with him.

Alone at sea with this dark, intriguing man, moving between seduction and fear, Allegra realizes it will take more than her growing love for this pirate prince to bring peace to her beloved home. For Lazar must face the demons of his shattered past - if he is to forge the destiny that is theirs to claim...
The Pirate Lord by Sabrina Jeffries
Historical Romance
A Splendid Opportunity
A shipload of women - theirs for the taking! Pirate captain Gideon Horn couldn't be more delighted. His men are tired of wandering the high seas and want to settle down with wives on the uncharted island paradise they've discovered. And the women are bound to be grateful to be rescued from the life of drudgery awaiting them in New South Wales . . .
A Splendid Passion
Married? To pirates? Sara Willis couldn't be more appalled. First she demands proper courting—at least a month. The darkly handsome pirate lord gives them two weeks. Then Sara insists the men vacate their huts for the women—Gideon demands her kisses in return. As the demands heat up, so do their passions—and soon Sara can't remember just why she's fighting the devilishly seductive captain so hard. . .
The Windflower by Laura London
Historical Romance
Merry Wilding is a lady of breeding, of innocence, and of breathtaking beauty. With high hopes for a holiday in England, she sets sail from New York-but the tide of her life is destined to turn. Mistakenly swept aboard an infamous pirate ship, Merry finds herself at the mercy of a wicked crew . . . and one sinfully handsome pirate. Soon she's spending her days yearning for escape, and her nights learning the pleasures of captivity.
Devon Crandall believes Merry is in league with his greatest enemy. He's determined to slowly urge her secrets from her. But along the way, he discovers her beautifully unbreakable spirit . . . and a desire unlike any he's ever known. She is hiding something from him, and yet, each day that passes brings her deeper into his heart. When fierce arguments give way to fiercer passion, can a pirate learn to love a woman? Or will true love be lost at sea?
The Pirate Next Door by Jennifer Ashley
Historical Romance
Alexandra Alastair, a respectable young English widow, wonders if she dare add the new viscount who's moved in next door to her list of potential husbands.

He certainly doesn't look like the gentlemen on her list—Grayson Finley, Viscount Stoke, is tall and sun-bronzed, muscular and blue-eyed. He wears dress so casual as to be unclothed—long coats, leather breeches, shirts without collar or cravat, and he carries pistols wherever he goes. The men who attend him are just as strange, exotic-looking, even. And the way Grayson smiles at Alexandra whenever they pass in the street—sinful, blood-warming—turns her inside out.
In the middle of the night Alexandra hears shouting coming from the house next door, and the viscount's life being threatened. She rushes over just in time to save Grayson from being hanged by his greatest enemy, his former best friend.
Thus is Alexandra pulled into the adventures of Grayson Finley, former pirate and terror of the seas. Grayson has made a bargain with the devil (in the form of the pirate hunter, James Ardmore), in order to ensure the safety of his daughter. He'll do anything to keep her safe, but when Alexandra saves his life, he looks into her eyes the color of water and starts to drown . . .
The Ugly Duchess by Eloisa James
Historical Romance
Theodora Saxby is the last woman anyone expects the gorgeous James Ryburn, heir to the Duchy of Ashbrook, to marry. But after a romantic proposal before the prince himself, even practical Theo finds herself convinced of her soon-to-be duke's passion.
Still, the tabloids give the marriage six months.
Theo would have given it a lifetime... until she discovers that James desired not her heart, and certainly not her countenance, but her dowry. Society was shocked by their wedding; it's scandalized by their separation.
Now James faces the battle of his lifetime, convincing Theo that he loved the duckling who blossomed into the swan. And Theo will quickly find that for a man with the soul of a pirate, All's Fair in Love — or War.
Broken Wing by Judith James
Historical Romance
Set during the chaotic beginnings of Napoleon's rule, this saga tells the story of Gabriel St. Croix, a street survivor searching for a place to belong. Abandoned as a child and raised in a brothel, he has never known friendship or affection. Hiding physical and emotional scars behind an icy facade, his only relationship is with a young boy he has spent the last five years protecting from the brutal reality of their environment. But all that is about to change. The boy's family has found him, and they are coming to take him home.

Sarah Munroe blames herself for her brother's disappearance. When he's located, safe and unharmed despite where he has been living, Sarah vows to help the man who rescued and protected him in any way she can. With loving patience she helps Gabriel face his demons and teaches him to trust in friendship and love. But when the past catches up with him, Gabriel must face it on his own. Becoming a mercenary, pirate, and professional gambler, he travels to London, France, and the Barbary Coast in a desperate attempt to find Sarah again. On the way, however, he will discover the most dangerous journey and the greatest gamble of all is within the darkest reaches of his own heart.
Scandalous Desires by Elizabeth Hoyt
Historical Romance
Can a pirate learn that the only true treasure lies in a woman's heart?
Widowed Silence Hollingbrook is impoverished, lovely, and kind--and nine months ago she made a horrible mistake. She went to a river pirate for help in saving her husband and in the process made a bargain that cost her her marriage. That night wounded her so terribly that she hides in the foundling home she helps run with her brother. Except now that same river pirate is back...and he's asking for her help.
"Charming" Mickey O'Connor is the most ruthless river pirate in London. Devastatingly handsome and fearsomely intelligent, he clawed his way up through London's criminal underworld. Mickey has no use for tender emotions like compassion and love, and he sees people as pawns to be manipulated. And yet he's never been able to forget the naive captain's wife who came to him for help and spent one memorable night in his bed...talking.

When his bastard baby girl was dumped in his lap--her mother having died--Mickey couldn't resist the Machiavellian urge to leave the baby on Silence's doorstep. The baby would be hidden from his enemies and he'd also bind Silence to him by her love for his daughter.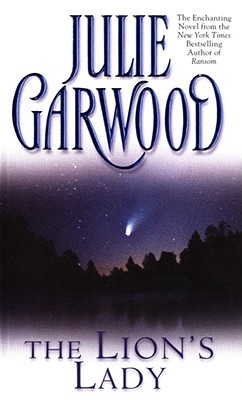 The Lion's Lady by Julie Garwood
Historical Romance
Christina Bennett had taken London society by storm. The ravishing beauty guarded the secret of her mysterious past until the night Lyon, Marquis of Lyonwood, stole a searching, sensuous kiss. An arrogant nobleman with a pirate's passions, he tasted the wild fire smoldering beneath Christina's cool charm and swore to posess her...
But the fiesty and defiant Christina would not be so easily conquered. Mistress of her heart and of her fortune, she resisted Lyon's sensuous caresses. She dared not surrender to his love...for then, she must also forsake her precious secret...and her promised destiny!
Captured by Beverly Jenkins
Historical Romance
Dominic LeVeq, the most notorious privateer ever to command the high seas, has just captured a coveted prize: a British frigate. On a dangerous mission against the Crown, Dominic should be thinking only of his ship's safety. But the rebel captain is utterly entranced by Clare Sullivan, the stunning slave on board. Consumed by desire, desperate to have her, Dominic offers Clare her freedom in exchange for a forbidden night in his bed—a night he assures her will be most pleasureable indeed.
Clare believes that Dominic is nothing more than a seductive rogue used to getting what he wants. But she too feels a tantalizing passion between them, and so she submits to just one night of bliss. She'll soon realize that Dominic has captured more than her body. He's captured her heart . . . and she doesn't want him to ever let go.
Hook's Pan by Marie Hall
Fantasy Romance
Trishelle Page has known pain in her life, but instead of it making her weak, she's stronger. Confident. That is until the day a fairy kidnaps her during her staring role in Peter Pan's play and tells her not only do fairy tales exist, but that she's the soulmate of the pirate they call Hook, making her question everything she ever thought she knew.
Captain James Hook is a man at the end of his rope. He's not the villainous bastard tales have made him out to be. So when the curvaceous blonde drops, literally, at his feet he aims to prove it to her. If only to get her into his bed.
What neither one knows is that fate and magic are conspiring and they can deny the attraction all they want but the end is already written, it's just a matter of getting there.
Catherine and the Pirate by Karen Hawkins
Young Adult Historical
Born to a prominent Boston family, Catherine Markham is a bit of a hellion despite her gentle upbringing. Stifled by the rules imposed by society, Catherine yearns for adventure. When her beloved brother is kidnapped, she decides to deliver the ransom herself -- with the help of a young man few others might turn to.
Derrick St. John lives on the edge. The memory of his dead father tainted by treason, Derrick's life has been spent at sea in both legal and not-so-legal pursuits. Determined to clear his father's name, the last thing this young pirate wants is to embark on a voyage to Savannah in the midst of a war with the British, much less with a young lady who spells trouble at every turn.
An emotion stronger than caution takes hold of Derrick, and he finds himself unable to refuse Catherine's pleas for assistance, even though the journey promises peril for them both. And so the headstrong girl and the daring sea captain sail into an exhilarating adventure that fast becomes a journey of the heart.
Bloody Jack: Being an Account of the Curious Adventures of Mary "Jacky" Faber, Ship's Boy by L.A. Meyer
Young Adult Historical
Life as a ship's boy aboard HMS Dolphin is a dream come true for Jacky Faber. Gone are the days of scavenging for food and fighting for survival on the streets of eighteenth-century London. Instead, Jacky is becoming a skilled and respected sailor as the crew pursues pirates on the high seas.
There's only one problem: Jacky is a girl. And she will have to use every bit of her spirit, wit, and courage to keep the crew from discovering her secret. This could be the adventure of her life--if only she doesn't get caught. . . .
UPCOMING THEMES
Makeovers -- September 10th
Animals -- September 17th