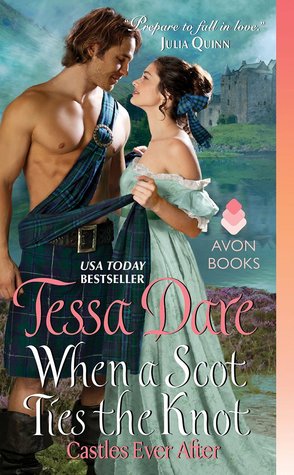 (Castles Ever After #3)

For Ages 18+ (Language, Sensuality)
Historical Romance -- Regency England

Avon -- Published on August 25, 2015
Mass Market Paperback, 384 pages
Read in September 2015
Purchased from Amazon

RATING: 4.5 STARS
THEMES/TROPES
Artist Heroine, Fake Relationship, Returning Military
SUMMARY
On the cusp of her first London season, Miss Madeline Gracechurch was shyly pretty and talented with a drawing pencil, but hopelessly awkward with gentlemen. She was certain to be a dismal failure on the London marriage mart. So Maddie did what generations of shy, awkward young ladies have done: she invented a sweetheart.

A Scottish sweetheart. One who was handsome and honorable and devoted to her, but conveniently never around. Maddie poured her heart into writing the imaginary Captain MacKenzie letter after letter … and by pretending to be devastated when he was (not really) killed in battle, she managed to avoid the pressures of London society entirely.

Until years later, when this kilted Highland lover of her imaginings shows up in the flesh. The real Captain Logan MacKenzie arrives on her doorstep—handsome as anything, but not entirely honorable. He's wounded, jaded, in possession of her letters… and ready to make good on every promise Maddie never expected to keep.
FIRST LINE
"Maddie could not remember the first time she'd held a drawing pencil."


MY THOUGHTS
When a Scot Ties the Knot
is another successful installment in the Castles Ever After series which consists of stand-alone stories featuring heroines who mysteriously inherit castles. This particular book's heroine is Maddie Gracechurch who suffers from social anxiety. It is severe enough that she makes up a suitor to avoid having to go through a London Season. Things get complicated when she is gifted a castle by her godfather and, shortly after taking residence, is visited by none other than Captain Logan MacKenzie. I fell in love with almost every aspect of this book from the characters to the romance to Tessa Dare's signature subtle humor.
Maddie is exactly the type of heroine that I enjoy reading about due to the fact that I can relate to her and admire her fortitude in dealing with such an issue in this time period. I also loved that she is a nature illustrator who takes pride in her work and is determined to be successful at it. Logan is someone I wasn't sure about at the beginning with his high-handed personality, but, as Tessa Dare does so well, his character was slowly revealed until I fell in love with him. He didn't have an easy childhood and has devoted his life to making sure the men who served under him are able to live happy lives.
The romance was both sweet and spicy. The first meeting was very awkward especially since they were supposed to have been long-separated sweethearts, but things quickly picked up between them. I loved how Maddie was able to find her voice with Logan and never let him get away with some of his more arrogant notions. For his part, Logan was able to help Maddie deal with her social anxiety without making her feel bad for it. It is always fun for me to see two characters have to learn to deal with each other in close quarters so it should come as no surprise how I felt about this love story.
Besides the two main characters, readers are provided with a fun, well-developed cast of side characters. Maddie's Aunt Thea is a delight who truly understands her niece and wants her to be happy, no matter what. And then there are Logan's men who have returned home from war to lives that will never be the same. I loved the way that these characters provided a backdrop for the romance as well as providing some interesting subplots along the way.
When a Scot Ties the Knot
is just a fun story that is focused on its characters and their romance. It is a very worthy addition to the series and, as always, I can't wait to see what Tessa Dare comes up with next!
"Oh, Lord. Now he was not only an impoverished orphan, but an impoverished, unloved orphan with a passion for books. Her every feminine impulse jumped to attention."