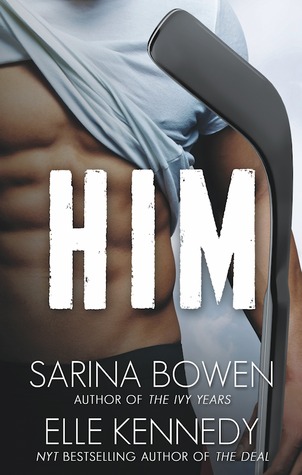 For Ages 18+ (Language, Sensuality)
Contemporary Romance -- Male/Male

Rennie Road Books -- Published on July 28, 2015
Ebook, 276 pages
Read in September
Purchased from Amazon

RATING: 4.25 STARS
THEMES/TROPES
Dual Points of View, Sports, Childhood Friends
SUMMARY
They don't play for the same team. Or do they?

Jamie Canning has never been able to figure out how he lost his closest friend. Four years ago, his tattooed, wise-cracking, rule-breaking roommate cut him off without an explanation. So what if things got a little weird on the last night of hockey camp the summer they were eighteen? It was just a little drunken foolishness. Nobody died.

Ryan Wesley's biggest regret is coaxing his very straight friend into a bet that pushed the boundaries of their relationship. Now, with their college teams set to face off at the national championship, he'll finally get a chance to apologize. But all it takes is one look at his longtime crush, and the ache is stronger than ever.

Jamie has waited a long time for answers, but walks away with only more questions—can one night of sex ruin a friendship? If not, how about six more weeks of it? When Wesley turns up to coach alongside Jamie for one more hot summer at camp, Jamie has a few things to discover about his old friend...and a big one to learn about himself.

Warning: contains sexual situations, skinnydipping, shenanigans in an SUV and proof that coming out to your family on social media is a dicey proposition.
FIRST LINE
"The coffee shop line is a little long, but I know I'll make it to the rink on time."
MY THOUGHTS
Sarina Bowen and Elle Kennedy are two NA authors that I have really enjoyed over the past year. So, when I heard that they were co-writing a M/M contemporary sports romance, I was overjoyed and am happy to say that it is as amazing I could hope for.
Ryan and Jamie bonded every year when they attended an elite hockey camp in Lake Placid, NY. Then, when they were eighteen, something happened that forced them to not speak to one another for four years. They are reunited during the Frozen Four championship and rekindle their friendship while acting as counselors/coaches for the same hockey camp they attended as teens. What also is rekindled is the physical attraction that neither can resist.
I adored both heroes in this book. Ryan Wesley comes off as this sexy, confident, sometimes arrogant guy whose ultimate dream is to play in the National Hockey League (NHL). The one thing that makes him vulnerable is his long-time crush on his best friend and the fact that he believes he ruined their friendship by coming on to him. I loved the balance of confidence and uncertainty in his character. Jamie, for his part, is sweet and regrets the long separation with Ryan. He is unaware of his friend's feelings for him, but finds himself attracted to him as well.
The best part about this book is the way that the authors developed the relationship between Ryan and Jamie. They are reunited best friends at the beginning who spend quite a bit of time getting to know one another again in that sense. Then the romance starts to creep in...at least on Jamie's part since Ryan has always been in love. I loved the various situations that these two found themselves in and how it helped strengthen their relationship.
Him
is just a fabulously written, sexy romance between two likable guys who are clearly meant for one another. It is nice to read a stand-alone romance though I definitely would like to see more collaborations between these two writers.
"But here's the thing about family, Ryan…blood doesn't mean shit. You just need to surround yourself with people who do love you, and they become your family."

LEARN MORE