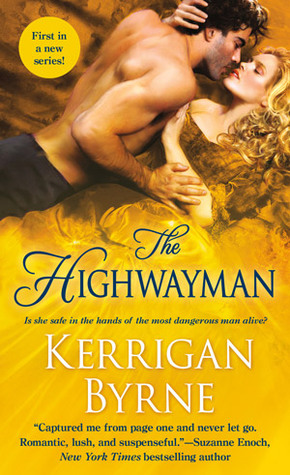 (Victorian Rebels #1)

For Ages 18+ (Language, Sensuality)
Historical Romance -- Victorian England

St. Martin's -- Published on September 1, 2015
eARC, 384 pages
Read in August 2015
Receive from Netgalley

RATING: 4.5 STARS
THEMES/TROPES
Alpha Hero, Marriage of Convenience
SUMMARY
Dorian Blackwell, the Blackheart of Ben More, is a ruthless villain. Scarred and hard-hearted, Dorian is one of London's wealthiest, most influential men who will stop at nothing to wreak vengeance on those who've wronged him…and will fight to the death to seize what he wants. The lovely, still innocent widow Farah Leigh Mackenzie is no exception—and soon Dorian whisks the beautiful lass away to his sanctuary in the wild Highlands…

But Farah is no one's puppet. She possesses a powerful secret—one that threatens her very life. When being held captive by Dorian proves to be the only way to keep Farah safe from those who would see her dead, Dorian makes Farah a scandalous proposition: marry him for protection in exchange for using her secret to help him exact revenge on his enemies. But what the Blackheart of Ben More never could have imagined is that Farah has terms of her own, igniting a tempestuous desire that consumes them both. Could it be that the woman he captured is the only one who can touch the black heart he'd long thought dead?
FIRST LINE
"Blood ran down Dougan Mackenzie's forearms as he crouched against the ancient stone wall separating the grounds of Applecross Orphanage from the wild mountains beyond."
MY THOUGHTS
I received a free copy of this book from St. Martin's Press via Netgalley in exchange for an honest review.
I heard about this book from various bloggers who were at the RT event in Texas. So I was ecstatic to receive an eARC and really had to be patient and not start it right away. I have never read a Kerrigan Byrne romance, but I am ready to read everything she has ever written now.
The Highwayman
is one of those stories that sucks you in from the beginning and doesn't let go until the final, emotional page. It was reminiscent of older historical romances in the very best sense.
The story starts with a sweet interlude between a young boy, Dougan, and girl, Farah Leigh, at an orphanage run by an abusive priest. Dougan and Farah quickly become best friends and even have an adorable hand fasting ceremony. Then the real world comes crashing back and they are separated. Seventeen years later, Farah, who lives as Dougan's widow, meets up with the ruthless Dorian Blackwell who claims to have known Dougan in prison and he convinces her to marry him in order to get back her inheritance.
Dorian is a type of hero that I am not often attracted to, but I loved him in the context of this book. He is super alpha, dark, brooding, etc. His past is full of trauma and he uses the anger from it to fuel his ever-expanding empire in London. Dorian also has a problem with people touching him and this causes some obvious issues when he and Farah get married. What I liked the most about him as a character was his complexity and how much he developed over the course of the story.
If Dorian is the dark, then Farah is obviously the light character. She is beautiful, kind, and almost too good to be true. But, she has a spine that comes out at various points which shows that she is not a fragile flower. I was especially impressed with her devotion to Dougan as she visited the prison every day until she was informed of his untimely death. I also liked that she was not afraid to call Dorian out when he was being particularly thickheaded or demanding.
Farah and Dorian's romance is full of passion and drama. Their chemistry is immediate and I spent much of my reading time anticipating their first kiss. I thought they really worked as a couple despite the unorthodox beginning. Everything about their relationship is so well-written and portrayed that I never felt like things were too insurmountable for them. Not to say that there aren't issues, but I strongly believed that Farah and Dorian would make it. And, then there's the sex scenes which are a bit more abrasive than I am used to seeing in modern-day historical romance, but work for this particular story.
The plot of
The Highwayman
is complicated, over-the-top, and just tons of fun! It has everything in here from vengeful suitors to secret pasts to chases across the countryside. There is a lot going on so I settled back and enjoyed the ride. I think it works best if you try not to think about the logistics of it too hard since there are a few inconsistencies that I noticed. But, everything is improved by the beautiful writing. The author really knows how to set a scene and portray sexual tension in just a few words.
I have seen other bloggers refer to this book as crack and I think I agree. There are things about it that should irritate me, but they were showcased in such a way that I just went along with it. I read it in just two days and spent much of the time, that I wasn't reading it, thinking about it. Kerrigan Byrne really has a winner with
The Highwayman
and I am looking forward to the rest of the series.
"If I've learn anything in my life, it's that there is no darkness so absolute that it cannot be dispelled by the fainted of light."