This is part of a feature where I focus on a specific theme (or trope) that I have found in my years as a voracious reader/blogger. I love finding commonalities between my favorite books and how that helps define me as a reader.

Please note this is not meant to be a comprehensive list. I am just picking a few examples of this trope. So, if you have a favorite example of this theme, let me know about it in the comments. I'm always on the lookout for more books to be added to my wishlist.
TROUBLED MARRIAGES
These are all stories that focus on couples that are married at the beginning or pretty close to it. Often they include a long separation between the husband and wife which is the result of some type of drama or misunderstanding. I generally enjoy these romances because I like seeing couples discover that they can be happy together again. But, there is always hesitation since these types of stories seem to be ones that sometimes have cheating/adultery which is something I don't like in romance even if there ends up being a happy ending.
Not Quite a Husband by Sherry Thomas
Historical Romance -- I gave it 4 stars.
Their marriage lasted only slightly longer than the honeymoon—to no one's surprise, not even Bryony Asquith's. A man as talented, handsome, and sought after by society as Leo Marsden couldn't possibly want to spend his entire life with a woman who rebelled against propriety by becoming a doctor. Why, then, three years after their annulment and half a world away, does he track her down at her clinic in the remotest corner of India?
Leo has no reason to think Bryony could ever forgive him for the way he treated her, but he won't rest until he's delivered an urgent message from her sister—and fulfilled his duty by escorting her safely back to England. But as they risk their lives for each other on the journey home, will the biggest danger be the treacherous war around them—or their rekindling passion?
The Marriage Bed by Laura Lee Guhrke
Historical Romance -- I gave it 3 stars.
Everyone in society knows that the marriage of Lord and Lady Hammond is an unhappy one. Everyone knows they have barely spoken to one another in over nine years. But what no-one in society knows are the reasons why ...
Lady Viola Courtland was a romantic and impulsive young girl when she fell instantly in love with the handsome and dashing Viscount Hammond. Unbeknownst to Viola, John Hammond had already given his heart to the only woman he would ever love—his cousin's wife—but he was in dire financial straits and desperately needed to marry a wealthy heiress. In Viola, he thought he had found the perfect woman—beautiful and rich with a sweet nature. But Viola was neither practical nor sensible when it came to marriage, for she fully expected her husband to love her and was determined to settle for nothing less. Soon, however, John's secret was unwittingly revealed, but by then they were married and it was too late. Until one day, John finally came to his senses and prayed it wasn't too late to win back the love of his very own wife.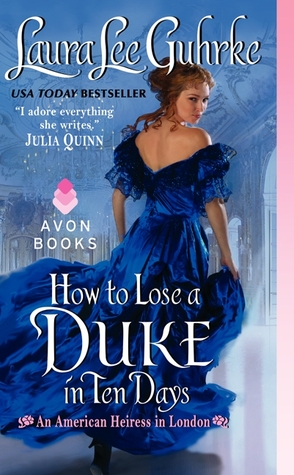 How to Lose a Duke in Ten Days by Laura Lee Guhrke
Historical Romance -- I gave it 4.5 stars.
They had a deal...
From the moment she met the devil-may-care Duke of Margrave, Edie knew he could change her life. And when he agreed to her outrageous proposal of a marriage of convenience, she was transformed from ruined American heiress to English duchess. Five years later, she's delighted with their arrangement, especially since her husband is living on another continent.
But deals are made to be broken...
By marrying an heiress, Stuart was able to pay his family's enormous debts, and Edie's terms that he leave England forever seemed a small price to pay. But when a brush with death impels him home, he decides it's time for a real marriage with his luscious American bride, and he proposes a bold new bargain: ten days to win her willing kiss. But is ten days enough to win her heart?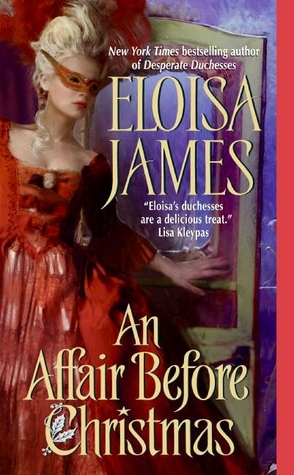 An Affair Before Christmas by Eloisa James
Historical Romance -- I gave it 4.5 stars.
Magic under the mistletoe...
One spectacular Christmas, Lady Perdita Selby, known to her friends and family as Poppy, met the man she thought she would love forever. The devilishly attractive Duke of Fletcher was the perfect match for the innocent, breathtakingly beautiful young Englishwoman, and theirs was the most romantic wedding she had ever seen. Four years later, Poppy and the duke have become the toast of the ton... but behind closed doors the spark of their love affair has burned out.
Unwilling to lose the woman he still lusts after, the duke is determined to win back his beguiling bride's delectable affections...and surpass the heady days of first love with a truly sinful seduction.
The Ugly Duchess by Eloisa James
Historical Romance -- I gave it 4 stars.
Theodora Saxby is the last woman anyone expects the gorgeous James Ryburn, heir to the Duchy of Ashbrook, to marry. But after a romantic proposal before the prince himself, even practical Theo finds herself convinced of her soon-to-be duke's passion.
Still, the tabloids give the marriage six months.
Theo would have given it a lifetime... until she discovers that James desired not her heart, and certainly not her countenance, but her dowry. Society was shocked by their wedding; it's scandalized by their separation.
Now James faces the battle of his lifetime, convincing Theo that he loved the duckling who blossomed into the swan. And Theo will quickly find that for a man with the soul of a pirate, All's Fair in Love — or War.
The Book of Scandal by Julia London
Historical Romance -- I gave it 3 stars.
Nathan Grey, the Earl of Lindsey, is infamously known as the Libertine of Lindsey for his scandalous ways with women. But when he hears gossip that his estranged wife, Evelyn, is about to be named in The Book of Scandal, he has no choice but to remove her from London to protect her and himself from charges of treason -- even if it calls for abduction!
While Evelyn has no legal recourse against the man who broke her heart years ago but is still considered her lord and master, she is no longer the immature girl Nathan married. Her enforced homecoming quickly turns into a battle of wills that tears down her husband's defenses and lays bare the passion that still burns between them. Before it is too late, Nathan must confront powerful adversaries as he convinces Evelyn that she is not only his wife, but the one woman he will love for all time.
Lady Isabella's Scandalous Marriage by Jennifer Ashley
Historical Romance -- I gave it 4 stars.
Only one man could match a lady like this—scandal for scandal.
Six years ago, eighteen-year-old Lady Isabella Scranton scandalized all of London by eloping the night of her come-out ball with the notorious rake, Lord Mac Mackenzie. After three turbulent years of marriage, she scandalized London once again—this time by leaving him.

Now Mac has resurfaced, every bit as charismatic, and with one goal: to seduce Isabella back into his life and his bed even if it means acting like a real gentleman. But when Isabella rises to the challenge of posing nude for Mac's erotic paintings, her pent-up hunger for the decadent rake is exposed as well, and she finds herself unable to resist the smooth strokes of an artist at work.
But someone's been watching them—dangerously close. This ingenious forger with designs on Mac's paintings also sets his sights on Isabella herself. Deciding to become Isabella's protector, Mac vows to never leave her side, whether his independent and proud lady likes it or not.
The Marriage Act by Alyssa Everett
Historical Romance -- I gave it 3.5 stars.
When John, Viscount Welford, proposed to Caroline Fleetwood, the only daughter of the Bishop of Essex, he thought he knew exactly what he was getting—a lovely, innocent bride.
Five years later, he knows better. The woman who ran to another man on their wedding night—after they'd consummated the marriage—is hardly innocent. Years spent apart while John served as a diplomatic attaché have allowed them to save face in society, but all good pretenses must come to an end. When Caroline receives word that her father is dying, she begs John to accompany her on one last journey to see him.
But there's an added problem—Caroline never told her father that her marriage to John was a farce. As they play-act for others, Caroline is delighted to find she never really knew her husband at all. But can she be the kind of wife he needs—and does she want to be?
Three Little Secrets by Liz Carlyle
Historical Romance -- I gave it 4 stars.
Once upon a time, they eloped. But then dashing Scotsman Merrick MacLachlan accepted payment from Lady Madeleine's father to have the marriage annulled. Or did he?

Two times, Maddie has wed. Once for love, once for comfort. Yet once more she is alone with only her beloved son and his haunting visions for company. Until fate thrusts her back into the arms of her first love.

Three little secrets dance between them. One is that he desires her as much as ever; another is that she's never forgotten his touch. But the scars of their youthful passion run deep, and the third secret will either mark their undoing . . . or spark the sizzling reunion they dare not dream of.
Never Desire a Duke by Lily Dalton
Historical Romance -- I gave it 4 stars.
A Marriage Beyond Hope
Lady Sophia has long been estranged from her husband, Lord Vane Barwick, the Marquess of Claxton, whose rumored list of amorous conquests includes almost every beautiful woman of the ton. Yet a shocking encounter with him in a crowded ballroom—and a single touch—are all it takes to reawaken her furious passion for him. But how can she trust the man who crushed her dreams and took away the one thing she wanted most?
A Love Beyond Reason
Lord Claxton has never forgiven himself for the youthful mistake that ruined his marriage to Lady Sophia. Now, after nearly a year abroad, the reformed rogue vows to win back the only woman he's ever truly loved. He'll do whatever it takes to prove he can be the honorable husband she deserves—and the passionate lover she desires. As the snowdrifts deepen outside their ancestral home, can they rekindle the flame that burned so bright and find a new path to forever?
One Night for Love by Mary Balogh
Historical Romance -- I gave it 4 stars.
It was a perfect morning in May . . .Neville Wyatt, Earl of Kilbourne, awaited his bride at the altar—when a ragged beggar woman raced down the aisle instead. The cream of the tonsaw him stare, shocked, then declare that this was his wife! One night of passion was all he remembered as he beheld Lily, the woman he'd wed, loved, and lost on the battlefield in Portugal. Now he said he'd honor his commitment to her—regardless of the gulf that lay between them.
Then Lily spoke her mind . . .
She said she wanted only to start a new life—wanted only a husband who truly loved her. She had to leave him to learn how to meet his world on her terms. So Lily agreed to earn her keep as his aunt's companion and study the genteel arts. Soon she was the toast of the ton, every inch a countess fit for the earl, who vowed to prove to his remarkable wife that what he felt for her was far more than desire, that what he wanted from her was much more than . . . One Night for Love.
Line of Scrimmage by Marie Force
Contemporary Romance -- I gave it 3.5 stars.
She's given up on him and moved on...Susannah finally has a peaceful, calm life and a no-surprises man. Marriage to football superstar Ryan Sanderson was a whirlwind of passion, heat, energy, and excitement, but Susannah got sick of playing second fiddle to his team, watching women throwing themselves at him, and living in terror of the hard hits he took on the field. With their divorce just days from being final, she's already planning a wedding with her new fiance...
He's finally figured out what's really important to him. If only it's not too late...Ryan has just ten days to convince his soon-to-be ex-wife to give him a second chance. He has just brought home his third championship and his career is at its pinnacle, but during the year of their separation, Ryan's come to realize it doesn't mean anything at all without Susannah...
Snow-Kissed by Laura Florand
Contemporary Romance -- I gave it 4.5 stars.
Florand takes us to a snow-kissed Christmas cabin for this heart-wrenching tale of love, loss, forgiveness—and hope. After the utter destruction of her marriage and her happiness, Kai knew it was better to shut herself away from the world than to hurt and be hurt. Holed up in her mountain cabin, she planned to spend her Christmas alone. Until her not-quite-ex-husband shows up as the first flakes start to fall. Now should she send him back out into the cold? Or can she be brave enough to let this winter snow bind them back together?


Any Man of Mine by Rachel Gibson
Contemporary Romance -- I gave it 3.5 stars.
Autumn Haven's Las Vegas "to-do" list said to catch a show and play the slots--not wake up married to a sexy jerk like Sam LeClaire. The first moment she saw him eyeing her like a luscious piece of the dessert buffet, her usually responsible self told her run. And she did--right into the wildest fantasy weekend of her life. But Monday morning jolted her back to reality, and before she could say "pass the coffee," Sam was gone.
Now a successful wedding planner, Autumn hasn't clapped eyes on the heart-breaking hockey superstar for over two years... until she organizes his teammate's "Special Day," where Sam makes a BIG play to pick up where he left off! But she has vowed any man of hers plays for keeps. Is Sam the man for her or does she banish him to the sin bin forever?
Winterblaze by Kristen Callihan
Historical-Paranormal Romance -- I gave it 4.5 stars.
Once blissfully in love . . .
Poppy Lane is keeping secrets. Her powerful gift has earned her membership in the Society for the Suppression of Supernaturals, but she must keep both her ability and her alliance with the Society from her husband, Winston. Yet when Winston is brutally attacked by a werewolf, Poppy's secrets are revealed, leaving Winston's trust in her as broken as his body. Now Poppy will do anything to win back his affections . . .

Their relationship is now put to the ultimate test.
Winston Lane soon regains his physical strength but his face and heart still bear the scars of the vicious attack. Drawn into the darkest depths of London, Winston must fight an evil demon that wants to take away the last hope of reconciliation with his wife. As a former police inspector, Winston has intelligence and logic on his side. But it will take the strength of Poppy's love for him to defeat the forces that threaten to tear them apart.
Bitten by Kelley Armstrong
Urban Fantasy
Elena Michaels is the world's only female werewolf. And she's tired of it. Tired of a life spent hiding and protecting, a life where her most important job is hunting down rogue werewolves. Tired of a world that not only accepts the worst in her–her temper, her violence–but requires it. Worst of all, she realizes she's growing content with that life, with being that person.
So she left the Pack and returned to Toronto where she's trying to live as a human. When the Pack leader calls asking for her help fighting a sudden uprising, she only agrees because she owes him. Once this is over, she'll be squared with the Pack and free to live life as a human. Which is what she wants. Really.
WANT MORE? CHECK OUT...
Lord and Lady Spy by Shana Galen (historical romance)
Trial by Desire by Courtney Milan (historical romance)
His Wicked Ways by Eloisa James (historical romance)
This Duchess of Mine by Eloisa James (historical romance)
The Duke of Shadows by Meredith Duran (historical romance)
Passions of a Wicked Earl by Lorraine Heath (historical romance)
The Shadow and the Star by Laura Kinsale (historical romance)
Hot Finish by Erin McCarthy (contemporary romance)
UPCOMING THEMES
Amnesia -- August 27th
Pirates -- September 3rd
Makeovers -- September 10th