This is part of a feature where I focus on a specific theme (or trope) that I have found in my years as a voracious reader/blogger. I love finding commonalities between my favorite books and how that helps define me as a reader.

Please note this is not meant to be a comprehensive list. I am just picking a few examples of this trope. So, if you have a favorite example of this theme, let me know about it in the comments. I'm always on the lookout for more books to be added to my wishlist.
I am an academic librarian so I am always intrigued by the portrayal of the profession in romance. I have been disappointed many times, but there are authors that clearly do their research and know how the profession actually works. I also give points to books that go beyond the typical librarian stereotype.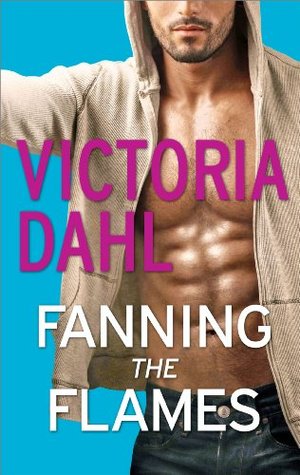 Lauren Foster -- Fanning the Flames by Victoria Dahl
Contemporary Romance -- I gave it 4 stars.
Some men are off-limits. Close friends of your ex-husband, for instance. Or firefighters who work in the same building as you. Yet despite her best judgment, librarian Lauren Foster can't help noticing fire captain Jake Davis whenever he jogs by…shirtless. They've always been friends, but all it takes is one not-so-chance meeting at a local bar and one not-quite-innocent walk home to ignite a fierce, uncontrollable desire between them.
Widower Jake Davis has tried to ignore the spark he feels whenever Lauren's around, but once he sees her curves in a little black dress, there's no turning back. No matter how often she says she's all wrong for him, the sexy, outspoken divorcée is driving him wild in the best possible way. Maybe she's just blowing off steam. Or maybe he can convince her to fan these flames into something deeper, hotter and truer than they ever expected….
Contemporary Romance -- I gave it 3.5 stars.
Librarian Sophie Heyer has walked the straight and narrow her entire life to avoid paying for her mother's mistakes. But in tiny Jackson Hole, Wyoming, juicy gossip just doesn't go away, so the last thing she needs is for history to repeat itself. Falling hard for the sexiest biker who's ever rode into town would undo everything she's worked for. And to add insult to injury, the sexy stranger is none other than Alex Bishop--the son of the man her mother abandoned Sophie's family for. He may be temptation on wheels, but Sophie's not looking for trouble!
Maybe Sophie's buttoned-up facade fools some, but Alex knows a naughty smile when he sees one. Despite their parents' checkered pasts, he's willing to take some risks to find out the truth about the town librarian. He figures a little fling might be just the ticket to get his mind off of family drama. But what he finds underneath Sophie's prim demeanor might change his world in ways he never expected.
Gabe MacKenzie -- Taking the Heat by Victoria Dahl
Contemporary Romance -- I gave it 4.5 stars.
All revved up for bright lights and steamy nights, writer Veronica Chandler chased her dreams to New York City. When she hit a dead end, reality sent her back home to Jackson Hole, Wyoming. Saving her pride and her new gig—writing a relationship advice column!—requires some faking. No one can know the truth about her big-city flop or her nonexistent sex life. But the town's irresistibly rugged librarian is determined to figure her out… and give her hands-on lessons in every wicked thing she wants to know.
Gabe MacKenzie's heart might be in Wyoming, but secretly his future's tied up in his family's Manhattan legacy. Getting down and dirty with Veronica is supposed to give him a few memorable nights—not complicate his plans. But the thing about heat this scorching is there's just no going back… and it might be too hot for either of them to take.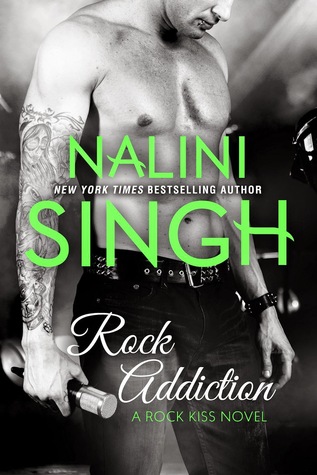 Molly Webster -- Rock Addiction by Nalini Singh
Contemporary Romance -- I gave it 4 stars.
A bad boy wrapped in a sexy, muscled, grown-up package might be worth a little risk…

Molly Webster has always followed the rules. After an ugly scandal tore apart her childhood and made her the focus of the media's harsh spotlight, she vowed to live an ordinary life. No fame. No impropriety. No pain. Then she meets Zachary Fox, a tattooed bad boy rocker with a voice like whiskey and sin, and a touch that could become an addiction.

A one-night stand with the hottest rock star on the planet, that's all it was meant to be…

Fox promises scorching heat and dangerous pleasure, coaxing Molly to extend their one-night stand into a one-month fling. After that, he'll be gone forever, his life never again intersecting with her own. Sex and sin and sensual indulgence, all with an expiration date. No ties, no regrets. Too late, Molly realizes it isn't only her body that's become addicted to Fox, but her heart…
Jane Sparks -- The Bad Boy Billionaire's Wicked Arrangement by Maya Rodale
Contemporary Romance -- I gave it 3.5 stars.
The first installment of a sexy, whirlwind romance about a modern day heroine writing historical romance novels based on her romantic misadventures with the bad boy billionaire.
Jane Sparks has accidentally announced her engagement on Facebook—to the infamous Bad Boy Billionaire, Duke Austen. As soon as it's discovered that Jane and Duke barely know each other (One hot kiss at a party does not a relationship make), she'll be humiliated. And then Duke does something Jane never expected. He plays along with her charade.
With his hard partying, playboy reputation jeopardizing a fifty million dollar investment deal, Duke realizes an engagement with the hot but oh-so-proper librarian could be just the thing to repair his reputation. This good girl tempts him to be very wicked…but just with her. It's unprecedented. Inconceivable. Totally alluring.
As the unlikely match of librarian and tech entrepreneur set out to convince the world—and the internet—that their love is real, something unexpected happens: they start falling for each other. But Jane is secretly writing a historical romance novel that could expose their carefully constructed romance…unless two perfect strangers are content to be perfectly scandalous together.
Annie Goodhouse -- Hard Time by Cara McKenna
Contemporary Romance -- I gave it 3 stars.
My pounding heart went still, eerie as birds fallen silent in the wake of a gunshot.
He was big. Tall frame, wide shoulders-but not burly. His near-black hair was due for a cut, curling under his ears. Dark brows, dark stubble, dark lashes and eyes.
And he was handsome. So handsome it broke your heart.
A deck of cards was split between his hands, paused midshuffle. Some of the men wore navy scrub tops and bottoms, some navy tee shirts, a few white undershirts. This man wore a tee, with COUSINS stenciled on the front, above the number 802267. Those digits imprinted on my brain, burned black as a brand.
He watched me. But not the way the others did. If he was trying to picture me naked, his poker face was strong, though his attention anything but subtle. His entire head moved as I passed through his domain, but his eyes were languorous. Lazy and half-lidded, yet intense. A hundred looks in one. I didn't like it. Couldn't read it. At least with the horny jerk-offs, I knew where I stood.
I wondered what the worst thing you could do and still only get sent to a medium-security prison was. I hoped not to ever learn the answer. And I hoped to heaven inmate 802267 hadn't signed up for any of the day's programs.
Betty Hart -- Gerard's Beauty by Marie Hall
Fantasy Romance
A not so classic retelling of Beauty and the Beast, as seen through the eyes of the villain...
Betty Hart has had it with men. Jilted in love, her life now consists of shelving books by day, watching too much Anime by night, and occasionally dressing up like a superhero on the weekends with her fellow 'Bleeding Heart' nerds. Men are not welcome and very much unwanted. Especially the sexy Frenchman who saunters into her library reeking of alcohol and looking like he went one too many rounds in the ring.
Gerard Caron is in trouble. Again. Caught with his pants down (literally) he's forced to seek asylum on Earth while his fairy godmother tries to keep Prince Charming from going all 'Off with his head'. Maybe, messing around with the King's daughter hadn't been such a great idea after all, not that Gerard knew the silly redhead was a princess. But his fairy godmother knows the only way to save his life is to finally pair Gerard with his perfect mate, whether he's willing or not.
From the moment Gerard lays eyes on the nerdy librarian he knows he must have her, but Betty is unlike any woman he's ever known. He thought Betty would come as willingly to his bed as every other woman before her, but she is a woman who demands respect and even… horror of all horrors… love. Is it possible for a self-proclaimed Casanova to change his ways?
Francesca Barnes -- The Demon's Librarian by Lilith Saintcrow
Paranormal Romance
Demons are preying on schoolchildren in her city, so Francesca Barnes does what any red-blooded librarian would do-she does some research and goes hunting. But the books she finds in a secret cache don't tell her the whole story. Chess has no idea what she's just stepped into or just how special she is.
Orion is Drakul, part demon, and a loyal servant of the Order. He doesn't expect a motorcycle-riding librarian to be messing around with demonic forces, and he doesn't expect her to smell so damn good. But Ryan's got bigger problems. His partner has disappeared, and the forces of Darkness are rising.
Now Chess is Ryan's only hope of finding his partner, and Ryan is Chess's only hope of survival because the demons now know Chess exists and that she is the heir to a long-lost power that could push back their dark tide. If Ryan can keep her alive long enough, she just might be the key to destroying the demons completely.
But Ryan doesn't know he's been betrayed by the very Order he serves. And if Chess does, by some miracle survive, he won't ever be able to touch her again. . .
Jane Jameson -- Nice Girls Don't Have Fangs by Molly Harper
Paranormal Romance
Maybe it was the Shenanigans gift certificate that put her over the edge. When children's librarian and self-professed nice girl Jane Jameson is fired by her beastly boss and handed twenty-five dollars in potato skins instead of a severance check, she goes on a bender that's sure to become Half Moon Hollow legend. On her way home, she's mistaken for a deer, shot, and left for dead. And thanks to the mysterious stranger she met while chugging neon-colored cocktails, she wakes up with a decidedly unladylike thirst for blood.
Jane is now the latest recipient of a gift basket from the Newly Undead Welcoming Committee, and her life-after-lifestyle is taking some getting used to. Her recently deceased favorite aunt is now her ghostly roommate. She has to fake breathing and endure daytime hours to avoid coming out of the coffin to her family. She's forced to forgo her favorite down-home Southern cooking for bags of O negative. Her relationship with her sexy, mercurial vampire sire keeps running hot and cold. And if all that wasn't enough, it looks like someone in Half Moon Hollow is trying to frame her for a series of vampire murders. What's a nice undead girl to do?
Gabriel Higgins -- Sleigh Ride by Heidi Cullinan
Male/Male Contemporary Romance -- I gave it 4 stars.
Arthur Anderson doesn't want anything to do with love and romance, and he certainly doesn't want to play Santa in his mother's library fundraising scheme. He knows full well what she really wants is to hook him up with the town's lanky, prissy librarian.

It's clear Gabriel Higgins doesn't want him, either—as a Santa, as a boyfriend, as anyone at all. But when Arthur's efforts to wiggle out of the fundraiser lead to getting to know the man behind the storytime idol, he can't help but be charmed. The least he can do is be neighborly and help Gabriel find a few local friends.

As their fiery arguments strike hotter sparks, two men who insist they don't date wind up doing an awful lot of dating. And it looks like the sleigh they both tried not to board could send them jingling all the way to happily ever after.
Iku Kasahara -- Library Wars: Love and War by Kiiro Yumi
Shoujo Manga
In the near future, the federal government creates a committee to rid society of books it deems unsuitable. The libraries vow to protect their collections, and with the help of local governments, form a military group to defend themselves--the Library Forces!
Iku Kasahara has dreamed of joining the Library Defense Force ever since one of its soldiers stepped in to protect her favorite book from being confiscated in a bookstore when she was younger. But now that she's finally a recruit, she's finding her dream job to be a bit of a nightmare. Especially since her hard-hearted drill instructor seems to have it in for her!


WANT MORE?
What the Librarian Did by Karina Bliss
Trouble When You Walked In by Kieran Kramer
Love Overdue by Pamela Morsi
Screwdrivered by Alice Clayton
Before Jamaica Lane by Samantha Young
UPCOMING THEMES
Troubled Marriages -- August 20th
Amnesia/Fake Amnesia -- August 27th