This is part of a feature where I focus on a specific theme (or trope) that I have found in my years as a voracious reader/blogger. I love finding commonalities between my favorite books and how that helps define me as a reader.

Please note this is not meant to be a comprehensive list. I am just picking a few examples of this trope. So, if you have a favorite example of this theme, let me know about it in the comments. I'm always on the lookout for more books to be added to my wishlist.
AMNESIA
These are all books that involve characters having some type of amnesia. The amnesia is often the result of traumatic head injuries or PTSD. There is usually a mystery involving how the character got amnesia and, of course, drama about whether their memories will ever return.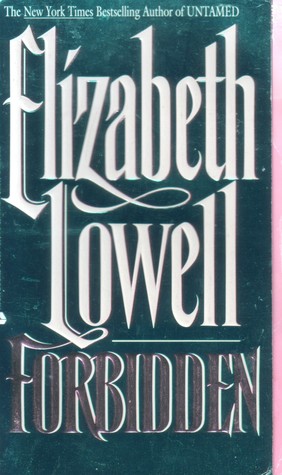 Forbidden by Elizabeth Lowell
Historical Romance (Medieval Scotland) -- I gave it 3.5 stars.
FOREWARNED
Throughout the Disputed Lands she is called Amber the Untouched --- a chaste, golden-haired beauty fleeing the remarkable love that was prophesied at her birth ... and the death that must inevitably follow.
FORESEEN
He comes to her in darkness, as had been foretold --- a wounded warrior with no memory ... a promised lover seared by passion's fire, irresistibly drawn to the innocent enchantress who divines truth with a touch.
FORGOTTEN
In a time of war, their romance is legend --- until a lost past returns to Duncan and labels Amber his enemy. But he cannot forsake the beautiful woman who has healed his body and his heart. He vows to defy to the death the dread forces that have proclaimed their love ... FORBIDDEN.
Highland Groom by Hannah Howell
Historical Romance (Medieval Scotland) -- I gave it 4.5 stars.
Sir Diarmot MacEnroy, deciding his illegitimate children need a mother and his keep needs a proper lady, now stands before the altar with a gentle bride he hopes is too shy to disrupt his life or break his heart. The nuptials, however, are interrupted by the appearance of a flame-haired beauty carrying two babies, boldly claiming that she is his wife and mother of his twin infant sons. Armed with her seven large brothers, she has come to demand her dues.
Having waited one year for the return of the handsome laird who wed her, bedded her, then disappeared, Ilsa Campbell MacEnroy takes matters into her own hands and sets out to reclaim the man she briefly and passionately loved. Stunned by his denial, her heart softens when she learns of the injury that has ravaged his memory. Now, she faces the nearly impossible task of conquering his past - and his fierce reluctance to share his heart. Though desire flares hot and wild between them, it will take more to win his trust. It will take the magic touch of a woman in love.
Slightly Sinful by Mary Balogh
Historical Romance (Regency England) -- I gave it 4 stars.
When the four lady residents of a brothel in Brussels lose their life savings to a confidence man, their friend Rachel York, who introduced him to them, feels responsible even though all her money has been stolen too. She vows to help them recover their savings, but in order to do that she needs to get her hands on the jewels she will inherit at the age of twenty-five. And in order to do that, she needs to acquire a husband--fast.
Enter Lord Alleyne Bedwyn, who is recuperating at the brothel from wounds sustained at the Battle of Waterloo. Alleyne may have lost his memory, but he has not lost any of the dash and devilry that had always characterized him as the youngest Bedwyn brother. Although he needs to go off in search of his identity, he cannot resist embroiling himself in intrigue with Rachel first--especially when doing so seems ever so slightly sinful.
Someone to Watch Over Me by Lisa Kleypas
Historical Romance (Victorian England) -- I gave it 3 stars.
Grant Morgan is one of London's most eligible and unattainable bachelors. He's also a powerful member of the Bow Street Runners, and when he's called to the waterfront late one night to investigate a drowning victim, Grant is stunned to recognize the face of Vivien Rose Duvall, a well-known woman of the night. He's even more startled when he realizes that she's alive. With no one to care for her, Grant carries Vivien to his home and revives her, only to learn that she is suffering from amnesia.
Vivien hesitantly accepts her handsome rescuer's claim that she is his mistress, despite her misgivings about her true identity. Nevertheless, she can't deny the marks on her throat that prove her near-drowning in the Thames was not an accident, and now she must trust the man who claims her as his paramour, for her life is in danger. As Grant searches for Vivien's attacker, the two find themselves falling in love, all the while struggling to stay one step ahead of the evil forces that will stop at nothing to see Vivien dead.
A Kiss to Remember by Teresa Medeiros
Historical Romance -- I gave it 4 stars.
Laura Fairleigh needs a husband. If she is to keep a roof over her siblings heads, the prim rectors daughter must wed by her twenty-first birthday. When she finds a mysterious stranger with the face of an angel and the body of Adonis unconscious in the forest and with no memory of his name or his past, she decides to claim him for her own. Little does she know that her fallen angel is really the devil in disguise.

Sterling Harlow, the notorious rake known as the Devil of Devonbrooke, awakens to the enchanting kiss of a lovely young woman who informs him he is her long-lost betrothed. With her sun-kissed cheeks and smattering of freckles, she looks every inch the innocent, but her curves possess a womans allure. When she assures him he is the perfect gentleman, he wonders if hes lost his wits as well as his memory. He would have sworn he was not a man to be satisfied with mere kisses especially from lips as sweet and luscious as Lauras. As he attempts to uncover the truth before their wedding night, A Kiss To Remember ignites a passion neither of them will ever be able to forget....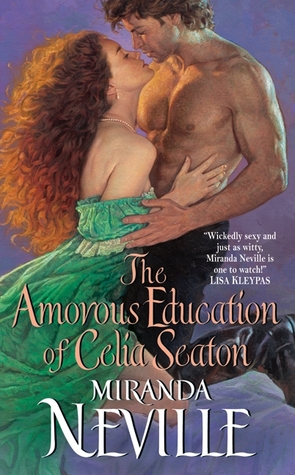 The Amorous Education of Celia Seaton by Miranda Neville
Historical Romance -- I gave it 4.5 stars.
Being kidnapped is teaching Miss Celia Seaton a few things about life:

Lesson One: Never disrobe in front of a gentleman...unless his request comes at gunpoint.

Lesson Two: If, when lost on the moors, you encounter Tarquin Compton, the leader of London society who ruined your marriage prospects, deny any previous acquaintance.

Lesson Three: If presented with an opportunity to get back at Mr. Compton, the bigger the lie, the better. A faux engagement should do nicely.

Lesson Four: Not all knowledge is found between the covers of a book. But an improper book may further your education in ways you never guessed.

And while an erotic novel may be entertaining, the real thing is even better.
Once More, My Darling Rogue by Lorraine Heath
Historical Romance -- I gave it 3.5 stars.
Born to the street but raised within the aristocracy, Drake Darling can't escape his sordid beginnings. Not when Lady Ophelia Lyttleton snubs him at every turn, a constant reminder he's not truly one of them. But after rescuing her from a mysterious drowning he realizes she doesn't remember who she is. With plans to bring her to heel, he insists she's his housekeeper—never expecting to fall for the charming beauty.
While Ophelia might not recall her life before Drake, she has little doubt she belongs with him. The desire she feels for her dark, brooding employer can't be denied, regardless of consequences. So when her memory returns, she is devastated by the depth of his betrayal. Now Drake must risk everything to prove she can trust this rogue with her heart once more.
New Life by Bonnie Dee
Contemporary Romance -- I gave it 3.5 stars.
Since the car accident that caused traumatic brain injury, Jason has fought to regain his memories and the ability to organize thoughts and control emotions. His promising future shattered, he works as a night janitor in an office building and clings to routine to make it through his days.
New lawyer Anna breaks down one evening after fumbling her first court case. Self-doubt brings her to tears in a deserted stairwell where Jason finds her and offers comforting words. From this unexpected meeting an unlikely romance begins.
A casual coffee date soon leads to a deeper connection and eventually a steamy affair. But are Jason and Anna's growing feelings for each other strong enough to overcome the social chasm that divides them and the very real issues of Jason's disability?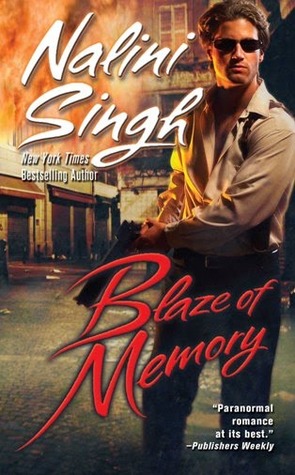 Blaze of Memory by Nalini Singh
Paranormal Romance -- I gave it 4.5 stars.
A woman without a past becomes the pawn of the man who controls her future...
Dev Santos discovers her unconscious and battered, with no memory of who she is. All she knows is that she's dangerous. Charged with protecting his people's most vulnerable secrets, Dev is duty-bound to eliminate all threats. It's a task he's never hesitated to complete...until he finds himself drawn to a woman who might prove to be the enemy's most insidious weapon yet.
Stripped of her memories by a shadowy oppressor and programmed to carry out cold-blooded murder, Katya Haas is fighting desperately for her sanity. Her only hope is Dev. But how can she expect to gain the trust of a man who could very well be her next target? For in this game, one must die...
Dreams of a Dark Warrior by Kresley Cole
Paranormal Romance -- I gave it 4.5 stars.
He Vowed He'd Come For Her...
Murdered before he could wed Regin the Radiant, warlord Aidan the Fierce seeks his beloved through eternity, reborn again and again into new identities, yet with no memory of his past lives.
She Awaits His Return...
When Regin encounters Declan Chase, a brutal Celtic soldier, she recognizes her proud warlord reincarnated. But Declan takes her captive, intending retribution against all immortals—unaware that he belongs to their world.
To Sate A Desire More Powerful Than Death...
Yet every reincarnation comes with a price, for Aidan is doomed to die when he remembers his past. To save herself from Declan's torments, will Regin rekindle memories of the passion they once shared—even if it means once again losing the only man she could ever love?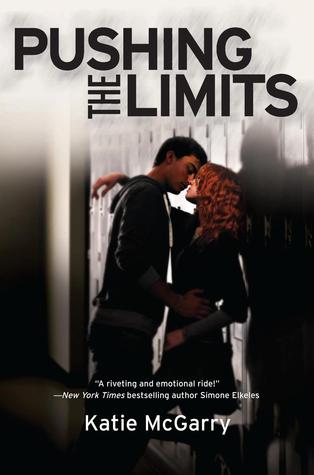 Pushing the Limits by Katie McGarry
Young Adult Contemporary -- I gave it 4.5 stars.
So wrong for each other …and yet so right.
No one knows what happened the night Echo Emerson went from popular girl with jock boyfriend to gossiped-about outsider with "freaky" scars on her arms. Even Echo can't remember the whole truth of that horrible night. All she knows is that she wants everything to go back to normal.

But when Noah Hutchins, the smoking-hot, girl-using loner in the black leather jacket, explodes into her life with his tough attitude and surprising understanding, Echo's world shifts in ways she could never have imagined. They should have nothing in common. And with the secrets they both keep, being together is pretty much impossible.

Yet the crazy attraction between them refuses to go away. And Echo has to ask herself just how far they can push the limits and what she'll risk for the one guy who might teach her how to love again.
The Adoration of Jenna Fox by Mary E. Pearson
Young Adult Science Fiction -- I gave it 3 stars.
Who is Jenna Fox? Seventeen-year-old Jenna has been told that is her name. She has just awoken from a coma, they tell her, and she is still recovering from a terrible accident in which she was involved a year ago. But what happened before that? Jenna doesn't remember her life. Or does she? And are the memories really hers?
WANT MORE? CHECK OUT...
In Love with a Wicked Man by Liz Carlyle
Tempting the Bride by Sherry Thomas
The Accidental Wedding by Anne Gracie
Pleasures of a Notorious Gentleman by Lorraine Heath
What Happens in Scotland by Jennifer McQuiston
Heart of Obsidian by Nalini Singh
Don't Look Back by Jennifer L. Armentrout
The River Leith by Leta Blake
UPCOMING THEMES
Pirates -- September 3rd
Makeovers -- September 10th
Animals -- September 17th