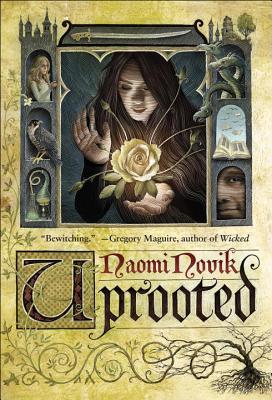 For Ages 18+ (Violence, Language, Sensuality)
Fantasy

Del Rey -- Published on May 19, 2015
Hardcover, 438 pages
Read in August 2015
Borrowed from the library

RATING: 4.25 STARS
THEMES/TROPES
Alternate Universe, Fairy Tales, Captivity/Imprisonment, Magic
SUMMARY
Agnieszka loves her valley home, her quiet village, the forests and the bright shining river. But the corrupted Wood stands on the border, full of malevolent power, and its shadow lies over her life.

Her people rely on the cold, driven wizard known only as the Dragon to keep its powers at bay. But he demands a terrible price for his help: one young woman handed over to serve him for ten years, a fate almost as terrible as falling to the Wood.

The next choosing is fast approaching, and Agnieszka is afraid. She knows—everyone knows—that the Dragon will take Kasia: beautiful, graceful, brave Kasia, all the things Agnieszka isn't, and her dearest friend in the world. And there is no way to save her.

But Agnieszka fears the wrong things. For when the Dragon comes, it is not Kasia he will choose.
FIRST LINE
"Our Dragon doesn't eat the girls he takes, no matter what stories they tell outside our valley."
MY THOUGHTS
I decided to request
Uprooted
from my library after hearing about it on NPR's Pop Culture Happy Hour podcast. That recommendation was quickly backed by hearing about it around the blogosphere. I knew who Naomi Novik was, but had never tried one of her books though I do own the first Temeraire Dragons book. I adore fairy tales so I was ready to be swept away. And I did have a good time reading this book. It was not my favorite fantasy ever, but I enjoyed it and can see many others liking it as well.
Uprooted
is a fairy tale that is heavily inspired by Polish myth/stories, in particular Baba Jaga/Baba Yaga. It takes place in a country that is constantly on alert for invasions from their neighbors while also dealing with the Wood, a menacing forest that is full of deadly creatures and seems to be growing. Our heroine is Agnieszka who lives in a village near the Wood that is protected by a powerful wizard known as the Dragon. The only thing the Dragon asks for in return for keeping the village safe is that every ten years a girl is selected to accompany him back to his castle. No one knows what happens in the castle, but, after ten years, the Dragon releases them and they go off to live away from the village.
Agnieszka is truly the star of this book. She starts off the story as this clumsy, messy village girl who is saddened by the fact that everyone believes her best friend will be selected by the Dragon. Of course, readers aren't surprised when it is Agnieszka who is chosen and she begins a journey that shows her how powerful she really is. I loved the development of Agnieszka as she discovers the heartbreaking truth about the Wood and how her dormant magical abilities can help save her country. I also adored the fact that, after an initial freakout, she didn't let the Dragon get away with anything and pretty much forced her way into his life.
Besides Agnieszka, the two characters that the book focuses on is the Dragon and her best friend, Kasia. I was fascinated by the Dragon and how he reacted to Agnieszka's personality There is a slow-burning love story here, but it is definitely not the focus. I did find myself wanting more about him especially towards the end. There was character development, but I don't think it ever reached its potential. But, Kasia was just amazing! I thought the portrayal of the friendship between Agnieszka and her was well-done and realistic. They are devoted to one another, but also disagree at various points in the story.
The world building in
Uprooted
was overwhelming for me at the beginning. Novik provides a lot of information in a seamless manner, but there just is a lot to learn. Thankfully, things smoothed out, for me, a third of the way into the book. I liked how the plot was divided into three main sections: Agnieszka interacting with the Dragon at the castle, Agnieszka at the royal court, and her return to the castle. It helped me compartmentalize the different aspects of the country and its reaction to the Wood. I do want to provide future readers with a warning that there is quite a bit of violence and death in this book. This is a dark time for this country and the author does not candy-coat that.
All in all, I found this book to be a nice break from the normal romance novels that I read. The writing is beautiful and the setting really came alive for me. I am even more intrigued to check out the Temeraire Dragons series now after enjoying
Uprooted
so much.
"It wasn't that I wanted a husband and a baby; I didn't, or rather, I only wanted them the way I wanted to live to a hundred: someday, far off, never thinking about the particulars."