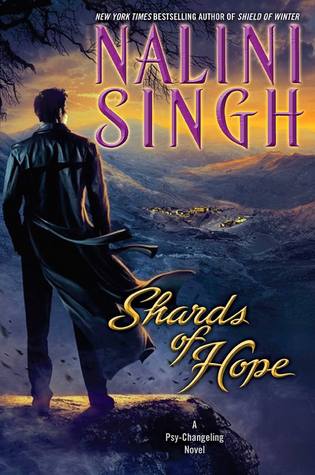 Shards of Hope by Nalini Singh
(Psy-Changeling #14)
For Ages 18+ (Language, Sensuality, Violence)
Paranormal Romance

Berkley-- Published on June 2, 2015
Hardcover, 483 pages
Read in July 2015
Borrowed from library

RATING: 5 STARS
THEMES/TROPES
Alternate Universe, Imprisonment, Childhood Friends, Alpha Heroine, Virgin Hero
SUMMARY
Awakening wounded in a darkened cell, their psychic abilities blocked, Aden and Zaira know they must escape. But when the lethal soldiers break free from their mysterious prison, they find themselves in a harsh, inhospitable landscape far from civilization. Their only hope for survival is to make it to the hidden home of a predatory changeling pack that doesn't welcome outsiders.

And they must survive. A shadowy enemy has put a target on the back of the Arrow squad, an enemy that cannot be permitted to succeed in its deadly campaign. Aden will cross any line to keep his people safe for this new future, where even an assassin might have hope of a life beyond blood and death and pain. Zaira has no such hope. She knows she's too damaged to return from the abyss. Her driving goal is to protect Aden, protect the only person who has ever come back for her no matter what.

This time, even Aden's passionate determination may not be enough—because the emotionless chill of Silence existed for a reason. For the violent, and the insane, and the irreparably broken…like Zaira.
FIRST LINE
"Spring is in full flower in the year 2082."


MY THOUGHTS
Warning! This review contains spoilers for earlier books in the Psy-Changeling series.
It can be difficult for an author to keep a series interesting after multiple installments. I have been burned many times so I am thrilled that Nalini Singh's Psy-Changeling series continues to be consistently entertaining and, of course, extremely romantic. The world has become very complex and, while this book
could
be read as a stand-alone, I think readers will truly benefit from experiencing the entire epic from the beginning.
Shards of Hope
focuses on Aden, the leader of the Arrows, who has been a prominent secondary character for most of the series. Fans mostly know him to be the more cerebral part of the friendship that includes the ultra-powerful Vasic from
Shield of Winter
. Now he gets to take center stage and I fell in love with him in this book. I adored his steady brand of leadership and his complete devotion to the Arrows who are struggling with changes related to the fall of Silence. Aden also has to learn how to take care of himself since the Arrows will live and die by him at this point.
Zaira is one of the tortured souls that make up the Arrows who has had a connection with Aden for years. Her childhood was full of abuse and mental anguish so she is constantly dealing with those demons. Most of her journey in this book involves her figuring out that she is worth more to Aden than just as a guard. I loved how dominant she was and how that personality trait translated into a romance heroine.
Aden and Zaira have been friends for many years and the fall of Silence has pushed them together even more. They develop a decent relationship as leader/soldier which is disrupted when they are both taken captive by a mysterious group and are forced to deal with the world without their Psy abilities for a few days. Their trust in one another increases at this time and their connection becomes something much more. I really enjoy the tension involved in Psy-centric romances and this is a great example. Also, I was impressed with the fact that their romance could have easily gotten lost amidst the external conflicts, but the story always comes back to the relationship between Zaira and Aden.
Shards of Hope
continues to showcase the effects of the fall of Silence on the Psy, the changelings, and even the humans. The Arrows are the main focus group of this book as it details exactly how difficult they are finding it to adjust to this new world. I found it fascinating to watch Aden, Zaira, and the others figure out their place and how they are going to change the way that the Psy handle children, teens, and adults with dangerous abilities. It was also neat to read about the complexity of the Arrows' mutiny against their long-time leader, Ming LeBon.
This book centers around Aden and Zaira, but there are also intriguing side characters that have valuable moments in the larger storyline. There are many return appearances from series favorites which had me smiling through my reading experience. I especially enjoyed getting to spend more time with Judd, Walker, Nikita, and, of course, the members of the SnowDancer and DarkRiver packs.
Psy-Changeling fans will also be excited to see two new changeling packs, RainFire and BlackSea, and their alphas pop up and claim their attention. This series has spent a lot of time with SnowDancer and DarkRiver and it was nice to shift the focus to these groups who have different philosophies and goals. I am really hoping that RainFire alpha, Remy, gets his own story in the future.
I am sorry for the length of this review, but there is just so much that I want to talk about when it comes to both this book and the series as a whole. I am just amazed that Nalini Singh was able to take the fourteenth installment and make it just as powerful as the early books. This alternate world is changing before readers' eyes and
Shards of Hope
really shows how far things have come. The series is epic and full of everything I could want from romance to adventure to suspense. And I have a feeling the best is still yet to come!
"We can decide to remain in our isolated bunkers, becoming more and more obsessed with looking inward instead of outward, or we can decide to be great together. We can decide to stagnate, or we can decide to grow. We can decide to settle for the status quo, or we can decide to reach for the stars. "Choose."