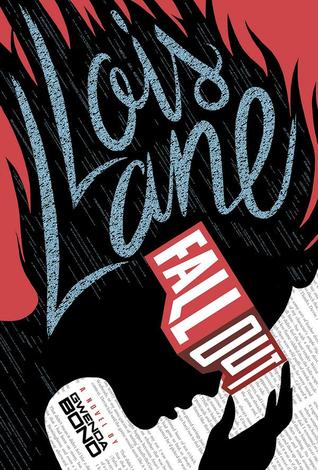 Lois Lane: Fallout by Gwenda Bond
(Lois Lane #1)
For Ages 14+ (Language)
Young Adult -- Science Fiction

Switch Press -- Published on May 1, 2015
Hardcover, 304 pages
Read in August 2015
Borrowed from library

RATING: 4 STARS
THEMES/TROPES
Alternate Universe
SUMMARY
Lois Lane is starting a new life in Metropolis. An Army brat, Lois has lived all over—and seen all kinds of things. (Some of them defy explanation, like the near-disaster she witnessed in Kansas in the middle of one night.) But now her family is putting down roots in the big city, and Lois is determined to fit in. Stay quiet. Fly straight.
As soon as she steps into her new high school, though, she can see it won't be that easy. A group known as the Warheads is making life miserable for another girl at school. They're messing with her mind, somehow, via the high-tech immersive videogame they all play. Not cool. Armed with her wit and her new snazzy job as a reporter, Lois has her sights set on solving this mystery. But sometimes it's all a bit much. Thank goodness for her maybe-more-than-a friend, a guy she knows only by his screenname, SmallvilleGuy.
FIRST LINE
"Remember the plan," I muttered.
MY THOUGHTS
I discovered this book when I read a review of it over at
Quinn's Book Nook
. I am not a huge Superman fan, but I have always been a devotee of Lois Lane ever since I saw
Lois and Clark: The New Adventures of Superman
. So I ecstatic to see this YA novel that focused on a teenage Lois Lane as she maneuvers the treacherous waters of high school. And I was pretty happy with the result after I finished
Lois Lane: Fallout.
The entire book is narrated by Lois who is the daughter of a prominent Army general. Because of General Lane's position, the family has been moving around most of Lois's life. Now they have set up a permanent residence in Metropolis and Lois is determined to not cause chaos like she has in every other town they have lived in. Unfortunately, this goal doesn't last long since she discovers a mysterious group of students who seem to be involved in a type of hive mind experiment all surrounding a popular video game.
I really liked Lois's character in this book which is a good thing since focuses entirely on her. She is such a genuinely good person and can't stand to see things going wrong for those around her. I thought her protective nature was well established and thoughtfully depicted. I also enjoyed the way the author provided insight into what will make her a successful reporter in the future. She is not afraid to take risks and can, at times, be a bit reckless, but learns throughout this book that she doesn't have to do everything by herself.
At the beginning of the book, Lois makes it clear to the reader that she doesn't really know how to make friends. The only person (besides her family) that she can connect with is someone she's never met in real life. She has an online friendship with a mystery teenager who she knows only as "SmallvilleGuy". Their relationship is really subtle and works as a good foreshadowing for anyone who is familiar with the Superman mythology. Besides "Smallville Guy", Lois learns to rely on some other students at the high school. She especially becomes close to her fellow junior reporters at the
Daily Scoop
. I have a feeling the series will delve even more into these friendships and I look forward to reading that.
Lois Lane: Fallout
is just a fun, suspenseful look at a popular character before she becomes an icon. All the characters are well-written and act appropriately for their age. The mystery got a little convoluted towards the middle, but the action-packed conclusion was worth it. I had a great time reading this book and am excited to see what happens to Lois next.
FAVORITE QUOTE
"My problem was that I had bad luck. And I spoke up when I saw something wrong. I did it because I could, without having to worry about the fallout lasting years. And yes, there was always fallout."