Your Wicked Heart (Rules of the Reckless #0.5) by Meredith Duran
Historical Romance -- 1885 Greece
Pocket Star -- Published on December 11, 2012
Amanda Thomas is stranded a thousand miles from home. Jilted by a viscount and abandoned without a penny, she'll do whatever it takes to secure a berth on an England-bound ship. But when the anchor lifts, she's not the only impostor on board - for the stranger in her bed claims to be the real viscount. Can she trust this devastatingly attractive scoundrel? Or is his offer of friendship only a pretext for seduction...and revenge?
I enjoyed this story so much more than I thought I would. Amanda is a fabulous heroine who is practical and very cerebral in her decision-making. I liked her mostly unflappable response to her position and how determined she was to assert her independence. Ripton is also much nicer than I first believed. He has spent much of his adult life fixing the problems his scandalous family causes and this situation seems to be par for the course. They were very sweet together and had really good communication.
(3.5 STARS)
The Reluctant Hero by Lorraine Heath
Historical Romance -- 1880s Texas
Lyrical Press -- Published on May 12, 2015
Texas in the 1880s is a wild and lawless land, where a woman fending for herself is a rare breed. Andrea Jackson is just that. A woman who went against the grain by writing bestselling novels instead of marrying and staying at home. But with her muse, and her money dried up, she's in desperate need of a hero. And Sheriff Matthew Knight has just the right material. Matthew doesn't know what to make of the sassy, bright-eyed, temptress who insists on following him around. He's nobody's hero, and he doesn't believe in fairy tales. What he is, is a man. With a man's needs. And there's something about the feisty, determined, vixen, he just can't seem to shake.
I love a good western and did enjoy this one. Andrea is a writer who is trying to find inspiration for her newest series and she has chosen Matthew as her muse. It was a blast to watch them interact especially with Matthew being so against the whole process at first and then becoming acclimated to it. There is also a fun twist to the entire story that I appreciated. I just found myself wishing that this had been a full-length novel. There was so much potential yet I felt like the characters and the romance was underdeveloped. We were told a lot more than we were shown.
(3 STARS)
Her Highland Fling (Second Sons #2.5) by Jennifer McQuiston
Historical Romance -- Victorian Scotland
Avon Impulse -- Published on January 27, 2015
William MacKenzie has always been protective of his Scottish village. When Moraig's economy falters, he has the perfect solution to lure wealthy Londoners to this tiny hamlet: resurrect the ancient Highland Games! But for this to work, William knows he needs a reporter to showcase the town in just the right light.

A female journalist might be a tolerated oddity in Brighton, but newly minted reporter Penelope Tolbertson is discovering that finding respect in London is a far more difficult prospect. After receiving an invitation to cover Moraig's Highland Games, Penelope is determined to prove to her London editors just how valuable she can be.

Penelope instantly captures William's heart, but she is none too impressed with the gruff, broody Highlander; however, as she begins to understand his plans, Penelope discovers she may want more from him than just a story. She's only got a few days … but maybe a few days are all they need.
Highlanders are another of my weaknesses especially when they are big and broody like William. I adored him for his devotion to Moraig and his willingness to do anything to make the Highland Games succeed. Penelope was fun to read about especially after I met her in
Summer is for Lovers
. She had a lot stacked up against her as a female reporter at this time and I admired her ambition. As a couple, these two were very cute yet they had some actual issues to overcome to get their happy ending. As with most novellas, I wish there had been more to the book, but it was very enjoyable. (
3.5 STARS)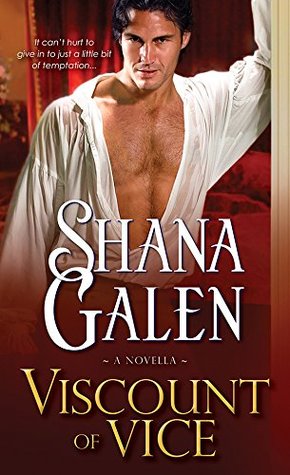 Viscount of Vice (Covent Garden Cubs #0.5) by Shana Galen
Historical Romance -- Regency England
Sourcebooks Casablanca -- Published on January 6, 2015

Henry Flynn, the new Lord Chesham, still blames himself for the disappearance of his younger brother when they were children. That incident destroyed his family, and now he's on a path of self-destruction that no one can interrupt...

Lady Emma Talbot can't stand watching the man she secretly loves destroy himself little by little. She's determined to show him that no one holds him culpable, before it's too late. But Emma doesn't know what really happened to Flynn on that fateful day long ago, so what chance does she have of saving him from himself?
This was an okay romance that did one thing it was supposed to: intrigue me enough to want to seek out the rest of the series. The love story between Flynn and Emma was boring to me and I found myself flipping pages until I got to any mention of the dastardly Satin and Flynn's long-lost brother Robbie. I am looking forward to learning more about Satin in the Covent Garden Cubs series and, of course, I am already anticipating Robbie getting his own story soon.
(2.5 STARS)