Hosted by the ladies over at The Broke and the Bookish.
1. Out of My Mind by Sharon M. Draper (MG contemporary)
-- Special Needs
Melody is not like most people. She cannot walk or talk, but she has a photographic memory; she can remember every detail of everything she has ever experienced. She is smarter than most of the adults who try to diagnose her and smarter than her classmates in her integrated classroom - the very same classmates who dismiss her as mentally challenged, because she cannot tell them otherwise. But Melody refuses to be defined by cerebral palsy. And she's determined to let everyone know it - somehow.


2. Does My Head Look Big In This? by Randa Abdel-Fattah (YA contemporary)
-- Religious Diversity
When sixteen-year-old Amal decides to wear the hijab full-time, her entire world changes, all because of a piece of cloth...
Sixteen-year-old Amal makes the decision to start wearing the hijab full- time and everyone has a reaction. Her parents, her teachers, her friends, people on the street. But she stands by her decision to embrace her faith and all that it is, even if it does make her a little different from everyone else.
Can she handle the taunts of "towel head," the prejudice of her classmates, and still attract the cutest boy in school? Brilliantly funny and poignant, Randa Abdel-Fattah's debut novel will strike a chord in all teenage readers, no matter what their beliefs.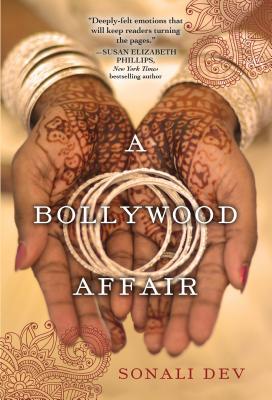 3. A Bollywood Affair by Sonali Dev (contemporary romance)
-- Cultural Diversity
Mili Rathod hasn't seen her husband in twenty years—not since she was promised to him at the age of four. Yet marriage has allowed Mili a freedom rarely given to girls in her village. Her grandmother has even allowed her to leave India and study in America for eight months, all to make her the perfect modern wife. Which is exactly what Mili longs to be—if her husband would just come and claim her.
Bollywood's favorite director, Samir Rathod, has come to Michigan to secure a divorce for his older brother. Persuading a naïve village girl to sign the papers should be easy for someone with Samir's tabloid-famous charm. But Mili is neither a fool nor a gold-digger. Open-hearted yet complex, she's trying to reconcile her independence with cherished traditions. And before he can stop himself, Samir is immersed in Mili's life—cooking her dal and rotis, escorting her to her roommate's elaborate Indian wedding, and wondering where his loyalties and happiness lie.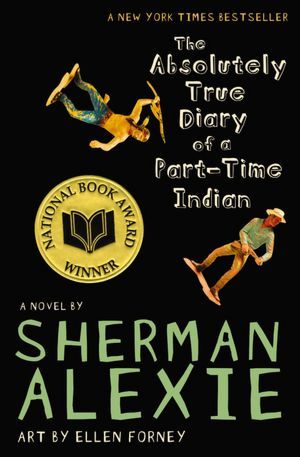 4. The Absolutely True Diary of a Part-time Indian by Sherman Alexie (YA contemporary)
-- Cultural/Economic Diversity
Bestselling author Sherman Alexie tells the story of Junior, a budding cartoonist growing up on the Spokane Indian Reservation. Determined to take his future into his own hands, Junior leaves his troubled school on the rez to attend an all-white farm town high school where the only other Indian is the school mascot.
Heartbreaking, funny, and beautifully written, The Absolutely True Diary of a Part-Time Indian, which is based on the author's own experiences, coupled with poignant drawings by Ellen Forney that reflect the character's art, chronicles the contemporary adolescence of one Native American boy as he attempts to break away from the life he was destined to live.
5. Butterfly Swords by Jeannie Lin (historical romance)
-- Cultural Diversity
During China's infamous Tang Dynasty, a time awash with luxury yet littered with deadly intrigues and fallen royalty, betrayed Princess Ai Li flees before her wedding.Miles from home, with only her delicate butterfly swords for defense, she enlists the reluctant protection of a blue-eyed warrior....
Battle-scarred, embittered Ryam has always held his own life at cheap value. Ai Li's innocent trust in him and honorable, stubborn nature make him desperate to protect her--which means "not" seducing the first woman he has ever truly wanted....
6. Talk To Me Sweetly by Courtney Milan (historical romance)
-- Racial Diversity
Nobody knows who Miss Rose Sweetly is, and she prefers it that way. She's a shy, mathematically-minded shopkeeper's daughter who dreams of the stars. Women like her only ever come to attention through scandal. She'll take obscurity, thank you very much.
All of England knows who Stephen Shaughnessy is. He's an infamous advice columnist and a known rake. When he moves into the house next door to Rose, she discovers that he's also wickedly funny, devilishly flirtatious, and heart-stoppingly handsome. But when he takes an interest in her mathematical work, she realizes that Mr. Shaughnessy isn't just a scandal waiting to happen. He's waiting to happen to her…and if she's not careful, she'll give in to certain ruination.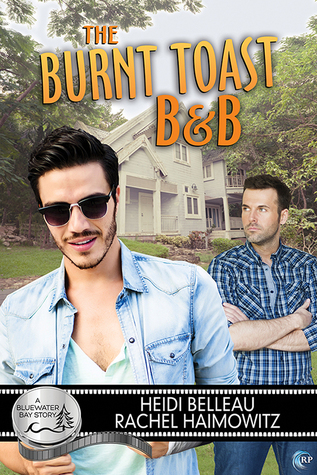 7. The Burnt Toast B&B by Heidi Belleau and Rachel Haimowitz (M/M contemporary)
-- Gender Diversity
After breaking his arm on set, Wolf's Landing stuntman Ginsberg Sloan finds himself temporarily out of work. Luckily, Bluewater Bay's worst B&B has cheap long-term rates, and Ginsberg's not too proud to take advantage of them.
Derrick Richards, a grizzled laid-off logger, inherited the B&B after his parents' untimely deaths. Making beds and cooking sunny-side-up eggs is hardly Derrick's idea of a man's way to make a living, but just as he's decided to shut the place down, Ginsberg shows up on his doorstep, pitiful and soaking wet, and Derrick can hardly send him packing.
Not outright, at least. The plan? Carry on the B&B's tradition of terrible customer service and even worse food until the pampered city-boy leaves voluntarily. What Derrick doesn't count on, though, is that the lousier he gets at hosting, the more he convinces bored, busybody Ginsberg to try to get the B&B back on track. And he definitely doesn't count on the growing attraction between them, or how much more he learns from Ginsberg than just how to put out kitchen fires.
8. Perfect Chemistry by Simone Elkeles (YA contemporary)
-- Cultural/Economic Diversity
When Brittany Ellis walks into chemistry class on the first day of senior year, she has no clue that her carefully created 'perfect' life is about to unravel before her eyes. She's forced to be lab partners with Alex Fuentes, a gang member from the other side of town, and he is about to threaten everything she's worked so hard for: her flawless reputation, her relationship with her boyfriend, and the secret that her home life is anything but perfect.

Alex is a bad boy and he knows it. So when he makes a bet with his friends to lure Brittany into his life, he thinks nothing of it. But soon Alex realizes Brittany is a real person with real problems, and suddenly the bet he made in arrogance turns into something much more.
9. A Spy in the House by Y.S. Lee (YA historical)
-- Cultural Diversity
Rescued from the gallows in 1850s London, young orphan (and thief) Mary Quinn is surprised to be offered a singular education, instruction in fine manners — and an unusual vocation. Miss Scrimshaw's Academy for Girls is a cover for an all-female investigative unit called The Agency, and at seventeen, Mary is about to put her training to the test.
Assuming the guise of a lady's companion, she must infiltrate a rich merchant's home in hopes of tracing his missing cargo ships. But the household is full of dangerous deceptions, and there is no one to trust — or is there? Packed with action and suspense, banter and romance, and evoking the gritty backstreets of Victorian London, this breezy mystery debuts a daring young detective who lives by her wits while uncovering secrets — including those of her own past.

10. Psy-Changeling series by Nalini Singh (paranormal romance)
-- Cultural/Racial Diversity
Two of the strongest Changeling packs in North America are the DarkRiver Leopards, controlling the San Francisco area, and the SnowDancer Wolf Pack, in control of the rest of California. The icy and emotionless Psy are under the control of a powerful council of seven beings with very different goals. And some of the humans, often thought to be the weakest of the three races, have decided to level the playing field.