This is part of a feature where I focus on a specific theme (or trope) that I have found in my years as a voracious reader/blogger. I love finding commonalities between my favorite books and how that helps define me as a reader.

Please note this is not meant to be a comprehensive list. I am just picking a few examples of this trope. So, if you have a favorite example of this theme, let me know about it in the comments. I'm always on the lookout for more books to be added to my wishlist.
VIRGIN HEROES
Born in Sin by Kinley MacGregor -- Sin MacAllister [I gave it 5 stars]
Historical Romance -- Medieval Scotland
Stunning Caledonia MacNeely fights an unfamiliar shiver when she is offered in marriage to the infamous ′Lord Sin′. Though Callie fears this mysterious knight - less for the dark whispers that damn him than for the burning desire he invokes - she is under order of the English King. And with the fate of her troubled clan hanging in the balance, she has little recourse.

Untouched by Anna Campbell -- Matthew Lansdowne [I gave it 4.5 stars]
Historical Romance -- Regency England
"I am many things," Lord Sheene said. "Kind is not one of them."
Beautiful Grace Paget has no reason not to believe these words. After all, she was kidnapped, spirited away to a remote country manor, and told she is to grant this man his every desire . . . or lose her life. But Grace is no common trollop. So she risks everything to save her virtue by planning a daring escape, even though she finds herself tempted by this handsome man. There is something in his eyes that makes her wonder if he is as dangerous as he would have her believe.
Sheene knew nothing of the plan to bring him this woman. Locked up as a prisoner, called "mad" by all of the world, he will do anything to reclaim his life, and Grace's sensuous beauty has distracted him from his goals. And although he finds her irresistible, he is horrified to hold her against her will. Now, together, they must both revolt against the strange set of circumstances that have forced them together—for only then will Grace truly surrender to him . . . forever.
Thief of Shadows by Elizabeth Hoyt -- Winter Makepeace [I gave it 5 stars]
Historical Romance -- Georgian England
A MASKED MAN . . .

Winter Makepeace lives a double life. By day he's the stoic headmaster of a home for foundling children. But the night brings out a darker side of Winter. As the moon rises, so does the Ghost of St. Giles-protector, judge, fugitive. When the Ghost, beaten and wounded, is rescued by a beautiful aristocrat, Winter has no idea that his two worlds are about to collide.
A DANGEROUS WOMAN . . .
Lady Isabel Beckinhall enjoys nothing more than a challenge. Yet when she's asked to tutor the Home's dour manager in the ways of society-flirtation, double-entendres, and scandalous liaisons-Isabel can't help wondering why his eyes seem so familiar-and his lips so tempting.
A PASSION NEITHER COULD DENY
During the day Isabel and Winter engage in a battle of wills. At night their passions are revealed . . . But when little girls start disappearing from St. Giles, Winter must avenge them. For that he might have to sacrifice everything-the Home, Isabel . . . and his life.
Once Upon a Tower by Eloisa James -- Gowan Stoughton [I gave it 4.5 stars]
Historical Romance -- Regency Scotland
TO WIN HER LOVE...As an extremely wealthy laird, Gowan Stoughton, Duke of Kinross, can have any of the maidens at the ball he attends. The only problem is they are all English and Gowan is not so certain they are suitable. He is accustomed to the hard-working lasses from his Highlands, not these dainty noblewomen who spend their days drinking tea or some other such nonsense. But then he makes the acquaintance of Lady Edith Gilchrist. Utterly bewitched by the emerald-eyed beauty with lush golden locks, he knows he must have her.
HE MUST FREE HER FROM HER TOWER..."Edie" had the misfortune of being dreadfully ill at her debut ball and barely remembers what Gowan looks like. Even worse, she accepted his proposal the following day. Edie's only true passion is playing music—until Gowan writes a scandalous letter and stirs the most irresistible desire. Yet when they marry, Edie realizes her husband needs a lesson and locks herself in a tower. Somehow Gowan must find a way to enter the tower and convince his new bride that she belongs in his arms.
The Shadow and the Star by Laura Kinsale -- Samuel Gerard [I gave it 4 stars]
Historical Romance -- Victorian England
The Shadow is wealthy, powerful and majestically handsome, he is a man of dark secrets - a master of the ancient martial arts of an exotic distant land. Scarred by a childhood of shocking degradation, he has sworn to love chastely ... but burns with the fires of unfulfilled passion.
The Star is lovely, innocent and nearly destitute, and drawn to him by a fevered yearning she could never deny - following her enigmatic ′shadow warrior′ into a dangerous world of desire and righteous retribution.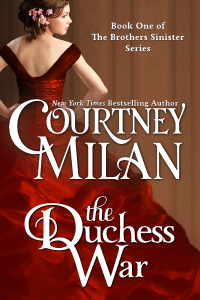 The Duchess War by Courtney Milan -- Robert Blaisdell [I gave it 4.5 stars]
Historical Romance -- Victorian England
Sometimes love is an accident.
This time, it's a strategy.
Miss Minerva Lane is a quiet, bespectacled wallflower, and she wants to keep it that way. After all, the last time she was the center of attention, it ended badly--so badly that she changed her name to escape her scandalous past. Wallflowers may not be the prettiest of blooms, but at least they don't get trampled. So when a handsome duke comes to town, the last thing she wants is his attention. But that is precisely what she gets.
Because Robert Blaisdell, the Duke of Clermont, is not fooled. When Minnie figures out what he's up to, he realizes there is more to than her spectacles and her quiet ways. And he's determined to lay her every secret bare before she can discover his. But this time, one shy miss may prove to be more than his match...
Always to Remember by Lorraine Heath -- Clayton Holland [I gave it 5 stars]
Historical Romance -- Post-Civil War South
After refusing to fight for the Confederacy, Clayton was spurned by everyone in his hometown of Cedar Grove. To Meg, who lost her husbands and brothers in the war, Clay's presence was a constant offense. As punishment, Meg commissioned Clay to create a memorial for the town's war heroes. But, as she spent months watching him, Meg's feelings began to change.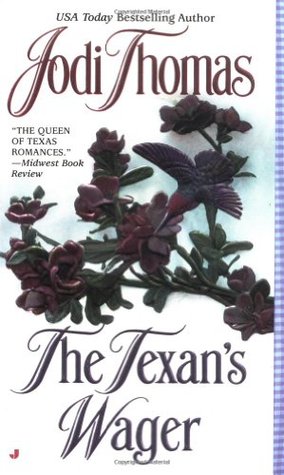 The Texan's Wager by Jodi Thomas -- Carter McKoy [I gave it 4 stars]
Historical Romance -- American Western
Thrown off a wagon train with two other women and trying to avoid jail for a murder they committed, Bailee Moore agrees to enter a "wife lottery"--a ploy concocted by the Cedar Point sheriff to secure wives for the men in the small Texas town.
For the sensible Bailee, however, marrying Carter McKoy is like exchanging one life sentence for another--especially since her new husband hasn't even seen fit to utter a single word in her presence. But still, she can't help thinking that something about this strong, silent farmer could be the key to leaving her troubled past behind...and making a worthy wager with her heart.
Love Hacked by Penny Reid -- Alex Greene [I gave it 4 stars]
Contemporary Romance -- Big City
There are three things you need to know about Sandra Fielding: 1) She makes all her first dates cry, 2) She hasn't been kissed in over two years, and 3) She knows how to knit.

Sandra has difficulty removing her psychotherapist hat. Of her last 30 dates, 29 have ended the same way: the man sobbing uncontrollably. After one such disaster, Sandra--near desperation and maybe a little tipsy--gives in to a seemingly harmless encounter with her hot waiter, Alex. Argumentative, secretive, and hostile Alex may be the opposite of everything Sandra knows is right for her. But now, the girl who has spent all her life helping others change for the better, must find a way to cope with falling for someone who refuses to change at all.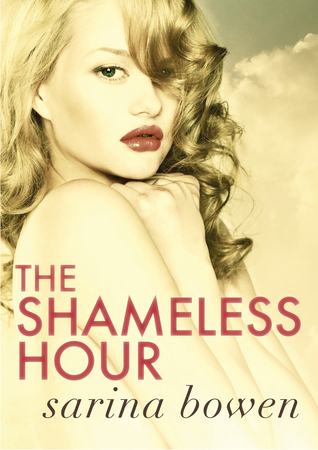 The Shameless Hour by Sarina Bowen -- Rafe [I gave it 4.5 stars]
New Adult Contemporary
The girl who's had everyone meets the boy who has no one.
For Bella, the sweet-talking, free-loving, hip-checking student manager of the Harkness men's hockey team, sex is a second language. She's used to being fluent where others stutter, and the things people say behind her back don't (often) bother her. So she can't understand why her smoking hot downstairs neighbor has so much trouble staying friends after their spontaneous night together. She knows better than to worry about it, but there's something in those espresso eyes that makes her second guess herself.

Rafe is appalled with himself for losing his virginity in a drunken hookup. His strict Catholic upbringing always emphasized loving thy neighbor—but not with a bottle of wine and a box of condoms. The result is an Ivy League bout of awkwardness. But when Bella is leveled by a little bad luck and a downright sinister fraternity stunt, it's Rafe who is there to pick up the pieces.
Bella doesn't want Rafe's help, and she's through with men. Too bad the undeniable spark that crackles between the two of them just can't be extinguished.
Beauty and the Billionaire by Jessica Clare -- Hunter Buchanan [I gave it 4 stars]
Contemporary Romance
Real-estate tycoon Hunter Buchanan has a dark past that's left him scarred and living as a recluse on his family's palatial estate. Hunter is ready to give up on love—until he spots an enigmatic red-haired beauty and comes up with an elaborate scheme to meet her.
Gretchen Petty is in need of a paycheck—and a change. So when a job opportunity in an upstate New York mansion pops up she accepts. And while she can overlook the oddities of her new job, she can't ignore her new boss's delectable body—or his barely leashed temper.
Hunter's afraid his plan might be unraveling before it's truly begun, but Gretchen is about to show him that life can be full of surprises…
Heart of Iron by Bec McMaster -- Will Carver [I gave it 4 stars]
Steampunk Romance
Lena Todd makes the perfect spy. Nobody suspects the flirtatious debutante could be a sympathizer for the humanist movement haunting London's vicious blue blood elite. Not even the ruthless Will Carver, the one man she can't twist around her little finger, and the one man whose kiss she can't forget…
Stricken with the loupe and considered little more than a slave-without-a-collar to the blue bloods, Will wants nothing to do with the Echelon or the dangerous beauty who drives him to the very edge of control. But when he finds a coded letter on Lena—a code that matches one he saw on a fire-bombing suspect—he realizes she's in trouble. To protect her, he must seduce the truth from her.
With the humanists looking to start a war with the Echelon, Lena and Will must race against time—and an automaton army—to stop the humanist plot before it's too late. But as they fight to save a city on the brink of revolution, the greatest danger might just be to their hearts…
Demon from the Dark by Kresley Cole -- Malkom Slaine [I gave it 5 stars]
Paranormal Romance
From New York Times bestselling author Kresley Cole comes this scorching tale of a demon outcast poisoned with vampire blood and the vulnerable young witch he vows to protect, even from himself.
A DANGEROUS DEMON SHE CAN'T RESIST . . .
Malkom Slaine: tormented by his sordid past and racked by vampiric hungers, he's pushed to the brink by the green-eyed beauty under his guard.
A MADDENING WITCH HE ACHES TO CLAIM . . .
Carrow Graie: hiding her own sorrows, she lives only for the next party or prank. Until she meets a tortured warrior worth saving.
TRAPPED TOGETHER IN A SAVAGE PRISON . . .
In order for Malkom and Carrow to survive, he must unleash both the demon and vampire inside him. When Malkom becomes the nightmare his own people feared, will he lose the woman he craves body and soul?
Unleash the Night by Sherrilyn Kenyon -- Wren Tigarian [I gave it 4.5 stars]
Paranormal Romance
It's a predator-eat-predator world for the Were-Hunters. Danger haunts any given day. There is no one to trust. No one to love. Not if they want to live...
An orphan with no clan that will claim him, Wren Tigarian grew to adulthood under the close scrutiny and mistrust of those around him. A forbidden blend of two animals - snow leopard and white tiger - Wren has never listened to anyone when there was something he wanted. Now he wants Marguerite.
Marguerite D'Aubert Goudeau is the daughter of a prominent U.S. senator who hates the socialite life she's forced to live. Like her mother before her, she has strong Cajun roots that her father doesn't understand. Still, she has no choice but to try and conform to a world where she feels like an outsider. But the world of rich and powerful humans is never to meet the world of the Were-Hunters who exist side by side with them, unseen, unknown, undetected. To break this law is to call down a wrath of the highest order.
In order to have Marguerite, Wren must fight not just the humans who will never accept his animal nature, but the Were-Hunters who want him dead for endangering their world. It's a race against time and magic without boundary that could cost Marguerite and Wren not just their lives, but their very souls...
Caressed by Ice by Nalini Singh -- Judd Lauren [I gave it 5 stars]
Paranormal Romance
As an Arrow, an elite soldier in the Psy Council ranks, Judd Lauren was forced to do terrible things in the name of his people. Now a defector, his dark abilities have made him the most deadly of assassins - cold, pitiless, unfeeling. Until he meets Brenna . . .
Brenna Shane Kincaid was an innocent before she was abducted - and had her mind violated - by a serial killer. Her sense of evil runs so deep, she fears she could become a killer herself. Then the first dead body is found, victim of a familiar madness. Judd is her only hope, yet her sensual changeling side rebels against the inhuman chill of his personality, even as desire explodes between them. Shocking and raw, their passion is a danger that threatens not only their hearts, but their very lives . . .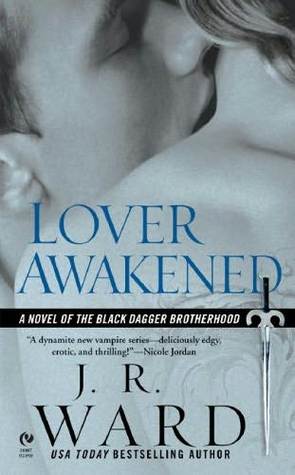 Lover Awakened by JR Ward -- Zsadist [I gave it 5 stars]
Paranormal Romance
In the shadows of the night in Caldwell, New York, there's a deadly war raging between vampires and their slayers. And there exists a secret band of brothers like no other - six vampire warriors, defenders of their race. Of these, Zsadist is the most terrifying member of the Black Dagger Brotherhood.
A former blood slave, the vampire Zsadist still bears the scars from a past filled with suffering and humiliation. Renowned for his unquenchable fury and sinister deeds, he is a savage feared by humans and vampires alike. Anger is his only companion, and terror is his only passion—until he rescues a beautiful aristocrat from the evil Lessening Society.
Bella is instantly entranced by the seething power Zsadist possesses. But even as their desire for one another begins to overtake them both, Zsadist's thirst for vengeance against Bella's tormentors drives him to the brink of madness. Now, Bella must help her lover overcome the wounds of his tortured past, and find a future with her…
Outlander by Diana Gabaldon -- Jamie Fraser [I gave it 5 stars]
Historical Fiction -- Time Travel
The year is 1945. Claire Randall, a former combat nurse, is just back from the war and reunited with her husband on a second honeymoon when she walks through a standing stone in one of the ancient circles that dot the British Isles. Suddenly she is a Sassenach—an "outlander"—in a Scotland torn by war and raiding border clans in the year of Our Lord...1743.
Hurled back in time by forces she cannot understand, Claire is catapulted into the intrigues of lairds and spies that may threaten her life, and shatter her heart. For here James Fraser, a gallant young Scots warrior, shows her a love so absolute that Claire becomes a woman torn between fidelity and desire—and between two vastly different men in two irreconcilable lives.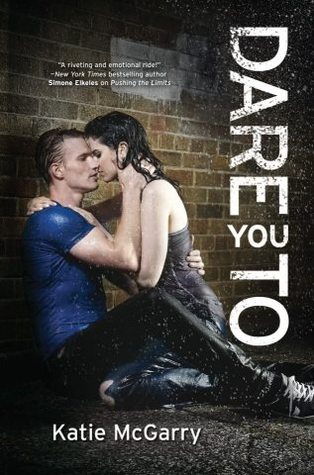 Dare You To by Katie McGarry -- Ryan Stone [I gave it 4.5 stars]
Young Adult Contemporary
If anyone knew the truth about Beth Risk's home life, they'd send her mother to jail and seventeen-year-old Beth who knows where. So she protects her mom at all costs. Until the day her uncle swoops in and forces Beth to choose between her mom's freedom and her own happiness. That's how Beth finds herself living with an aunt who doesn't want her and going to a school that doesn't understand her. At all. Except for the one guy who shouldn't get her, but does....
Ryan Stone is the town golden boy, a popular baseball star jock-with secrets he can't tell anyone. Not even the friends he shares everything with, including the constant dares to do crazy things. The craziest? Asking out the Skater girl who couldn't be less interested in him.
But what begins as a dare becomes an intense attraction neither Ryan nor Beth expected. Suddenly, the boy with the flawless image risks his dreams-and his life-for the girl he loves, and the girl who won't let anyone get too close is daring herself to want it all....
Want More Virgin Heroes? Check out...
Libby's London Merchant
by Carla Kelly (Historical Romance)
No Man's Mistress by Mary Balogh (Historical Romance)
Kiss Me, Annabel by Eloisa James (Historical Romance)
When the Duke Returns by Eloisa James (Historical Romance)
Unclaimed by Courtney Milan (Historical Romance)
Wild at Heart by Patricia Gaffney (Historical Romance)
Simple Jess by Pamela Morsi (Historical Romance)
The Dangerous Viscount by Miranda Neville (Historical Romance)
The Endearment by LaVyrle Spencer (Historical Romance)
Archer's Voice by Mia Sheridan (NA Contemporary)
Soulbound
by Kristen Callihan (Historical/Paranormal Romance)
Dark Skye
by Kresley Cole (Paranormal Romance)
Wicked Nights by Gena Showalter (Paranormal Romance)
Desperately Seeking Shapeshifter by Jessica Sims (Paranormal Romance)
Heart of Obsidian
by Nalini Singh (Paranormal Romance)
Shield of Winter
by Nalini Singh (Paranormal Romance)
Games of Command by Linnea Sinclair (Science Fiction Romance)
My Life Next Door by Huntley Fitzpatrick (YA Contemporary)
UPCOMING THEMES
Strong Sibling Relationships -- July 23rd
Returning Soldiers -- July 30th
Secondary Romances -- August 6th