This is part of a feature where I focus on a specific theme (or trope) that I have found in my years as a voracious reader/blogger. I love finding commonalities between my favorite books and how that helps define me as a reader.

Please note this is not meant to be a comprehensive list. I am just picking a few examples of this trope. So, if you have a favorite example of this theme, let me know about it in the comments. I'm always on the lookout for more books to be added to my wishlist.
ROAD ROMANCES
These are romances where the two protagonists go on some type of long-distance trip together. This causes drama/conflict because they (often) don't know one another very well and now have to deal with constantly hanging out together. There also is usually a sense of adventure and danger which, if done correctly, can enhance the romance.
Mr. Impossible by Loretta Chase [I gave it 4.5 stars]
Historical Romance -- Victorian Egypt
Impossible...Rupert Carsington, fourth son of the Earl of Hargate, is his aristocratic family's favorite disaster. He is irresistibly handsome, shockingly masculine, and irretrievably reckless, and wherever he goes, trouble follows. Still, Rupert's never met an entanglement--emotional or other--he couldn't escape. Until now.
Outrageous...Now he's in Egypt, stranded in the depths of Cairo's most infamous prison, and his only way out is accepting a beautiful widow's dangerous proposal. Scholar Daphne Pembroke wants him to rescue her brother, who's been kidnapped by a rival seeking a fabled treasure. Their partnership is strictly business: She'll provide the brains, he, the brawn. Simple enough in theory.
Inevitable...Blame it on the sun or the blazing desert heat, but as tensions flare and inhibitions melt, the most disciplined of women and the most reckless of men are about to clash in the most impossibly irresistible way.
A Week to Be Wicked by Tessa Dare [I gave it 5 stars.
Historical Romance -- Regency England
Minerva Highwood, one of Spindle Cove's confirmed spinsters, needs to be in Scotland.Colin Sandhurst, Lord Payne, a rake of the first order, needs to be...anywhere but Spindle Cove.
These unlikely partners have one week to
• fake an elopement• convince family and friends they're in "love"• outrun armed robbers• survive their worst nightmares• travel four hundred miles without killing each other
All while sharing a very small carriage by day and an even smaller bed by night.
What they don't have time for is their growing attraction. Much less wild passion. And heaven forbid they spend precious hours baring their hearts and souls.
Suddenly one week seems like exactly enough time to find a world of trouble. And maybe...just maybe...love.
The Pirate Lord by Sabrina Jeffries [I gave it 4.5 stars]
Historical Romance -- Regency England/Nautical
A Splendid Opportunity
A shipload of women - theirs for the taking! Pirate captain Gideon Horn couldn't be more delighted. His men are tired of wandering the high seas and want to settle down with wives on the uncharted island paradise they've discovered. And the women are bound to be grateful to be rescued from the life of drudgery awaiting them in New South Wales . . .
Lord, he's so clever!
A Splendid Passion
Married? To pirates? Sara Willis couldn't be more appalled. First she demands proper courting—at least a month. The darkly handsome pirate lord gives them two weeks. Then Sara insists the men vacate their huts for the women—Gideon demands her kisses in return. As the demands heat up, so do their passions—and soon Sara can't remember just why she's fighting the devilishly seductive captain so hard. . .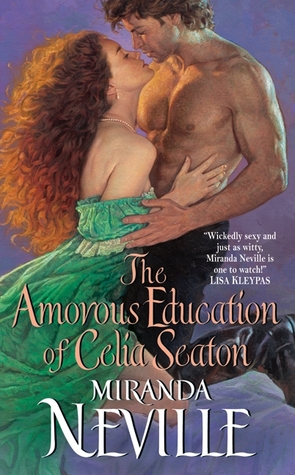 The Amorous Education of Celia Seaton by Miranda Neville [I gave it 4.5 stars]
Historical Romance -- Regency England
Being kidnapped is teaching Miss Celia Seaton a few things about life:

Lesson One: Never disrobe in front of a gentleman...unless his request comes at gunpoint.

Lesson Two: If, when lost on the moors, you encounter Tarquin Compton, the leader of London society who ruined your marriage prospects, deny any previous acquaintance.

Lesson Three: If presented with an opportunity to get back at Mr. Compton, the bigger the lie, the better. A faux engagement should do nicely.

Lesson Four: Not all knowledge is found between the covers of a book. But an improper book may further your education in ways you never guessed.

And while an erotic novel may be entertaining, the real thing is even better.
Butterfly Swords by Jeannie Lin [I gave it 4 stars]
Historical Romance -- Tang Dynasty China
During China's infamous Tang Dynasty, a time awash with luxury yet littered with deadly intrigues and fallen royalty, betrayed Princess Ai Li flees before her wedding. Miles from home, with only her delicate butterfly swords for defense, she enlists the reluctant protection of a blue-eyed warrior....
Battle-scarred, embittered Ryam has always held his own life at cheap value. Ai Li's innocent trust in him and honorable, stubborn nature make him desperate to protect her--which means "not" seducing the first woman he has ever truly wanted....
Texas Destiny by Lorraine Heath [I gave it 5 stars]
Historical Romance -- Post-Civil War Texas
She was his brother's wife...
Arriving on the Fort Worth train, Miss Amelia Carson, mail-order bride, had never met Dallas Leigh, the Texan she promised to marry. The tall cowboy at the station wasn't Dallas. He was Houston, Dallas's brother, sent to escort her on the rugged three-week trek to the ranch where Dallas waited. Brought up in war-ravaged Georgia, Amelia thought Dallas's letters made Texas sound like heaven, a place for her dreams to grow with the right man beside her.
And his only love...
By all appearances, Houston Leigh would hardly be considered the "right man." The war he survived had scarred him inside and out, and he was little competition for his handsome brother. But from the moment Houston met Amelia, he knew she possessed the courage this wild land needed. She had eyes that could see past his wounded face to his soul. And he would fight any man—except his brother—for her heart. Now he and Amelia were riding down dangerous trails, sleeping under the stars, and God help them, they were falling in love.
Heaven, Texas by Susan Elizabeth Phillips [I gave it 5 stars]
Contemporary Romance
Come heck or high water, Gracie Snow is determined to drag the legendary ex-jock Bobby Tom Denton back home to Heaven, Texas, to begin shooting his first motion picture. Despite his dazzling good looks and killer charm, Bobby Tom has reservations about being a movie star -- and no plans to cooperate with a prim and bossy Ohio wallflower whom he can't get off his mind or out of his life. Instead, the hell-raising playboy decides to make her over from plain Jane to Texas wildcat.
But nothing's more dangerous than a wildcat with an angel's heart in a town too small for a bad boy to hide. And all hell breaks loose when two unforgettable people discover love, laughter, passion -- and a match that can only be made in Heaven.
No Rest for the Wicked by Kresley Cole [I gave it 4 stars]
Paranormal Romance
A vampire soldier weary of life...
Centuries ago, Sebastian Wroth was turned into a vampire—a nightmare in his mind—against his will. Burdened with hatred and alone for ages, he sees little reason to live. Until an exquisite, fey creature comes to kill him, inadvertently saving him instead.
A valkyrie assassin dispatched to destroy him...
When Kaderin the Cold Hearted lost her two beloved sisters to a vampire attack long ago, a benevolent force deadened her sorrow—accidentally extinguishing all of her emotions. Yet whenever she encounters Sebastian, her feelings—particularly lust—emerge multiplied. For the first time, she's unable to complete a kill.
Competitors in a legendary hunt...
The prize of the month-long contest is powerful enough to change history, and Kaderin will do anything to win it for her sisters. Wanting only to win her, forever, Sebastian competes as well, taking every opportunity—as they travel to ancient tombs and through catacombs, seeking relics around the world—to use her new feelings to seduce her. But when forced to choose between the vampire she's falling for and reuniting her family, how can Kaderin live without either?
Driving Mr. Dead by Molly Harper [I gave it 4.5 stars]
Paranormal Romance
After failing as a magician's assistant, a photographer, and most recently, a bride, Miranda Puckett takes a position as a driver for Beeline, Half-Moon Hollow's premiere vampire concierge service.

Miranda's assignment? Driving Collin Sutherland, the world's most fastidious vampire from Washington to Kentucky, so he can deliver a mysterious black case to Council official Ophelia Lambert.
Collin, a paranoid, aristocratic vampire with a debilitating fear of flying, refuses to let the case out of his sight. Miranda needs this time on the road to decide whether to permanently cut her ties with the fiance that had an "emotional affair" with a childhood pal, but Collin's neatnik tendencies are driving her around the bend. The man acts as if leaving a fast food wrapped on the passenger seat is reason for a full-on CDC de-contamination scrub-down of the car. All she can do is promise to stop intentionally doing the things that make his stiff upper lip twitch with irritation.

As more and more mishaps occur on the road trip from hell, Miranda and Collin work together to meet his delivery deadline. Hotel rooms are destroyed. Beloved cars are defiled. And somewhere along the line, client-driver hostilities become snarky flirtation.

Will Collin and Miranda make it to the Hollow in one piece? And if they do, will Miranda leave old, safe relationships behind for something new and well, just plain weird?
Games of Command by Linnea Sinclair [I gave it 5 stars]
Science Fiction Romance
The universe isn't what it used to be. With the new Alliance between the Triad and the United Coalition, Captain Tasha "Sass" Sebastian finds herself serving under her former nemesis, biocybe Admiral Branden Kel-Paten–and doing her best to hide a deadly past. But when an injured mercenary winds up in their ship's sick bay–and in the hands of her best friend, Dr. Eden Fynn–Sass's efforts may be wasted.
Wanted rebel Jace Serafino has information that could expose all of Sass's secrets, tear the fragile Alliance apart–and end Sass's career if Kel-Paten discovers them. But the biocybe has something to hide as well, something once thought impossible for his kind to possess: feelings . . . for Sass. Soon it's clear that their prisoner could bring down everything they once believed was worth dying for–and everything they now have to live for.
Trust the Focus by Megan Erickson
Male/Male Romance -- Contemporary
With his college graduation gown expertly pitched into the trash, Justin Akron is ready for the road trip he planned with his best friend Landry— and ready for one last summer of escape from his mother's controlling grip. Climbing into the Winnebago his father left him, they set out across America in search of the sites his father had captured through the lens of his Nikon.
As an aspiring photographer, Justin can think of no better way to honor his father's memory than to scatter his ashes at the sites he held sacred. And there's no one Justin would rather share the experience with more than Landry.
But Justin knows he can't escape forever. Eventually he'll have to return home and join his mother's Senate campaign. Nor can he escape the truth of who he is, and the fact that he's in love with his out-and-proud travel companion.
Admitting what he wants could hurt his mother's conservative political career. But with every click of his shutter and every sprinkle of ash, Justin can't resist Landry's pull. And when the truth comes into focus, neither is prepared for the secrets the other is hiding.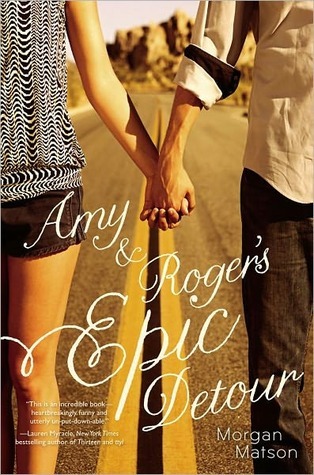 Amy and Roger's Epic Detour by Morgan Matson [I gave it 4.5 stars]
Young Adult -- Contemporary
Amy Curry is not looking forward to her summer. Her mother decided to move across the country and now it's Amy's responsibility to get their car from California to Connecticut. The only problem is, since her father died in a car accident, she isn't ready to get behind the wheel. Enter Roger. An old family friend, he also has to make the cross-country trip - and has plenty of baggage of his own. The road home may be unfamiliar - especially with their friendship venturing into uncharted territory - but together, Amy and Roger will figure out how to map their way.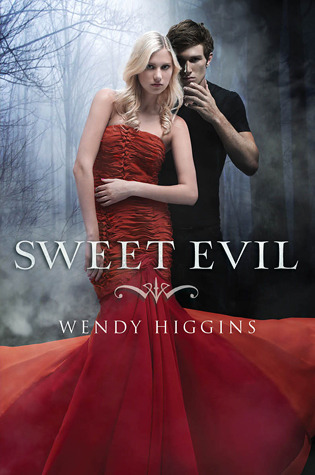 Sweet Evil by Wendy Higgins [I gave it 4.5 stars]
Young Adult -- Paranormal
Embrace the Forbidden...
What if there were teens whose lives literally depended on being bad influences?
This is the reality for sons and daughters of fallen angels.
Tenderhearted Southern girl Anna Whitt was born with the sixth sense to see and feel emotions of other people. She's aware of a struggle within herself, an inexplicable pull toward danger, but it isn't until she turns sixteen and meets the alluring Kaidan Rowe that she discovers her terrifying heritage and her willpower is put to the test. He's the boy your daddy warned you about. If only someone had warned Anna.
Forced to face her destiny, will Anna embrace her halo or her horns?
Want More Road Romances? Check out...
The Other Guy's Bride by Connie Brockway (Historical Romance)
The Wedding Journey by Carla Kelly (Historical Romance)
The Spymaster's Lady by Joanna Bourne (Historical Romance)
Lord Perfect by Loretta Chase (Historical Romance)
Wicked Becomes You by Meredith Duran (Historical Romance)
The Perfect Stranger by Anne Gracie (Historical Romance)
Not Quite a Husband by Sherry Thomas (Historical Romance)
The Defiant Hero by Suzanne Brockmann (Romantic Suspense)
Ride with Me by Ruthie Knox (Contemporary Romance)
Lady Be Good by Susan Elizabeth Phillips (Contemporary Romance)
The Iron Duke by Meljean Brook (Steampunk Romance)
UPCOMING THEMES
Virgin Heroes -- July 16th
Strong Sibling Relationships -- July 23rd
Returning Soldiers -- July 30th