This is part of a feature where I focus on a specific theme (or trope) that I have found in my years as a voracious reader/blogger. I love finding commonalities between my favorite books and how that helps define me as a reader.

Please note this is not meant to be a comprehensive list. I am just picking a few examples of this trope. So, if you have a favorite example of this theme, let me know about it in the comments. I'm always on the lookout for more books to be added to my wishlist.
RETURNING SOLDIERS
Yours Until Dawn by Teresa Medeiros -- I gave it 5 stars.
Historical Romance -- Regency England
Gabriel Fairchild's valor during battle earns him the reputation of hero, but costs him both his sight and his hope for the future. Abandoned by the fiancée he adored, the man who once walked like a prince among London's elite secludes himself in his family's mansion, cursing his way through dark days and darker nights.
Prim nurse Samantha Wickersham arrives at Fairchild Park to find her new charge behaving more like a beast than a man. Determined to do her duty, she engages the arrogant earl in a battle of both wit and wills. Although he claims she doesn't possess an ounce of womanly softness, she can feel his heart racing at her slightest touch. As Samantha begins to let the light back into Gabriel's life and his heart, they both discover that some secrets -- and some pleasures -- are best explored in the dark ...
Ten Things I Love About You (Bevelstoke #3) by Julia Quinn -- I gave it 4 stars.
Historical Romance -- Regency England
Annabel Winslow is in a pickle. Having newly arrived in London for her first season and being in possession of a voluptuous figure, is being openly courted the the Earl of Newbury, who is at least 75 and a nasty brute to boot. Annabel does not want to marry him, of course, but feels that she has no choice since her father has recently died and left the whole family, including Annabel's mother her 7 siblings, almost destitute.

Then, while attending a party in the countryside, Annabel met Sebastian Grey, the Earl of Newbury's nephew. And suddenly she found herself not only courted by the lecherous uncle, but also the charming young nephew. Should she follow her heart so that she can be with the one she loves, or should she marry the loathsome earl just so she can put food on the table for her family and make sure that her brothers get to stay in school?
Simply Love (Simply #2) by Mary Balogh -- I gave it 4.5 stars.
Historical Romance -- Regency England
Anne first spied him in the deepening dusk of a Wales evening --- a lone figure of breathtaking strength, his handsome face branded by a secret pain. For teacher and single mother Anne Jewell, Sydnam Butler is a man whose sorrows --- and passions --- run deeper than she could have ever imagined.
As steward of a remote seaside manor, Sydnam lives a reclusive existence. Yet he senses in Anne a kindred soul, and between these two wary hearts, desire stirs. Unable to resist the passion that has rescued them both, Anne and Sydnam share an afternoon of exquisite lovemaking. As scandal looms, suddenly the unwed mother and the war-scarred veteran must make a decision that could forever alter their lives ...

England's Perfect Hero (Lessons in Love #3) by Suzanne Enoch -- I gave it 5 stars.
Historical Romance -- Regency England
Lucinda Barrett's best friends ended up married to the men to whom they delivered their "lessons in love." So Lucinda decides to choose someone who definitely needs lessons, but someone who will not complicate her life. And that person is definitely not Robert Carroway.
Robert is nothing if not complicated, and though he is the brother of a viscount, he rarely goes about society, and finds the weather and hat fashions ludicrous subjects for discussion. Robert is attracted to Lucinda's unpretentious ways, her serenity and her kindness. When she chooses someone for her love lessons, Robert offers to help her deliver her lessons, but sets out to convince the woman he has fallen for to take a chance on love...and on him.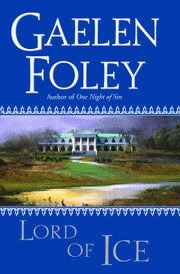 Lord of Ice (Knights Miscellany #3) by Gaelen Foley -- I gave it 4 stars.
Historical Romance -- Regency England
Damien Knight, the earl of Winterley, is proud, aloof, and tormented by memories of war. Though living in seclusion, he is named guardian to a fellow officer's ward. Instead of the young homeless waif he was expecting, however, Miranda FitzHubert is a stunning, passionate beauty who invades his sanctuary and forces him back into society. Struggling to maintain honor and self-control, Damien now faces an even greater threat: desire.
A bold, free spirit, Miranda has witnessed the darkest depths of Damien's soul-and has seen his desperate need for love. But before she can thaw his unyielding heart, she must endure a terrifying nightmare of her own. . . .
A Gentleman Undone (Blackshear #2) by Cecilia Grant -- I gave it 5 stars.
Historical Romance -- Regency England
Lydia Slaughter understands the games men play—both in and out of the bedroom. Not afraid to bend the rules to suit her needs, she fleeces Will Blackshear outright. The Waterloo hero had his own daring agenda for the gaming tables of London's gentlemen's clubs. But now he antes up for a wager of wits and desire with Lydia, the streetwise temptress who keeps him at arm's length.
A kept woman in desperate straits, Lydia has a sharp mind and a head for numbers. She gambles on the sly, hoping to win enough to claim her independence. An alliance with Will at the tables may be a winning proposition for them both. But the arrangement involves dicey odds with rising stakes, sweetened with unspoken promise of fleshly delights. And any sleight of hand could find their hearts betting on something neither can afford to risk: love.
Love in the Afternoon (Hathaways #5) by Lisa Kleypas -- I gave it 4.5 stars.
Historical Romance -- Victorian England
She harbors a secret yearning.
As a lover of animals and nature, Beatrix Hathaway has always been more comfortable outdoors than in the ballroom. Even though she participated in the London season in the past, the classic beauty and free-spirited Beatrix has never been swept away or seriously courted... and she has resigned herself to the fate of never finding love. Has the time come for the most unconventional of the Hathaway sisters to settle for an ordinary man—just to avoid spinsterhood?

He is a world-weary cynic.
Captain Christopher Phelan is a handsome, daring soldier who plans to marry Beatrix's friend, the vivacious flirt Prudence Mercer, when he returns from fighting abroad. But, as he explains in his letters to Pru, life on the battlefield has darkened his soul—and it's becoming clear that Christopher won't come back as the same man. When Beatrix learns of Pru's disappointment, she decides to help by concocting Pru's letters to Christopher for her. Soon the correspondence between Beatrix and Christopher develops into something fulfilling and deep... and when Christopher comes home, he's determined to claim the woman he loves. What began as Beatrix's innocent deception has resulted in the agony of unfulfilled love—and a passion that can't be denied.
To Taste Temptation (Legend of the Four Soldiers #1) by Elizabeth Hoyt -- I gave it 3.5 stars.
Historical Romance -- Georgian England
The ton loves nothing more than a good scandal, and they're giddy with the appearance of wealthy Samuel Hartley. Not only is he self-made, American, and in the habit of wearing moccasins, but he is also notorious for fleeing a battle in which several English gentlemen lost their lives. What the ton doesn't know, though, is that Samuel is in London because of this massacre. He believes his regiment was given up to the enemy and won't rest until he finds the traitor.
Lady Emeline Gordon is captivated with Samuel. Not only does he defy convention with his unusual dress, his sensual smile, and his forthright manner, but he survived the battle that killed her beloved brother. Samuel suspects that the person responsible for her brother's death is Jasper Renshaw, Viscount Vale, a family friend since childhood—and Emeline's fiancé. Despite Emeline's belief in Vale's innocence and her refusal to break off her betrothal, she and Samuel begin a passionate affair. But can their relationship survive the fallout from Samuel's investigation?
How Beauty Met the Beast (Tales of the Underlight #1) by Jax Garren -- I gave it 4.5 stars
.
Urban Fantasy
The Beast
Scarred. Damaged. Living with a terrible secret. Agent of the Underlight Wesley "Hauk" Haukon has nothing left but the fight for liberty against the oppressive Order of Ananke. He's starting to lose hope…and then he sees her.
The Beauty
Despite her night job as a burlesque dancer, grad student Jolie Benoit has always played the mostly good girl. That all changes following a scorching sexual encounter with a stranger whose face she doesn't see. After she's kidnapped by thugs and rescued by a man with a very familiar voice, Jolie becomes a pawn in a struggle she never knew existed.
Hauk knows he cannot have her, and resolves to protect his heart and his secrets. But as they work together and grow closer, he finds new reason to keep fighting. Dare he risk hope in a new life, one where Jolie can see past his ravaged face and where their friendship can grow into something more?
The Unleashing (Call of Crows #1) by Shelly Laurenston
Paranormal Romance
Kera Watson never expected to face death behind a Los Angeles coffee shop. Not after surviving two tours lugging an M16 around the Middle East. If it wasn't for her hot Viking customer showing up too late to help, nobody would even see her die.
In uncountable years of service to the Allfather Odin, Ludvig "Vig" Rundstrom has never seen anyone kick ass with quite as much style as Kera. He knows one way to save her life—but she might not like it. Signing up with the Crows will get Kera a new set of battle buddies: cackling, gossiping, squabbling, party-hearty women. With wings. So not the Marines.
But Vig can't give up on someone as special as Kera. With a storm of oh-crap magic speeding straight for L.A., survival will depend on combining their strengths: Kera's discipline, Vig's loyalty… and the Crows' sheer love of battle. Boy, are they in trouble.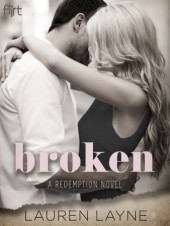 Broken (Redemption #1) by Lauren Layne -- I gave it 4 stars.
New Adult Contemporary Romance
When Olivia Middleton abandons the glamour of Park Avenue for a remote, coastal town in Maine, everyone assumes she's being the kind do-gooder she's always been. But Olivia has a secret: helping an injured war veteran reenter society isn't about charity—it's about penance. Only, Olivia's client isn't the grateful elderly man she's expecting. Instead, he's a brooding twenty-four-year-old who has no intention of being Olivia's path to redemption . . . and whose smoldering gaze and forbidden touch might be her undoing.
Paul Langdon doesn't need a mirror to show him he's no longer the hotshot quarterback he was before the war. He knows he's ugly—inside and out. He'll do anything to stay in self-imposed exile, even accept his father's ultimatum that Paul tolerate the newest caretaker for three months or lose his inheritance. But Paul doesn't count on the beautiful twenty-two-year-old who makes him long for things that he can never have. And the more she slips past his defenses, the more keeping his distance is impossible.
Now Paul and Olivia have to decide: Will they help each other heal? Or are they forever broken?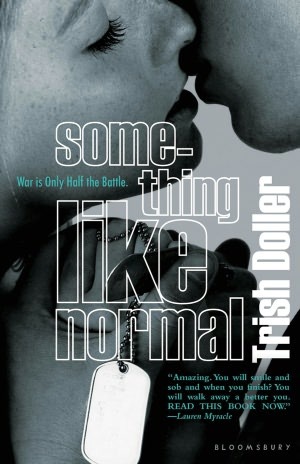 Something Like Normal by Trish Doller
New Adult Contemporary Romance
When Travis returns home from a stint in Afghanistan, his parents are splitting up, his brother's stolen his girlfriend and his car, and he's haunted by nightmares of his best friend's death. It's not until Travis runs into Harper, a girl he's had a rocky relationship with since middle school, that life actually starts looking up. And as he and Harper see more of each other, he begins to pick his way through the minefield of family problems and post-traumatic stress to the possibility of a life that might resemble normal again. Travis's dry sense of humor, and incredible sense of honor, make him an irresistible and eminently lovable hero.

Yours to Keep (Kowalski #3) by Shannon Stacey
Contemporary Romance
Sean Kowalski no sooner leaves the army than he's recruited by Emma Shaw to be her fake fiance. Emma needs to produce a husband-to-be for her grandmother's upcoming visit, and, though Sean doesn't like the deception, he could use the landscaping job Emma's offering while he decides what to do with his civilian life. And, despite his attraction to Emma, there's no chance he'll fall for a woman with deep roots in a town he's not planning to call home.
Emma's not interested in a real relationship either; not with a man whose idea of home is wherever he drops his duffel bag. No matter how amazing his "pretend" kisses are...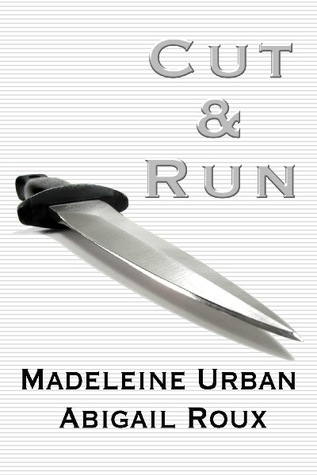 Cut & Run (Cut & Run #1) by Abigail Roux and Madeleine Urban -- I gave it 4 stars.
Male/Male Romantic Suspense
A series of murders in New York City has stymied the police and FBI alike, and they suspect the culprit is a single killer sending an indecipherable message. But when the two federal agents assigned to the investigation are taken out, the FBI takes a more personal interest in the case.
Special Agent Ty Grady is pulled out of undercover work after his case blows up in his face. He's cocky, abrasive, and indisputably the best at what he does. But when he's paired with Special Agent Zane Garrett, it's hate at first sight. Garrett is the perfect image of an agent: serious, sober, and focused, which makes their partnership a classic cliche: total opposites, good cop-bad cop, the odd couple. They both know immediately that their partnership will pose more of an obstacle than the lack of evidence left by the murderer.
Practically before their special assignment starts, the murderer strikes again - this time at them. Now on the run, trying to track down a man who has focused on killing his pursuers, Grady and Garrett will have to figure out how to work together before they become two more notches in the murderer's knife.
WANT MORE? CHECK OUT...
The Proposal
by Mary Balogh (Historical Romance)
My Darling Caroline by Adele Ashworth (Historical Romance)
A Night to Surrender
by Tessa Dare (Historical Romance)
She Tempts the Duke by Lorraine Heath (Historical Romance)
Off Base by Tessa Bailey and Sophie Jordan (Contemporary Romance)
UPCOMING THEMES
Secondary Romances -- August 6th
Librarians -- August 13th
Troubled Marriages -- August 20th