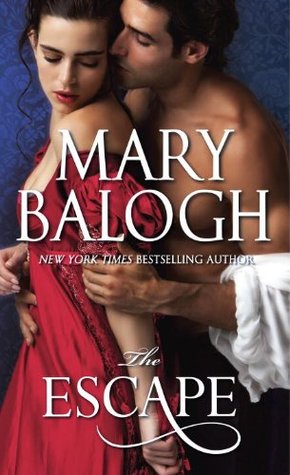 The Escape by Mary Balogh
(Survivors' Club #3)
For Ages 18+ (Language, Sensuality)
Historical Romance -- Regency England

Dell -- Published on July 1, 2014
e-ARC, 416 pages
Read in June 2015
Received from Netgalley

RATING: 4 STARS


THEMES/TROPES
Away from the Ballroom, Returning Soldier, Imperfect Hero, Widow Heroine, Road Romance
SUMMARY
In this poignant novel of longing and salvation, a hopeful widow and a resilient war hero discover the promise of love's magic and new beginnings.

After surviving the Napoleonic Wars, Sir Benedict Harper is struggling to move on, his body and spirit in need of a healing touch. Never does Ben imagine that hope will come in the form of a beautiful woman who has seen her own share of suffering. After the lingering death of her husband, Samantha McKay is at the mercy of her oppressive in-laws - until she plots an escape to distant Wales to claim a house she has inherited. Being a gentleman, Ben insists that he escort her on the fateful journey.

Ben wants Samantha as much as she wants him, but he is cautious. What can a wounded soul offer any woman? Samantha is ready to go where fate takes her, to leave behind polite society and even propriety in her desire for this handsome, honorable soldier. But dare she offer her bruised heart as well as her body? The answers to both their questions may be found in an unlikely place: in each other's arms.
FIRST LINE
"The hour was approaching midnight, but no one was making any move to retire to bed."
MY THOUGHTS
I received a free copy of this book from Dell via Netgalley in exchange for an honest review.

An emotional and sweet story between two people who find themselves in difficult situations and discover that their true happiness comes when they are together. Readers had not spent much time with Ben, but his presence was always felt by the other Club members so I was excited to learn more about him. And, I'm happy to say, I found it be another worthy installment that left me with tears in my eyes and a smile on my face.

What makes this story so wonderful (for me) is the characterization of both Ben and Samantha. Mary Balogh specializes in characters who have had crappy lives and are just trying to find some happiness amongst the darkness and these two are no different. Ben's legs were almost amputated after they were crushed by a horse during battle and he has struggled to gain back as much as strength as possible. Unfortunately, his legs are permanently twisted, but he has accepted this fate and now is struggling with what his future hold.

Samantha is no stranger to war wounds since she spent years nursing her husband until his death a few months before the book started. While she was devoted to her husband, his lingering injuries zapped her resolve and she can only feel relief when he finally succumbs. But, Samantha is still not free as her husband's older sister continues to hang around while spending much of her time disapproving of every one of Samantha's decisions. The sister even sends regular reports to Samantha's father-in-law. All she wants is to be free and live her life in peace.

Samantha and Ben worked so well as a couple. Their first meeting is full of anger when Ben almost runs her over with his horse, but they quickly realize that they have found a kindred soul in one another. I loved their "secret meetings" behind Samantha's sister-in-law's back and how sweet Ben was about her situation. And, when Samantha takes charge and heads off to Wales, Ben feels honor bound to escort her and the story turns into a fun road romance. The scenes in Wales are equally as emotional as Samantha learns more about her maternal family and Ben finds a place where he feels useful.

I can't say more about the plot without spoiling too much since The Escape is one of Balogh's more action-packed stories that I've read. There are still plenty of subtly intimate moments that I love in her books though it was nice to see a different pace. I also appreciated the beautiful descriptions of the Welsh countryside which has made me put the country on my dream travel list.

If you enjoy gentle, slow-burning romance, I recommend you give Mary Balogh a try and you can't go wrong by starting with the Survivors' Club series. Each book can be read as a stand-lone, but I feel like the overarching storyline is more powerful if they are read in order. Anxious to start Only a Promise now!
"One does tend to assume that life must be far easier for others than it ever is for oneself," he said. "I suspect it rarely is. I daresay life was not meant to be easy."