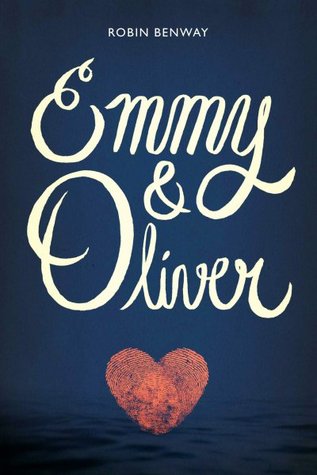 Emmy & Oliver by Robin Benway

For Ages 14+ (Language)
Young Adult -- Contemporary

HarperTeen -- Published on June 23, 2015
e-ARC, 352 pages
Read in June 2015
Received from Edelweiss

Rating: 4 Stars
THEMES/TROPES
First Person Narrative, Childhood Friends
SUMMARY
Emmy's best friend, Oliver, reappears after being kidnapped by his father ten years ago. Emmy hopes to pick up their relationship right where it left off. Are they destined to be together? Or has fate irreparably driven them apart?

Emmy just wants to be in charge of her own life.

She wants to stay out late, surf her favorite beach—go anywhere without her parents' relentless worrying. But Emmy's parents can't seem to let her grow up—not since the day Oliver disappeared.

Oliver needs a moment to figure out his heart.

He'd thought, all these years, that his dad was the good guy. He never knew that it was his father who kidnapped him and kept him on the run. Discovering it, and finding himself returned to his old hometown, all at once, has his heart racing and his thoughts swirling.

Emmy and Oliver were going to be best friends forever, or maybe even more, before their futures were ripped apart. In Emmy's soul, despite the space and time between them, their connection has never been severed. But is their story still written in the stars? Or are their hearts like the pieces of two different puzzles—impossible to fit together?
FIRST LINE
"The last time Emmy sees Oliver is on their forty-third day of second grade."
MY THOUGHTS
I received a free copy of this book from HarperTeen via Edelweiss in exchange for an honest review.
Robin Benway is a new-to-me author, but I have heard great things about her. So I was happy to get an e-ARC of her latest release to give her a try. And I will definitely be looking for more of her work in the future after my enjoyment of
Emmy & Oliver
.
The titular characters were next door neighbors until Oliver was kidnapped by his father when they were in second grade. Ten years later Oliver is found and returned his mother and everyone who had been searching for him for so long. Emmy and Oliver now have to try to adjust to their years apart which is complicated by the fact that their friendship is turning into something more.
I just thought this entire book was so cute and a great read for teenagers. Emmy is the narrator and she is very likable. She is nice, smart, and has a pretty awesome life. But, she has to deal with the fact that her parents are very protective as a reaction to Oliver's kidnapping. This forces her to sneak around behind them especially to go surfing which is her favorite hobby. Normally, I don't like it when characters are lying to others, but I understood why Emmy felt like she had to do so.
Oliver was also a great character to read about. His life was altered forever when he was taken away, but I liked the way that the author depicted his feelings for his father. It is hard for children to do anything, but love their parents and he really has to struggle with that in this book. Most of his journey consisted of adjusting to living with his mother again which I thought was developed realistically.
Oliver and Emmy's love story was just adorable and they were easy to root for. Their childhood friendship is shown in various flashbacks which helps readers understand where they are coming from. I also liked the slow build from friendship to romance that the author provided. I do wish that we could have gotten at least one chapter from Oliver's point of view (maybe at the end?), but that is a minor nitpick for this very enjoyable read.
"Look, Mo," my mom said to her. "Oliver is home now. That's what's important. He's not going to talk to you, all right? He's seventeen. Emmy's seventeen and she never talks to me.""It's true," I said. "I'm actually legally obligated to ignore her. The other teenagers and I made a pact. There were lawyers involved, it's a whole thing now."