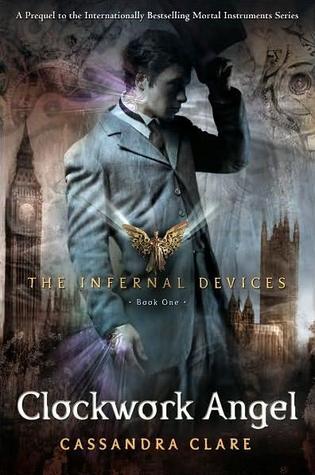 Clockwork Angel by Cassandra Clare
(Infernal Devices #1)
For Ages 14+ (Language, Violence)
Young Adult -- Historical/Paranormal

Simon & Schuster -- Published on August 31, 2010
Paperback, 479 pages
Read in June 2015
Purchased from Half-Price Books

Rating: 3.5 Stars
THEMES/TROPES
Alternate Universe, Love Triangle
SUMMARY
In a time when Shadowhunters are barely winning the fight against the forces of darkness, one battle will change the course of history forever. Welcome to the Infernal Devices trilogy, a stunning and dangerous prequel to the New York Times bestselling Mortal Instruments series.

The year is 1878. Tessa Gray descends into London's dark supernatural underworld in search of her missing brother. She soon discovers that her only allies are the demon-slaying Shadowhunters—including Will and Jem, the mysterious boys she is attracted to. Soon they find themselves up against the Pandemonium Club, a secret organization of vampires, demons, warlocks, and humans. Equipped with a magical army of unstoppable clockwork creatures, the Club is out to rule the British Empire, and only Tessa and her allies can stop them...
FIRST LINE
"The demon exploded in a shower of ichor and guts."


MY THOUGHTS
Read for the 2015 TBR Challenge--July--Lovely RITA. The challenge is hosted by Wendy the Super Librarian.

Why I Chose it for my TBR Challenge Read: Clockwork Angel is the 2011 RITA-nominated first book in the Infernal Devices trilogy which is a prequel to Cassandra Clare's popular Mortal Instruments series. I have read the first MI book and, while I enjoyed it, I found myself drawn to these books due to their historical setting. Surprising, huh? Anyway, I got this print copy a few years ago from a used bookstore and am happy to finally get to it.
The protagonist of this book is Tessa Gray, an American who travels to Victorian London to meet up with her older brother. Unfortunately, she is captured by two very creepy sisters and told that she has a strange ability which they will help her learn to utilize. She is eventually saved by a group known as the Shadowhunters who battle the demons, vampires, etc. that inhabit the city's underworld. Tessa asks these powerful demon-slayers to help her find her missing brother which throws her into a mass conspiracy.
I really liked Tessa. She is the typical YA heroine who is thrust into a new place and told how special she is. But, her personality is just so endearing and easy to relate to. Her number one priority is her brother and, while she may get distracted a bit, she never waivers in her devotion to him. I also liked that she was fairly laid-back about all the new things she was seeing since I'm not sure how calm I would be in such a situation. I am looking forward to seeing her embrace her powers even more and develop into one kick-ass lady.
The two heroes of this trilogy are Will and Jem, mysterious Shadowhunters who both develop something for Tessa. Will, at first glance, appears to be a snarky bad boy while Jem is the quiet, wounded warrior. But, Tessa (and readers) eventually learn that they are much more than their first impressions. What I especially liked about them was their solid friendship. There are many scenes between them that ring very true for such a strong relationship and I am hoping that the love triangle does not ruin that. There are few well-written friendships in young adult and I would hate to see that destroyed for the sake of a cliched plotline.
The reason for my less-than-perfect rating is just the fact that this is the first book in a series and there was major information overload at times. Even though I had read
City of Bones
and was familiar with the idea of Shadowhunters, the historical aspect complicated things. There were also a ton of new characters to meet as Tessa settled in and I sometimes had a difficult time keeping their roles straight. But, I see definite potential in this storyline and am excited to see what happens to Tessa, Will, and Jem next.
"One must always be careful of books," said Tessa, "and what is inside them, for words have the power to change us."
BOOKS IN THE SERIES