This is part of a feature where I focus on a specific theme (or trope) that I have found in my years as a voracious reader/blogger. I love finding commonalities between my favorite books and how that helps define me as a reader.
Please note this is not meant to be a comprehensive list. I am just picking a few examples of this trope. So, if you have a favorite example of this theme, let me know about it in the comments. I'm always on the lookout for more books to be added to my wishlist.
UNUSUAL OCCUPATIONS IN HISTORICAL ROMANCE
The Rake by Mary Jo Putney
-- Heroine is a land steward.
The Rake...Reginald Davenport, disinherited, disgraced, alcoholic, is headed for a bad end. New Earl of Wargrave gives him Strickland, the ancestral estate his uncle took illegally.
The Reformer...Lady Alys Weston fled wealth and title, fell into managing Strickland, caring for three unrelated former students. Reggie wakes her passions.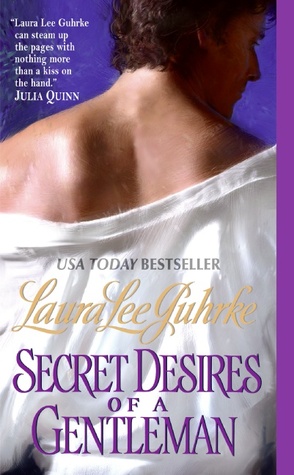 Secret Desires of a Gentleman by Laura Lee Guhrke
-- Heroine runs a pastry shop.
Maria Martingale was going to elope. But Phillip Hawthorne, Marquess of Kayne, put a stop to those plans when he learned his younger brother intended to marry a cook's daughter. Now, twelve years later, Maria discovers that the man who holds her fate in his hands is none other than the haughty gentleman who sent her packing—and he's as handsome and arrogant as ever.

Always the proper gentleman, Phillip will do anything to protect his family from scandal, and when Maria dares to move in right next door, he knows scandal will surely follow. She is as tempting as he remembered . . . and the more he sees her, the harder it is for Phillip to keep his own secret desire for her a secret.
Ten Things I Love About You by Julia Quinn
-- Hero writes romance novels.
Annabel Winslow is in a pickle. Having newly arrived in London for her first season and being in possession of a voluptuous figure, is being openly courted the the Earl of Newbury, who is at least 75 and a nasty brute to boot. Annabel does not want to marry him, of course, but feels that she has no choice since her father has recently died and left the whole family, including Annabel's mother her 7 siblings, almost destitute.

Then, while attending a party in the countryside, Annabel met Sebastian Grey, the Earl of Newbury's nephew. And suddenly she found herself not only courted by the lecherous uncle, but also the charming young nephew. Should she follow her heart so that she can be with the one she loves, or should she marry the loathsome earl just so she can put food on the table for her family and make sure that her brothers get to stay in school?
The Impostor by Celeste Bradley
-- Heroine is a political cartoonist.
It isn't easy moving about Society dressed like a dandy-especially when one is a ruthless spy. But that's precisely the latest mission for Liar's Club agent Dalton Montmorecy. Dalton is posing as Sir Thorogood, the elusive cartoonist whose scathing political caricatures have all of London abuzz. The true identity of Sir Thorogood is a mystery, and Dalton hopes that impersonating him will flush out the real menace before his cartoons do further damage to the Crown. Now, if Dalton could only find a way to get the irksome, yet oddly appealing widow, Clara Simpson, off his trail...

When Clara meets Sir Thorogood at a ball, she's certain he is an impostor-because she's the true Sir Thorogood. Secretly penning the cartoons under the frothy nom de plume, Clara hopes to save enough money so that she can leave her in-laws and find a new residence. Now she is determined to reveal an imposter's identity-and that means doing some undercover work herself. But pretending to be someone you're not has a funny way of making a woman do things she wouldn't ordinarily dream of-even if it drives her straight into the arms of her devilishly handsome adversary!
His Every Kiss by Laura Lee Guhrke
-- Hero is a music composer.
Everyone knows about Dylan Moore—his brilliant talent and his pleasure-seeking ways—but no one knows the torment that lies beneath his reckless veneer. Only one woman gets a glimpse of the forces that drive Dylan's soul, a woman who haunts his dreams and evokes his passions as no other woman ever has before.
Disgraced and destitute, Grace Cheval wants nothing to do with the seductive man who desires her. When Dylan offers her a position as governess to his newfound daughter, she knows his true intentions are dishonorable. Yet she finds this charismatic man hard to resist, and she returns his passionate kisses with a fire that matches his own. Can Dylan dare hope that this proud, spirited beauty will melt the ice around his heart?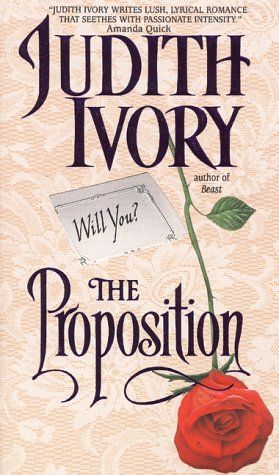 The Proposition by Judith Ivory
-- Hero is a rat catcher.
No man, gentleman or otherwise, has ever looked at Lady Edwina Bollash the way the brash, handsome man standing before her is doing now. Edwina has accepted the challenge to transform incorrigible Mick Tremore into a gentleman in just six weeks. And although the linguist is sure she can rise to the task, she isn't at all certain she won't swoon under his frankly sensuous gaze before her job is done.
Mick has lived outside of London society long enough to know that appearances can be deceiving. Edwina might look all buttoned up—the perfect English lady—but there is unleashed passion existing just below her placid facade (not to mention a great pair of legs!). And as she prepares him to take his place in society, Mick prepares Edwina to take her place in his heart...and in his bed.
When She Was Wicked by Anne Barton
-- Heroine is a dressmaker.
A dressmaker in London's busiest shop, Miss Anabelle Honeycote overhears the ton's steamiest secrets—and (occasionally) uses them to her advantage. It isn't something she's proud of, but the reluctant blackmailer needs the money to care for her gravely ill mother. To make up for her misdeeds, Anabelle keeps to a firm set of rules:
• Never request payment from someone who cannot afford it.• Never reveal the secrets of a paying client.• Never enter into any form of social interaction with a client.
Her list keeps her (somewhat) honest—until she encounters Owen Sherbourne, the Duke of Huntford. Not only does Owen nip Anabelle's extortion plans in the bud, the devilishly handsome Duke soon has the sexy seamstress dreaming of more than silks and satins.
With Owen, Anabelle enjoys pleasures she never imagined . . . until a scandal from the past resurfaces. Now her rules could mean his family's ruin. Owen's searing kisses carry the promise of passion, but how will he react when Anabelle's most devastating secret is finally revealed?


Proof By Seduction by Courtney Milan
-- Heroine is a fortune teller.
A gifted fortune-teller from a humble background, Jenny can make even the most sophisticated skeptic believe her predictions simply by batting her smoky eyelashes. Until she meets her match in Gareth Carhart, the Marquess of Blakely, a sworn bachelor and scientist.
Broodingly handsome, Gareth is scandalized to discover his cousin has fallen under the spell of "Madame Esmerelda," and vows to prove Jenny a fraud. But his unexpected attraction to the fiery enchantress defies logic. Jenny disrupts every facet of Gareth's calculated plan--until he can't decide whether to seduce her or ruin her. Now, as they engage in a passionate battle of wills, two lonely souls must choose between everything they "know."..and the boundless possibilities of love.


Don't Bargain with the Devil by Sabrina Jeffries
-- Hero is a magician.
When Diego Montalvo, a dashing Spanish magician, moves next door to Charlotte Harris's School for Young Ladies, the beautiful and determined Lucy Seton sets out to save the threatened school. Diego has come to England to find the long-lost granddaughter of a Spanish Marques and return her to Spain, and he is convinced that Lucy is the woman he's been looking for. Now, he just has to steal a look at her thigh to confirm a birthmark before whisking her away to Spain to collect his reward. But Diego never suspected his mission would include falling in love...
When the Rogue Returns by Sabrina Jeffries
-- Heroine is a jeweler.
Victor Cale never imagined that his sweet, shy bride, Isabella, would use her talents for creating exquisite imitation jewels criminally. But there's no denying that her handiwork was used in the theft of the Dutch royal diamonds-- right after Isa disappeared into the night.

Ten years later, Victor is sent to Edinburgh to investigate a wealthy baron's mysterious bride-to-be... who turns out to be Isa, masquerading as an alluring widow. No longer the meek girl he once knew, Isa boldly asserts that it was Victor who abandoned her, after he helped steal the royal diamonds!
Piecing together the truth of the past reawakens their volatile passions, which burns hotter than ever. But with a decade of secrets between them, Victor and Isa must trust each other to bring the real thieves to justice-- without getting burned themselves.