This is part of a feature where I focus on a specific theme (or trope) that I have found in my years as a voracious reader/blogger. I love finding commonalities between my favorite books and how that helps define me as a reader.

Please note this is not meant to be a comprehensive list. I am just picking a few examples of this trope. So, if you have a favorite example of this theme, let me know about it in the comments. I'm always on the lookout for more books to be added to my wishlist.
OLDER HEROINE/YOUNGER HERO
These are books where there is an age difference between the two main characters, sometimes more pronounced than others. What I find interesting about these stories is the reasoning for the author's choice of ages and what issues arise from such a situation. Historical romances especially are intriguing when it comes to the age differences between men and women.
I have not read all of the books on this list though I have read most of them. I am providing my personal ratings and links to any reviews that I have published.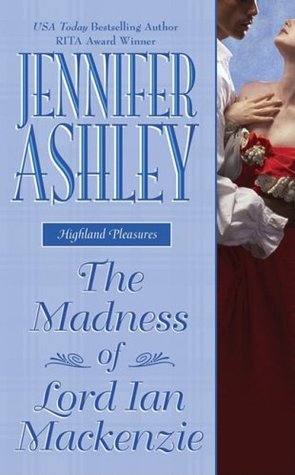 The Madness of Lord Ian Mackenzie by Jennifer Ashley -- I gave it 5 stars.
Historical Romance -- Victorian England
The year is 1881. Meet the Mackenzie family--rich, powerful, dangerous, eccentric. A lady couldn't be seen with them without ruin. Rumors surround them--of tragic violence, of their mistresses, of their dark appetites, of scandals that set England and Scotland abuzz.The youngest brother, Ian, known as the Mad Mackenzie, spent most of his young life in an asylum, and everyone agrees he is decidedly odd. He's also hard and handsome and has a penchant for Ming pottery and beautiful women.Beth Ackerley, widow, has recently come into a fortune. She has decided that she wants no more drama in her life. She was raised in drama--an alcoholic father who drove them into the workhouse, a frail mother she had to nurse until her death, a fussy old lady she became constant companion to. No, she wants to take her money and find peace, to travel, to learn art, to sit back and fondly remember her brief but happy marriage to her late husband.And then Ian Mackenzie decides he wants her.
A Promise of Spring by Mary Balogh
Historical Romance -- Regency England
Grace Howard has every reason to be devoted to Sir Peregrine Lampman. After all, the gallant gentleman rescued her from poverty by making her his bride. Even more nobly, he did not withdraw his affection after she confessed to a youthful folly that had compromised her virtue. But Grace did not tell the whole truth about the handsome lord who betrayed her—and now the one thing she's kept from Perry threatens to destroy her last chance at true love.
Surrender to the Devil by Lorraine Heath -- I gave it 4 stars.
Historical Romance -- Victorian England
Frannie Darling was once a child of London's roughest streets, surrounded by petty thieves, pickpockets, and worse. But though she survived this harsh upbringing to become a woman of incomparable beauty, Frannie wants nothing to do with the men who lust for her, the rogues who frequent the gaming hall where she works. She can take care of herself and feels perfectly safe on her own—safe, that is, until he strides into her world, and once again it becomes a very dangerous place indeed.To bed her but not wed her. That's what Sterling Mabry, the eighth Duke of Greystone, wants. But Frannie abhors arrogant aristocrats interested only in their own pleasure. So why then does the thought of an illicit tryst with the devilish duke leave her trembling with desire? Her willing body begs for release...and a wicked, wonderful surrender.
Thief of Shadows by Elizabeth Hoyt -- I gave it 5 stars.
Historical Romance -- Early Georgian England
Winter Makepeace lives a double life. By day he's the stoic headmaster of a home for foundling children. But the night brings out a darker side of Winter. As the moon rises, so does the Ghost of St. Giles-protector, judge, fugitive. When the Ghost, beaten and wounded, is rescued by a beautiful aristocrat, Winter has no idea that his two worlds are about to collide.
Lady Isabel Beckinhall enjoys nothing more than a challenge. Yet when she's asked to tutor the Home's dour manager in the ways of society-flirtation, double-entendres, and scandalous liaisons-Isabel can't help wondering why his eyes seem so familiar-and his lips so tempting.
During the day Isabel and Winter engage in a battle of wills. At night their passions are revealed . . . But when little girls start disappearing from St. Giles, Winter must avenge them. For that he might have to sacrifice everything-the Home, Isabel . . . and his life.
Suddenly You by Lisa Kleypas -- I gave it 3 stars.
Historical Romance -- Victorian England
She was unmarried, untouched and almost thirty, but novelist Amanda Briars wasn't about to greet her next birthday without making love to a man. When he appeared at her door, she believed he was her gift to herself, hired for one night of passion. Unforgettably handsome, irresistibly virile, he tempted her in ways she never thought possible, but something stopped him from completely fulfilling her dream.
Jack Devlin's determination to possess Amanda became greater when she discovered his true identity. But gently bred Amanda craved respectability more than she admitted, while Jack, the cast-off son of a nobleman and London's most notorious businessman, refused to live by society's rules. Yet when fate conspired for them to marry, their worlds collided with a passionate force neither had expected. . . but both soon craved.
When He Was Wicked by Julia Quinn -- I gave it 4.5 stars.
Historical Romance -- Regency England
In every life there is a turning point. A moment so tremendous, so sharp and breathtaking, that one knows one's life will never be the same. For Michael Stirling, London's most infamous rake, that moment came the first time he laid eyes on Francesca Bridgerton.After a lifetime of chasing women, of smiling slyly as they chased him, of allowing himself to be caught but never permitting his heart to become engaged, he took one look at Francesca Bridgerton and fell so fast and hard into love it was a wonder he managed to remain standing. Unfortunately for Michael, however, Francesca's surname was to remain Bridgerton for only a mere thirty-six hours longer—the occasion of their meeting was, lamentably, a supper celebrating her imminent wedding to his cousin.But that was then... Now Michael is the earl and Francesca is free, but still she thinks of him as nothing other than her dear friend and confidant. Michael dares not speak to her of his love... until one dangerous night, when she steps innocently into his arms, and passion proves stronger than even the most wicked of secrets...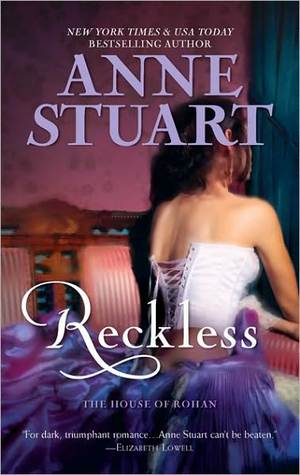 Reckless by Anne Stuart -- I gave it 4 stars.
Historical Romance -- Regency England
Adrian Alistair Rohan lost his faith, and now, a dedicated member of the depraved Heavenly Host, he loses himself in his only pleasure: the seduction and debauchery of beautiful women. Rich, charming and devastatingly skilled in the arts of love, he never fails in his conquests... until Charlotte Spenser.Charlotte is facing a desolate, passionless future, none of which matters to Adrian, who imagines her a toy until better prey arrives. But beneath her drab exterior, Charlotte is a woman as enchanting as she is brilliant and, lured into Adrian's world, soon she becomes the seducer, and he the seduced...
Not Quite a Husband by Sherry Thomas -- I gave it 4 stars.
Historical Romance -- Late Victorian England/India
Their marriage lasted only slightly longer than the honeymoon—to no one's surprise, not even Bryony Asquith's. A man as talented, handsome, and sought after by society as Leo Marsden couldn't possibly want to spend his entire life with a woman who rebelled against propriety by becoming a doctor. Why, then, three years after their annulment and half a world away, does he track her down at her clinic in the remotest corner of India?
Leo has no reason to think Bryony could ever forgive him for the way he treated her, but he won't rest until he's delivered an urgent message from her sister—and fulfilled his duty by escorting her safely back to England. But as they risk their lives for each other on the journey home, will the biggest danger be the treacherous war around them—or their rekindling passion?
Courting Miss Hattie by Pamela Morsi -- I gave it 4 stars.
Historical Romance -- American Western
The news spread like brush fire through the whole county when widower Ancil Drayton announced his intention to start courting Miss Hattie Colfax. She was certainly spirited and delightfully sweet natured, and she'd managed to run her family farm almost single-handedly. But wasn't a twenty-nine-year-old lady farmer too old to catch a husband?
All his life handsome, black-haired Reed Tyler had worked Miss Hattie's farm--and dreamed of one day settling down on his own piece of land with the pretty young woman he'd sworn to marry. Hattie was someone he could tell his hopes and troubles to--someone he looked on as a sister. So he thought, until the idea of Ancil Drayton calling on her made him seethe. Until the night a brotherly peck became a scorching kiss... and Reed knew nothing would bank the blaze--and that his best friend was the only woman he would ever love.
The Unidentified Redhead by Alice Clayton
Contemporary Romance
When Grace Sheridan returns to Los Angeles to become a working actress, it's a second shot at a life-long dream. With some help from her best-friend agent, will that dream become a reality—or at thirty-three, has Grace missed her chance at the big time? And when an unexpected sizzling romance with Jack Hamilton, the entertainment industry's newest "it" boy, threatens to shine an uncomfortable spotlight on her life, how will that affect her career…and his?
Funny, borderline neurotic Grace is perfect in her imperfections, and the sexual chemistry between her and charming yet blissfully unaware Jack is off the charts. With laugh-out-loud dialogue and a super-steamy romance that will get your heart racing, sneaking around in L.A. and dodging the paparazzi has never been so fun.
Anyone But You by Jennifer Crusie
Contemporary Romance
For Nina Askew, turning forty means freedom--from the ex-husband, freedom from their stuffy suburban home, freedom to focus on what she wants for a change. And what she wants is something her ex always vetoed--a puppy. A bouncy, adorable puppy. Instead she gets...Fred.
Overweight, middle-aged, a bit smelly and obviously depressed, Fred is light-years from perky. But he does manage to put Nina in the path of Alex Moore, her gorgeous, younger-by-a-decade neighbor.
Alex seems perfect--he's a sexy, seemingly sane, surprisingly single E.R. doctor--but the age gap convinces Nina that anyone but Alex would be better relationship material. But with every silver-haired stiff she dates, the more she suspects it's the young, dog-loving doc she wants to sit and stay!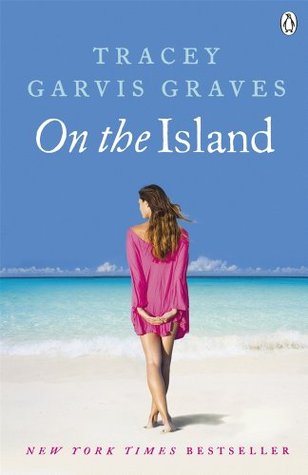 On the Island by Tracey Garvis-Graves -- I gave it 4 stars.
Contemporary Romance
When thirty-year-old English teacher Anna Emerson is offered a job tutoring T.J. Callahan at his family's summer rental in the Maldives, she accepts without hesitation; a working vacation on a tropical island trumps the library any day.
T.J. Callahan has no desire to leave town, not that anyone asked him. He's almost seventeen and if having cancer wasn't bad enough, now he has to spend his first summer in remission with his family - and a stack of overdue assignments -- instead of his friends.

Anna and T.J. are en route to join T.J.'s family in the Maldives when the pilot of their seaplane suffers a fatal heart attack and crash-lands in the Indian Ocean. Adrift in shark-infested waters, their life jackets keep them afloat until they make it to the shore of an uninhabited island. Now Anna and T.J. just want to survive and they must work together to obtain water, food, fire, and shelter.
Their basic needs might be met but as the days turn to weeks, and then months, the castaways encounter plenty of other obstacles, including violent tropical storms, the many dangers lurking in the sea, and the possibility that T.J.'s cancer could return. As T.J. celebrates yet another birthday on the island, Anna begins to wonder if the biggest challenge of all might be living with a boy who is gradually becoming a man.
Rode Hard, Put Up Wet by Lorelei James -- I gave it 4 stars.
Contemporary Romance -- Cowboy Erotica
Workin up a hot, sticky sweat is pure pleasure with a hard-ridin cowboy or two. Struggling stock contractor Gemma Jansen swallows her pride and tracks down circuit rider Cash Big Crow to offer him a job managing her ranch. Cash agrees on one condition: theirs won't be strictly a working relationship.
She's the boss during the day, but once she's corralled in the bedroom, Cash calls the shots. Despite concerns about their age difference, Gemma consents. Cash suspects the sexy widow hides an untapped wild streak. He intends to loosen her tightly held reins of control even if he has to break out his horsewhip to do it. But Cash is in for a surprise. Gemma proves a rough and ready participant in any leather-n-lace game Cash dreams up.Between riding herd on his wayward daughter, Macie, and rowdy cowboy Carter McKay doggin Macie's every boot step, Cash struggles to hide his true feelings for Gemma except this time, Gemma's grabbed the bull by the horns and she's playing for keeps. Summer's going to be a hot one at the Bar 9.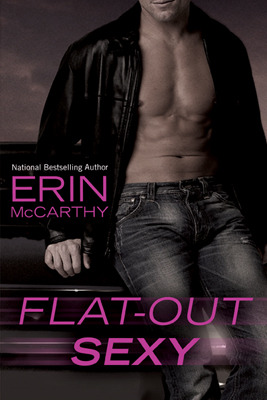 Flat-Out Sexy by Erin McCarthy -- I gave it 4 stars.
Contemporary Romance -- Sports
Independent single mother Tamara Briggs wanted to find a new, sexy, no-strings-attached man--just not one as young as NASCAR driver Elec Monroe. But he sure does get her heart racing. And after she's tricked into a blind date with him, Tamara gives in to her passion. Things screech to a halt, though, when he asks to meet her children. Whatever happened to wham-bam-thank-you ma'am? Suddenly Tamara has to decide how much risk she's willing to take to experience the power of true love.

Love Hacked by Penny Reid -- I gave it 4 stars.
Contemporary Romance -- Big City
There are three things you need to know about Sandra Fielding: 1) She makes all her first dates cry, 2) She hasn't been kissed in over two years, and 3) She knows how to knit.
Sandra has difficulty removing her psychotherapist hat. Of her last 30 dates, 29 have ended the same way: the man sobbing uncontrollably. After one such disaster, Sandra--near desperation and maybe a little tipsy--gives in to a seemingly harmless encounter with her hot waiter, Alex. Argumentative, secretive, and hostile Alex may be the opposite of everything Sandra knows is right for her. But now, the girl who has spent all her life helping others change for the better, must find a way to cope with falling for someone who refuses to change at all.
Taken with You by Shannon Stacey
Contemporary Romance
Hailey Genest has seen most of her friends marry and have babies, and she's happy for them, but it was a lot easier before she hit forty. She's spent her entire life in Whitford, Maine, and if she hasn't found her Prince Charming by now, she has to accept she's probably not going to. When a new friend suggests they go on an adventure and embrace being single, Hailey agrees.
Surviving in the woods is game warden Matt Barnett's idea of a relaxing vacation. But when he meets two women in need of help, he leads them back to safety - a task that proves more fun than expected, thanks to a certain hot blonde. He can't resist pushing her buttons, even though she's made it clear that the rugged, outdoorsy type just isn't for her.
Hailey is glad to see the back of her tempting-tour-guide-slash-pain-in-the-ass. When he shows up in her life again, she's determined to avoid him, no matter how good he looks in his uniform. But that's easier said than done in Whitford, especially when he's renting the house right next door...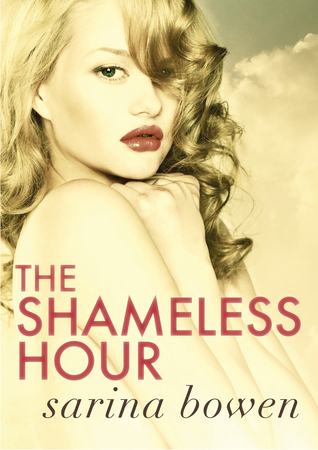 The Shameless Hour by Sarina Bowen -- I gave it 4.5 stars.
Contemporary Romance -- New Adult
For Bella, the sweet-talking, free-loving, hip-checking student manager of the Harkness men's hockey team, sex is a second language. She's used to being fluent where others stutter, and the things people say behind her back don't (often) bother her. So she can't understand why her smoking hot downstairs neighbor has so much trouble staying friends after their spontaneous night together. She knows better than to worry about it, but there's something in those espresso eyes that makes her second guess herself.
Rafe is appalled with himself for losing his virginity in a drunken hookup. His strict Catholic upbringing always emphasized loving thy neighbor—but not with a bottle of wine and a box of condoms. The result is an Ivy League bout of awkwardness. But when Bella is leveled by a little bad luck and a downright sinister fraternity stunt, it's Rafe who is there to pick up the pieces.
Bella doesn't want Rafe's help, and she's through with men. Too bad the undeniable spark that crackles between the two of them just can't be extinguished.
Outlander by Diana Gabaldon -- I gave it 5+ stars.
Historical Fiction -- Time Travel
The year is 1945. Claire Randall, a former combat nurse, is just back from the war and reunited with her husband on a second honeymoon when she walks through a standing stone in one of the ancient circles that dot the British Isles. Suddenly she is a Sassenach—an "outlander"—in a Scotland torn by war and raiding border clans in the year of Our Lord...1743.
Hurled back in time by forces she cannot understand, Claire is catapulted into the intrigues of lairds and spies that may threaten her life, and shatter her heart. For here James Fraser, a gallant young Scots warrior, shows her a love so absolute that Claire becomes a woman torn between fidelity and desire—and between two vastly different men in two irreconcilable lives.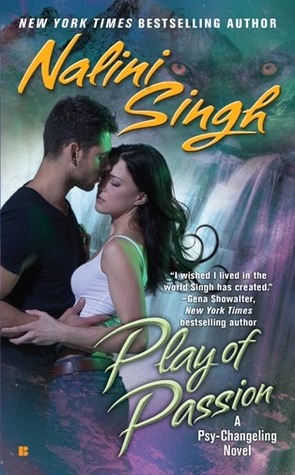 Play of Passion by Nalini Singh -- I gave it 4.5 stars.
Paranormal Romance -- Alternate Universe
In his position as tracker for the SnowDancer pack, it's up to Drew Kincaid to rein in rogue changelings who have lost control of their animal halves- even if it means killing those who have gone too far. But nothing in his life has prepared him for the battle he must now wage to win the heart of a woman who makes his body ignite... and who threatens to enslave his wolf.Lieutenant Indigo Riviere doesn't easily allow skin privileges, especially of the sensual kind- and the last person she expects to find herself craving is the most wickedly playful male in the den. Everything she knows tells her to pull back before the flames burn them both to ash... but she hasn't counted on Drew's will.
Now, two of SnowDancer's most stubborn wolves find themselves playing a hot, sexy game even as lethal danger stalks the very place they call home.