This is part of a weekly feature I'm going to be doing on my blog. Basically, I am going to be focusing one a specific theme (or trope) that I have found in my years as a voracious reader/blogger. I love finding commonalities between my favorite books and how that helps define me as a reader.

Please note this is not meant to be a comprehensive list. I am just picking a few examples of this trope. So, if you have a favorite example of this theme, let me know about it in the comments. I'm always on the lookout for more books to be added to my wishlist.
CHARACTERS IN DISGUISE
This list focuses on characters that put on a disguise at some point in the story. It includes women who dress as men and men/women who masquerade as someone else for at least a small part. I love these stories because of the potential for drama when the disguised character's identity is revealed. These types of books often involve spies which have their own special brand of external drama associated with their mission of the moment.
This is an instance where I have read all the books on this list. I am providing my personal ratings for each book as well as links to any reviews I have written for them. As always, if you have books following this theme, let me know about them in the comments!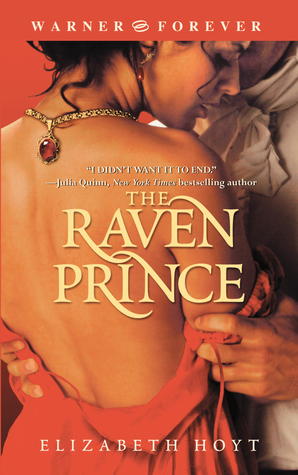 The Raven Prince by Elizabeth Hoyt -- I gave it 5 stars.
Widowed Anna Wren is having a wretched day. After an arrogant male on horseback nearly squashes her, she arrives home to learn that she is in dire financial straits.
The Earl of Swartingham is in a quandary. Having frightened off two secretaries, Edward de Raaf needs someone who can withstand his bad temper and boorish behavior.
When Anna becomes the earl's secretary, it would seem that both their problems are solved. Then she discovers he plans to visit the most notorious brothel in London for his "manly" needs. Well! Anna sees red—and decides to assuage her "womanly" desires...with the earl as her unknowing lover.
Libby's London Merchant by Carla Kelly -- I gave it 4 stars. (review)
Beautiful Miss Libby Ames knew little about the man who landed unexpectedly at her country manor. Only that he called himself Mr. Nesbitt Duke, a London merchant. And after one look at Libby, he claimed he'd fallen in love. But it was soon clear that this handsome stranger was not being entirely truthful.

Arriving at Libby's doorstep was not fate, but rather an encounter of Nesbitt's own design. Furthermore, his position in life was far from that of a merchant. His name too was a lie. But his true identity was still not the greatest mystery. For Libby had no idea of the secret longings of her own heart—or what to do next about the mystery man, and the passionate love that has taken her by shocking surprise.
The Taming of the Duke by Eloisa James -- I gave it 5 stars.
Imogen, Lady Maitland, has decided to dance on the wild side. After all, she's in the delicious position of being able to take a lover. A discreet male who knows just when to leave in the morning.

But Lady Maitland is still under the watchful eye of her former guardian, the wildly untamed Rafe, the Duke of Holbrook. He believes she is still in need of a "watchdog." She laughs at the idea that someone so insufferably lazy and devoted to drink can demand that she behave with propriety.

It's Rafe's long-lost brother, a man who looks precisely like the duke but with none of his degenerate edge, who interests Imogen. To Imogen, he's the shadow duke . . . the man who really should hold the title. But when Imogen agrees to accompany Gabe to a masquerade...whose masked eyes watch her with that intense look of desire? Who exactly is she dancing with? The duke or the shadow duke? Rafe . . . or Gabe?
His at Night by Sherry Thomas -- I gave it 4.5 stars.
Elissande Edgerton is a desperate woman, a virtual prisoner in the home of her tyrannical uncle. Only through marriage can she claim the freedom she craves. But how to catch the perfect man?

Lord Vere is used to baiting irresistible traps. As a secret agent for the government, he's tracked down some of the most devious criminals in London, all the while maintaining his cover as one of Society's most harmless—and idiotic—bachelors. But nothing can prepare him for the scandal of being ensnared by Elissande.

Forced into a marriage of convenience, Elissande and Vere are each about to discover that they're not the only one with a hidden agenda. With seduction their only weapon—and a dark secret from the past endangering both their lives—can they learn to trust each other even as they surrender to a passion that won't be denied?
Never Judge a Lady By Her Cover by Sarah MacLean -- I gave it 4.5 stars. (review)
By day, she is Lady Georgiana, sister to a Duke, ruined before her first season in the worst kind of scandal. But the truth is far more shocking—in London's darkest corners, she is Chase, the mysterious, unknown founder of the city's most legendary gaming hell. For years, her double identity has gone undiscovered . . . until now.

Brilliant, driven, handsome-as-sin Duncan West is intrigued by the beautiful, ruined woman who is somehow connected to a world of darkness and sin. He knows she is more than she seems and he vows to uncover all of Georgiana's secrets, laying bare her past, threatening her present, and risking all she holds dear . . . including her heart.
How to Marry a Marquis by Julia Quinn -- I gave it 4 stars.
When James Sidwell, Marquis of Riverdale, offered to help Elizabeth Hotchkiss find herself a husband, he never dreamed that the only candidate he could propose would be himself...

When Elizabeth Hotchkiss stumbles upon a most intriguing book, How to Marry a Marquis, in her employer's library, she's convinced someone is playing a cruel joke. With three younger siblings to support, she knows she has to marry for money, but who might have guessed how desperate she's become? A guidebook to seduction might be just the thing she needs—and what harm could there be in taking a little peek?

James Sidwell, the Marquis of Riverdale, has been summoned to rescue his aunt from a blackmailer, a task that requires him to pose as the new estate manager—and he immediately sheds suspicion on his aunt's companion, Elizabeth. Intrigued by the deliciously alluring young woman with the curious little rulebook, he gallantly offers to help her find herself a husband...by practicing her wiles on him. But when practice becomes all too perfect, James decides there's only one rule worth following—that Elizabeth marry her marquis.
Lady Rogue by Suzanne Enoch -- I gave it 4 stars.
When the dripping wet ragamuffin showed up on his doorstep late one night claiming sanctuary, Alexander Cale had no idea the cheeky lad was actually an enchanting—but infuriating—chit! Suspicious of French-raised Kit Brantley's reasons for coming to London, Alex fears she's a traitor, spying for Napoleon. Yet as he's dragged into one escapade after another, Alex soon finds himself succumbing to her gamine charm and bold spirit—despite her dubious motives and outrageous behavior.

Kit has never seen eyes quite as blue—or as dangerous—as Alex Cale's. The Earl of Everton penetrated her disguise in record time, and now threatens to discover her reason for being in London: to find out who among the English peerage has been foiling her father's smuggling trade in France. As Kit races the clock against dark forces, Alex's devastating masculinity is a distraction she can ill afford—yet cannot resist. But when danger threatens both their lives, only love can save them.
The Devil to Pay by Liz Carlyle -- I gave it 4 stars.
By day, Sidonie Saint-Godard is a quietly elegant young widow who teaches deportment to the unpolished daughters of London's nouveau riche. By night, she is someone altogether different.

The notorious Black Angel—so called for her lusciously located angel tattoo—ruthlessly takes from powerful men who exploit, and gives to those who suffer at their hands. Always in disguise, she has eluded capture and her identity remains a mystery.

The Marquess of Devellyn, one of the least noble noblemen in town, uses and discards women as he pleases. But when the Black Angel entices him into her bed, ties him up, and pilfers his most valued possession, she may have gone too far. This time, Devellyn tells her, she'll have the devil to pay. And he definitely means to collect.
All Through the Night by Connie Brockway -- I gave it 4.5 stars.
A woman compelled. . .
In the glittering world of Regency England, Anne Wilder played a dangerous game. A widowed lady by day, by night she became a masked thief preying on society's elite. She roved high above London's black rooftops, compelled by phantoms from her past to take ever greater risks. Until her restless spirit led her into Colonel Jack Seward's trap. . . where seduction was her only way out.

A man obsessed. . .
She'd played him for a fool, taking advantage of his hungry response to escape from his clutches. But as Jack hunted for his thief, his heart fell captive to a self-possessed widow. Torn between illicit passion and tender love, Jack is duty-bound to capture the audacious criminal, even if it means ripping society apart to do so. Now he stalked her through the ton, never realizing the lovely widow who captured his heart was the same woman who roused his most violent passions.

A love that defied king and country. . .
The Accidental Countess by Valerie Bowman -- I gave it 4 stars. (review)
For seven long years, Lady Cassandra Monroe has waited for the man of her dreams to return from the war. Unfortunately, he happens to be engaged to her flighty cousin. What Cass wouldn't give to take her cousin's place! When he mistakes Cass for Patience Bunbury, a fictitious friend her cousin has invented to escape social obligations…even with her future husband, Cass thinks this is her chance.

After defeating Napoleon at Waterloo, Captain Julian Swift is not quite ready to settle down and enter into his unwanted arranged marriage—especially when the real object of his affection turns out to be a beguiling beauty he meets at a party. Patience Bunbury is witty, independent, passionate…and, unbeknownst to him, the cousin of his current fiancée. When the truth about Cass comes out—and Julian discovers that their courtship is anything but accidental—will he surrender his heart to a woman who really is too good to be true?
The Impostor by Celeste Bradley -- I gave it 4.5 stars.
It isn't easy moving about Society dressed like a dandy-especially when one is a ruthless spy. But that's precisely the latest mission for Liar's Club agent Dalton Montmorecy. Dalton is posing as Sir Thorogood, the elusive cartoonist whose scathing political caricatures have all of London abuzz. The true identity of Sir Thorogood is a mystery, and Dalton hopes that impersonating him will flush out the real menace before his cartoons do further damage to the Crown. Now, if Dalton could only find a way to get the irksome, yet oddly appealing widow, Clara Simpson, off his trail...

When Clara meets Sir Thorogood at a ball, she's certain he is an impostor-because she's the true Sir Thorogood. Secretly penning the cartoons under the frothy nom de plume, Clara hopes to save enough money so that she can leave her in-laws and find a new residence. Now she is determined to reveal an imposter's identity-and that means doing some undercover work herself. But pretending to be someone you're not has a funny way of making a woman do things she wouldn't ordinarily dream of-even if it drives her straight into the arms of her devilishly handsome adversary!
The Bride Thief by Jacquie D'Alessandro -- I gave it 3.5 stars.
At six-and-twenty, Samantha Briggeham knew her marital prospects were fading by the season and she was pleased by the thought. She had no intention of being betrothed–especially against her will–to a man she did not love. She had a plan...and it didn't include being swept into a pair of powerful arms and spirited away by a masked rider. News of Sammie's heroic rescue from undesired wedlock turned her into the toast of the ton, wooed by suitors far and wide. But she couldn't forget the swashbuckling brigand who'd abducted her–something about him intrigued her completely. Then she met Eric Landsdowne, the dashing and seductive Earl of Wesley.

His exploits were legendary, his life filled with danger. He was the elusive Bride Thief, who had his own reasons for helping young women escape the unhappy fate of arranged marriages, and whose true identity was a scrupulously guarded secret. But from the moment he rescued Sammie–only to discover she'd already managed to get herself un-betrothed–Eric knew he couldn't lose her a second time. Marriage was out of the question. Which left only one option: A clandestine affair that might lead to scandal, social ruin, and the unmasking of a love-bested legend. . .
The Lady Hellion by Joanna Shupe -- I gave it 4.5 stars. (review)
A rabble rouser for justice, Sophie's latest mission is to fight for the rights of the poor, the wretched—and the employees at Madame Hartley's brothel. She's not concerned about the criminals who will cross her path, for Sophie has mastered the art of deception—including the art of wearing trousers. Now her fate is in her own hands, along with a loaded gun. All she needs is instruction on how to shoot it. But only one person can help her: Lord Quint, the man who broke her heart years ago. The man she won't let destroy her again…

The last thing Damien Beecham, Viscount Quint, needs is an intrusion on his privacy, especially from the beautiful, exasperating woman he's never stopped wanting. A woman with a perilously absurd request, no less. For Damien is fighting a battle of his own, one he wishes to keep hidden—along with his feelings for Lady Sophia. Yet that fight is as hopeless as stopping her outlandish plan. Soon all Quint knows for certain is that he will die trying to protect her…
My Fair Concubine by Jeannie Lin -- I gave it 3.5 stars. (review)
Yan Ling tries hard to be servile—it's what's expected of a girl of her class. Being intelligent and strong-minded, she finds it a constant battle.

Proud Fei Long is unimpressed by her spirit—until he realizes she's the answer to his problems. He has to deliver the emperor a "princess." In two months can he train a tea girl to pass as a noblewoman?

Yet it's hard to teach good etiquette when all Fei Long wants to do is break it, by taking this tea girl for his own...
The Tattooed Duke by Maya Rodale -- I gave it 3.5 stars.
You thought you knew the dangerous Duke of Wycliff, London's globe-trotting adventure addict. Here's what you don't know: he's penniless. Sebastian Digby's dukely lifestyle is over forever unless he finds a rich bride. But thanks to The London Weekly, everyone knows better than to tangle with this lothario. Besides (as one writer can testify), it seems that Sebastian has been unable to keep his hands off his own lowly housemaid...

Because that housemaid just happens to be me. Eliza Fielding. The same undercover Writing Girl who's been exposing the Duke's most intimate secrets to the world. And now I've gone and complicated everything by falling in love with him. Passion and deception have never been so delicious, but now the truth could destroy everything. This is more than a conflict of interest. It's a seduction where love itself hangs in the balance.
My Lady Quicksilver by Bec McMaster -- I gave it 4 stars. (review)
Determined to destroy the Echelon she despises, Rosalind Fairchild is on seemingly easy mission. Get in. Uncover the secrets of her brother's disappearance. And get out.

In order to infiltrate the Nighthawks and find their leader, Sir Jasper Lynch, Rosalind will pose as their secretary. But she doesn't count on Lynch being such a dangerously charismatic man, challenging her at every turn, forcing her to re-evaluate everything she knows about the enemy. He could be her most dangerous nemesis—or the ally she never dreamed existed.
Nobody's Baby But Mine by Susan Elizabeth Phillips -- I gave it 4 stars.
Genius physics professor Dr. Jane Darlington desperately wants a baby. But finding a father won't be easy. Jane's super-intelligence made her feel like a freak when she was growing up, and she's determined to spare her own child that suffering. Which means she must find someone very special to father her child. Someone who's more comfortable working out his muscles than exercising his brain.

Cal Bonner, the Chicago Stars' legendary quarterback, seems like the perfect choice. But his champion good looks and down-home ways are deceiving. Dr. Jane is about to learn a little too late that this good ol' boy is a lot smarter than he lets on—and he's not about to be used and abandoned by a brainy, baby-mad schemer.
A Spy in the House by Y.S. Lee -- I gave it 5 stars. (review)
Rescued from the gallows in 1850s London, young orphan (and thief) Mary Quinn is surprised to be offered a singular education, instruction in fine manners — and an unusual vocation. Miss Scrimshaw's Academy for Girls is a cover for an all-female investigative unit called The Agency, and at seventeen, Mary is about to put her training to the test.
Assuming the guise of a lady's companion, she must infiltrate a rich merchant's home in hopes of tracing his missing cargo ships. But the household is full of dangerous deceptions, and there is no one to trust — or is there? Packed with action and suspense, banter and romance, and evoking the gritty backstreets of Victorian London, this breezy mystery debuts a daring young detective who lives by her wits while uncovering secrets — including those of her own past.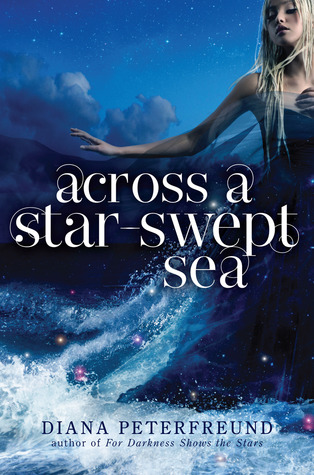 Across a Star-Swept Sea by Diana Peterfreund -- I gave it 5 stars. (review)
Centuries after wars nearly destroyed civilization, the two islands of New Pacifica stand alone, a terraformed paradise where even the Reduction—the devastating brain disorder that sparked the wars—is a distant memory. Yet on the isle of Galatea, an uprising against the ruling aristocrats has turned deadly. The revolutionaries' weapon is a drug that damages their enemies' brains, and the only hope is rescue by a mysterious spy known as the Wild Poppy.

On the neighboring island of Albion, no one suspects that the Wild Poppy is actually famously frivolous aristocrat Persis Blake. The teenager uses her shallow, socialite trappings to hide her true purpose: her gossipy flutternotes are encrypted plans, her pampered sea mink is genetically engineered for spying, and her well-publicized new romance with handsome Galatean medic Justen Helo… is her most dangerous mission ever.

Though Persis is falling for Justen, she can't risk showing him her true self, especially once she learns he's hiding far more than simply his disenchantment with his country's revolution and his undeniable attraction to the silly socialite he's pretending to love. His darkest secret could plunge both islands into a new dark age, and Persis realizes that when it comes to Justen Helo, she's not only risking her heart, she's risking the world she's sworn to protect.
Ouran High School Host Club, Volume 1 by Bisco Hatori -- I gave it 4.5 stars.
One day, Haruhi, a scholarship student at exclusive Ouran High School, breaks an $80,000 vase that belongs to the 'Host Club', a mysterious campus group consisting of six super-rich (and gorgeous) guys. To pay back the damages, she is forced to work for the club, and it's there that she discovers just how wealthy the boys are and how different they are from everybody else.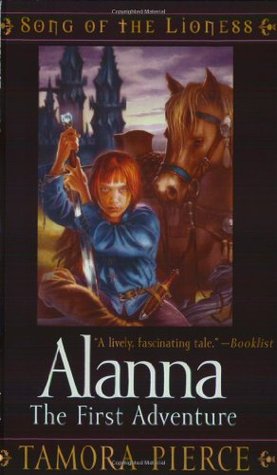 Alanna: The First Adventure by Tamora Pierce -- I gave it 4 stars.
From now on I'm Alan of Trebond, the younger twin. I'll be a knight.

And so young Alanna of Trebond begins the journey to knighthood. Though a girl, Alanna has always craved the adventure and daring allowed only for boys; her twin brother, Thom, yearns to learn the art of magic. So one day they decide to switch places: Thom heads for the convent to learn magic; Alanna, pretending to be a boy, is on her way to the castle of King Roald to begin her training as a page.

But the road to knighthood is not an easy one. As Alanna masters the skills necessary for battle, she must also learn to control her heart and to discern her enemies from her allies.

Filled with swords and sorcery, adventure and intrigue, good and evil, Alanna's first adventure begins - one that will lead to the fulfillment of her dreams and the magical destiny that will make her a legend in her land.