This is part of a feature where I focus on a specific theme (or trope) that I have found in my years as a voracious reader/blogger. I love finding commonalities between my favorite books and how that helps define me as a reader.

Please note this is not meant to be a comprehensive list. I am just picking a few examples of this trope. So, if you have a favorite example of this theme, let me know about it in the comments. I'm always on the lookout for more books to be added to my wishlist.
ALPHA HEROINES
These are female protagonists who have take charge personalities that one would identify as alpha. Often they are the ones giving orders rather than following them and some of the drama in their stories involves having to deal with such a situation. These heroines also could be defined as kick-ass or strong, but I'm categorizing them as on their particular personality traits rather than a general description of them.
Outlander by Diana Gabaldon -- Claire Randall (I gave it 5 stars.)
Historical Fiction/Time Travel
The year is 1945. Claire Randall, a former combat nurse, is just back from the war and reunited with her husband on a second honeymoon when she walks through a standing stone in one of the ancient circles that dot the British Isles. Suddenly she is a Sassenach—an "outlander"—in a Scotland torn by war and raiding border clans in the year of Our Lord...1743.
Hurled back in time by forces she cannot understand, Claire is catapulted into the intrigues of lairds and spies that may threaten her life, and shatter her heart. For here James Fraser, a gallant young Scots warrior, shows her a love so absolute that Claire becomes a woman torn between fidelity and desire—and between two vastly different men in two irreconcilable lives.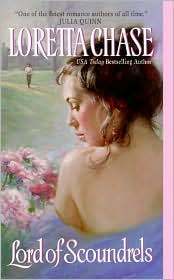 Lord of Scoundrels by Loretta Chase -- Jessica Trent (I gave it 5 stars.)
Historical Romance/Regency England
Tough minded Jessica Trent's sole intention is to free her nitwit brother from the destructive influence of Sebastian Ballister, the notorious Marquess of Dain. She never expects to desire the arrogant, amoral cad. And When Dain's reciprocal passion places them in a scandously compromising, and public, position, Jessica is left with no choice but to seek satisfaction...
Damn the minx for tempting him, kissing him...and then for forcing him to salvage her reputation! Lord Dain can't wait to put the infuriating bluestocking in her place -- and in some amorous position. And if this means marriage, so be it -- though Sebastian is less than certain he can continue to remian aloof...and stell his heart to the sensuous, head strong lady's considerable charms.
Revealed by Kate Noble -- Phillipa Benning (I gave it 4 stars.)
Historical Romance/Regency England
Phillippa Benning is the unrivaled beauty of the Season. But when another lady challenges her for a marquis's attentions, Phillippa entices him to a secret rendezvous-only to stumble upon The Blue Raven, England's most famous spy, lurking at the site of her planned tryst.
The Blue Raven has uncovered an enemy plot directed at upcoming society functions, but he's unable to infiltrate London society. Phillippa makes an offer: in exchange for entrée among the ton, he agrees to have his true identity revealed at the Benning Ball-guaranteeing her unrivaled notoriety. As the danger draws closer, the mysterious spy and Phillippa give in to mutual desire. But when the game turns deadly, betrayal waits around the corner, and Phillippa must decide once and for all-is it the myth that captured her heart, or the man?
Naked in Death by JD Robb -- Lieutenant Eve Dallas (I gave it 4.5 stars.)
Romantic Suspense/Murder Mystery
In a world of danger and deception, she walks the line--between seductive passion and scandalous murder...Eve Dallas is a New York police lieutenant hunting for a ruthless killer. In over ten years on the force, she's seen it all--and knows her survival depends on her instincts. And she's going against every warning telling her not to get involved with Roarke, an Irish billionaire--and a suspect in Eve's murder investigation. But passion and seduction have rules of their own, and it's up to Eve to take a chance in the arms of a man she knows nothing about--except the addictive hunger of needing his touch.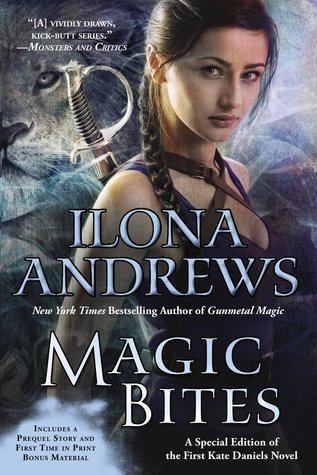 Magic Bites by Ilona Andrews -- Kate Daniels (I gave it 4 stars.)
Urban Fantasy
Kate Daniels is a down-on-her-luck mercenary who makes her living cleaning up magical problems. But when Kate's guardian is murdered, her quest for justice draws her into a power struggle between two strong factions within Atlanta's magic circles. Pressured by both sides to find the killer, Kate realizes she's way out of her league—but she wouldn't want it any other way…


Spider's Bite by Jennifer Estep -- Gin Blanco (I gave it 4 stars.)
Urban Fantasy
My name is Gin, and I kill people.
They call me the Spider. I'm the most feared assassin in the South — when I'm not busy at the Pork Pit cooking up the best barbecue in Ashland. As a Stone elemental, I can hear everything from the whispers of the gravel beneath my feet to the vibrations of the soaring Appalachian Mountains above me. My Ice magic also comes in handy for making the occasional knife. But I don't use my powers on the job unless I absolutely have to. Call it professional pride.
Now that a ruthless Air elemental has double-crossed me and killed my handler, I'm out for revenge. And I'll exterminate anyone who gets in my way — good or bad. I may look hot, but I'm still one of the bad guys. Which is why I'm in trouble, since irresistibly rugged Detective Donovan Caine has agreed to help me. The last thing this coldhearted killer needs when I'm battling a magic more powerful than my own is a sexy distraction...especially when Donovan wants me dead just as much as the enemy.
Lover Mine by JR Ward -- Xhex (I gave it 5 stars.)
Paranormal Romance
John Matthew has come a long way since he was found living among humans, his vampire nature unknown to himself and to those around him. After he was taken in by the Brotherhood, no one could guess what his true history was- or his true identity. Indeed, the fallen Brother Darius has returned, but with a different face and a very different destiny. As a vicious personal vendetta takes John into the heart of the war, he will need to call up on both who he is now and who he once was in order to face off against evil incarnate.
Xhex, a symphath assassin, has long steeled herself against the attraction between her and John Matthew. Having already lost one lover to madness, she will not allow the male of worth to fall prey to the darkness of her twisted life. When fate intervenes, however, the two discover that love, like destiny, is inevitable between soul mates.
Angel's Blood by Nalini Singh -- Elena Deveraux
Urban Fantasy
Vampire hunter Elena Deveraux knows she is the best- but she does not know if even she is good enough for this job. Hired by the dangerously beautiful archangel Raphael, a being so lethal that no mortal wants his attention, Elena knows failure is not an option—even if the task is impossible. Because this time, it's not a wayward vamp she has to track. It's an archangel gone bad.The job will put Elena in the midst of a killing spree like no other—and pull her to the razor's edge of passion. Even if the hunt does not destroy her, succumbing to Raphael's seductive touch just might. For when archangels play, mortals break.
Immortal Rider by Larissa Ione -- Limos (I gave it 4 stars.)
Paranormal Romance
Sexy, powerful, and immortal, Limos is on a crash course with destiny. She's been marked as Satan's bride and her jealous fiancé wants her all to himself. The only way this Horseman can keep herself—and everyone else—safe is to keep her distance. But not even Limos can save herself from the secrets she's kept . . . or resist the seductive allure of one very brave human.
Arik Wagner knows the saying "love hurts" better than most, yet he never thought stealing a kiss from Limos would land him in Hell. Literally. It takes all his military training to survive the demon torture, but once he's topside, Arik realizes that the agony has just begun. With the Apocalypse looming and Satan demanding his bride, will Arik and Limos surrender to the desire smoldering between them? Or will giving in to their passion unleash hell on earth?
Dragon Actually by G.A Aiken -- Annwyl the Bloody (I gave it 4 stars.)
Fantasy Romance
It's not always easy being a female warrior with a nickname like Annwyl the Bloody. Men tend to either cower in fear - a lot - or else salute. It's true that Annwyl has a knack for decapitating legions of her ruthless brother's soldiers without pausing for breath. But just once it would be nice to be able to really talk to a man, the way, she can talk to Fearghus the Destroyer.
Too bad that Fearghus is a dragon, of the large, scaly and deadly type. With him, Annwyl feels safe - a far cry from the feelings aroused by the hard-bodied, arrogant knight Fearghus has arranged to help train her for battle. With her days spent fighting a man who fill her with fierce, heady desire, and her nights spent in the company of a magical creature who could smite a village just by exhaling, Annwyl is sure life couldn't get any stranger. She's wrong...
Rock Chick by Kristen Ashley -- Indy Savage
Contemporary Romance
Indy Savage, cop's daughter, rock chick and used bookstore owner, has been in love with Lee Nightingale, once bad boy, now the man behind Nightingale Investigations, since she was five years old. No matter what ingenious schemes Indy used to capture his attention, Lee never showed an interest and Indy finally gave up. Now Indy's employee, Rosie, has lost a bag of diamonds and bad guys are shooting at him.When Indy gets involved, Lee is forced to help. Complicating matters, Lee has decided he's interested, Indy's decided she's not. But she can't seem to keep Lee out of her life when she's repeatedly stun gunned, kidnapped and there are car bombs exploding (not to mention she's finding dead bodies). Indy's best bet is to solve the mystery of the diamonds before Lee. Lee's challenge is to keep Indy alive and, at the same time, win back her heart.
Games of Command by Linnea Sinclair -- Captain Tasha Sebastian (I gave it 5 stars.)
Science Fiction Romance
The universe isn't what it used to be. With the new Alliance between the Triad and the United Coalition, Captain Tasha "Sass" Sebastian finds herself serving under her former nemesis, biocybe Admiral Branden Kel-Paten–and doing her best to hide a deadly past. But when an injured mercenary winds up in their ship's sick bay–and in the hands of her best friend, Dr. Eden Fynn–Sass's efforts may be wasted.
Wanted rebel Jace Serafino has information that could expose all of Sass's secrets, tear the fragile Alliance apart–and end Sass's career if Kel-Paten discovers them. But the biocybe has something to hide as well, something once thought impossible for his kind to possess: feelings . . . for Sass. Soon it's clear that their prisoner could bring down everything they once believed was worth dying for–and everything they now have to live for.
UPCOMING THEMES:
Road Romances -- July 9th
Virgin Heroes -- July 16th
Strong Family Relationships -- July 23rd
Returning Soldiers -- July 30th