A great feature hosted by Tynga's Reviews where bloggers get to feature the new books they received over the past week. I have changed my blog schedule around a bit so I will be publishing a new StS every other week.
Taking the Heat (Jackson: Girls Night Out #3) by Victoria Dahl (contemporary romance)
All revved up for bright lights and steamy nights, writer Veronica Chandler chased her dreams to New York City. When she hit a dead end, reality sent her back home to Jackson Hole, Wyoming. Saving her pride and her new gig—writing a relationship advice column!—requires some faking. No one can know the truth about her big-city flop or her nonexistent sex life. But the town's irresistibly rugged librarian is determined to figure her out… and give her hands-on lessons in every wicked thing she wants to know.

Gabe MacKenzie's heart might be in Wyoming, but secretly his future's tied up in his family's Manhattan legacy. Getting down and dirty with Veronica is supposed to give him a few memorable nights—not complicate his plans. But the thing about heat this scorching is there's just no going back… and it might be too hot for either of them to take.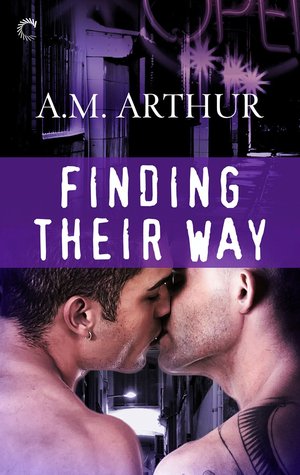 Finding Their Way (Restoration #2) by A.M. Arthur (male/male contemporary)
Thanks to an abusive father and a string of bad relationships, Riley McCage learned the hard way that people are not kind without a reason. Now, after landing a job at popular gay bar Pot O Gold, Riley is on the right track--until the night Boxer finds him drunk and drugged in the back room of an exclusive sex party.
Donald "Boxer" Boxwood wasn't looking for anything beyond some casual kink until he peeled Riley off the floor and gave him a safe place to stay. But there's something compelling about the guy crashing on his couch, and the two forge an instant friendship that eases into unmistakable attraction. Despite Riley's hesitancy, Boxer knows one thing to be true: he needs Riley in his life.
Riley risked everything to run away and build a new life for himself, and his secrets aren't something he'd ever wish upon his kind, gentle new friend. But when the past comes to call, he'll have no choice but to put his trust in Boxer…and believe people can change enough to deserve a second chance.
The Marriage Act by Alyssa Everett (historical romance)
When John, Viscount Welford, proposed to Caroline Fleetwood, the only daughter of the Bishop of Essex, he thought he knew exactly what he was getting—a lovely, innocent bride.
Five years later, he knows better. The woman who ran to another man on their wedding night—after they'd consummated the marriage—is hardly innocent. Years spent apart while John served as a diplomatic attaché have allowed them to save face in society, but all good pretenses must come to an end. When Caroline receives word that her father is dying, she begs John to accompany her on one last journey to see him.
But there's an added problem—Caroline never told her father that her marriage to John was a farce. As they play-act for others, Caroline is delighted to find she never really knew her husband at all. But can she be the kind of wife he needs—and does she want to be?
The Deep of the Sound (Bluewater Bay #8) by Amy Lane (male/male contemporary)
Cal McCorkle has lived in Bluewater Bay his whole life. He works two jobs to support a brother with a laundry list of psychiatric diagnoses and a great uncle with Alzheimer's, and his personal life amounts to impersonal hookups with his boss. He's got no time, no ambition, and no hope. All he has is family, and they're killing him one responsibility at a time.
Avery Kennedy left Los Angeles, his family, and his sleazy boyfriend to attend a Wolf's Landing convention, and he has no plans to return. But when he finds himself broke and car-less in Bluewater Bay, he's worried he'll have to slink home with his tail between his legs. Then Cal McCorkle rides to his rescue, and his urge to run away dies a quick death.
Avery may seem helpless at first, but he can charm Cal's fractious brother, so Cal can pretty much forgive him anything. Even being adorkable. And giving him hope. But Cal can only promise Avery "until we can't"—and the cost of changing that to "until forever" might be too high, however much they both want it.