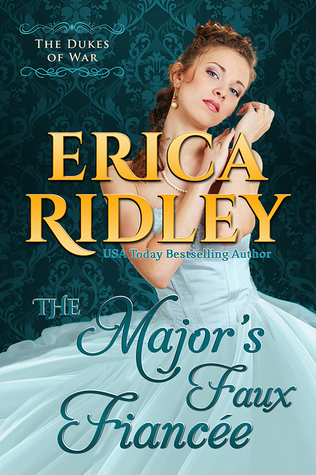 The Major's Faux Fiancee by Erica Ridley
(Dukes of War #4)
For Ages 18+ (Language, Sensuality)
Historical Romance -- Regency England

Intrepid Reads -- Published on June 1, 2015
eARC, 250 pages
Read in June 2015
Received from Netgalley

Rating: 3.5 Stars
THEMES/TROPES
Returning Soldier, Childhood Friends, Tearjerker
SUMMARY
When Major Bartholomew Blackpool learns the girl-next-door from his childhood will be forced into an unwanted marriage, he returns home to play her pretend beau. He figures now that he's missing a leg, a faux fiancée is the best an ex-soldier can get. He admires her pluck, but the lady deserves a whole man—and he'll ensure she gets one.

Miss Daphne Vaughan hates that crying off will destroy Major Blackpool's chances of finding a real bride. She plots to make him jilt her first. Who cares if it ruins her? She never wanted a husband anyway. But the major is equally determined that she break the engagement. With both of them on their worst behavior, neither expects their fake betrothal to lead to love...
FIRST LINE
"Despite the icy wind pelting the windows with snow, hot rivulets of sweat dripped from Major Bartholomew Blackpool's skin."


MY THOUGHTS
I received a free copy of this book from Intrepid Reads via Netgalley in exchange for an honest review.
The Dukes of War series continues with the focus shifting to Bartholomew Blackpool, who lost his leg and his twin brother in battle and comes home to just live his life in seclusion. But, these hopes are dashed when he receives a letter from a childhood friend asking him to help her avoid a forced marriage. Bartholomew has fond memories of Daphne Vaughan and feels obligated to help her by acting as a fake fiancee until she reaches her majority and can gain control of her inheritance.
Bartholomew was a very likable hero. Before the war, he was one of the most popular men in Society and was known for his fashion, charm, and wit. But, now he is dealing with grief over the loss of his brother and embarrassment regarding his lost leg. Bartholomew has some real issues that he needs to deal with and, by helping Daphne, he is able to accept a new outlook on life. I especially enjoyed how willing he was to help a friend in need and figure out how to make her happy.
Daphne is a socially conscientious young woman who is obsessed with improving the lives of those less fortunate than herself. She is very admirable and learns to be more self-aware in regards to why she is so focused on social causes. My big issue with Daphne was her stubbornness and how judgmental she was to everyone she met. If a person wasn't a hundred percent devoted to helping others, she looked down on them which rubbed me the wrong way. But, thankfully, she was called out for this behavior and I think matured very well by the end.
The Major's Faux Fiancee
follows a classic romance storyline with the fake engagement becoming more real to the couple. And I thought it worked out very well. The writing was flowing and easy to get into while the characters elevated beyond their original appearances. The pacing was definitely better than in the previous books in the series and that made me happy. I also thought the author did a good job of expressing the emotional side of Bartholomew's journey. All of the Dukes of War books have had some angst, but this one really had some tearjerking moments.
All in all, I had a good time while reading this book. It did not do anything ground-breaking for the genre, but it gave me a few hours of entertainment. I am definitely excited to read the next book in the series especially with the hints that I got from this story.