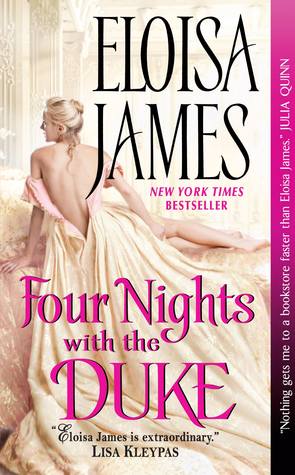 Four Nights with the Duke by Eloisa James
(Desperate Duchesses #8; Desperate Duchesses By the Numbers #2)
For Ages 18+ (Language, Sensuality)
Historical Romance -- Regency England

Avon -- Published in March 2015
Mass Market Paperback, 384 pages
Read in May 2015
Borrowed from the library
THEMES/TROPES
Unrequited Love, Author Heroine
SUMMARY
As a young girl, Emilia Gwendolyn Carrington told the annoying future Duke of Pindar that she would marry any man in the world before him—so years later she is horrified to realize that she has nowhere else to turn.

Evander Septimus Brody has his own reasons for agreeing to Mia's audacious proposal, but there's one thing he won't give his inconvenient wife: himself.

Instead, he offers Mia a devil's bargain... he will spend four nights a year with her. Four nights, and nothing more. And those only when she begs for them.

Which Mia will never do.

Now Vander faces the most crucial challenge of his life: he must seduce his own wife in order to win her heart—and no matter what it takes, this is the one battle he can't afford to lose.
FIRST LINE
"At fifteen, Emilia Gwendolyn Carrington already had a pretty good idea of what hell was like."
MY THOUGHTS
Four Nights with the Duke
is the second book in the Desperate Duchess by the Numbers series which is a spin-off to Eloisa James's Desperate Duchesses series. I adore James's writing because of her Shakespearean style that involves quirky characters, plots that require a bit of a leap of faith on the part of the reader, and plenty of snappy dialogue.
This particular story focuses on the unconventional Duke of Pindar "Vander" who is being blackmailed into marriage by the daughter of his late mother's lover. For her part, Mia regrets the situation she has put Vander in, but believes it is the only way that she can keep her young nephew safe. Their relationship is further complicated by the fact that Mia had a crush on Vander in their youth and her feelings were revealed in a situation that embarrassed them both.
I really liked Mia who was so devoted to her nephew and her writing. Novelist heroines are always a ton of fun and she is no exception. Eloisa James spends a great deal of time showcasing Mia's writing process which was fascinating and hilarious. Mia does have some self-esteem issues that she needs to work through, but I was impressed with how strong of a character she was.
Vander is a different type of duke in part because of his obsession with horses and the fact that his family history is so scandalous. He doesn't worry much about society or its rules which is a fun change of pace in a historical romance featuring an aristocrat. As a young man, he was embarrassed by the way that Mia's feelings for him were revealed, but he has always a bit of a thing for despite that unfortunate moment. Like Mia, Vander is not perfect. He has moments where he is very distrustful of her intentions and seems to be very judgmental especially at the beginning.
But, as Vander and Mia spend time together, they do realize how compatible they actually are. Their parents' relationship caused strife between them and some misunderstandings had to be cleared up so they could really make their marriage a happy one. The sensual side of this story was also very prominent as one would expect from a story titled
Four Nights with the Duke
. I really liked how Eloisa James used the sex scenes to portray the growing relationship between these two without making it seem cheesy or over-the-top.
There is always a ton of stuff going on in an Eloisa James historical so readers need to be aware of that before they change. She loves having a large cast of characters and they pop in and out at random times. This book can be read as a stand-alone, but there are some fun cameos of previous heroes/heroines that her long-time fans will be happy with. I was especially happy to see the return of the Duke of Villiers from
A Duke of Her Own
and young Edward Reeve from
Desperate Duchesses.
Four Nights with the Duke
was just a fun story full of comedy, suspense, and even a dastardly villain. I read historical romance as a way to escape the drama of the modern world and this definitely hit the spot. If you haven't read Eloisa James before, I highly recommend trying her out soon!
"I may not have been the first to wish to marry her, but I am the one who succeeded."