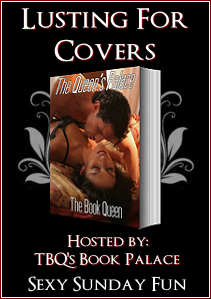 Lusting for Covers is a weekly meme, held on Sunday, that allows bloggers to share their current cover obsession with fellow book lovers. It is hosted by TBQ @ TBQ's Book Palace.
Adam
(Riding Hard #1) by Jennifer Ashley
Contemporary Romance
Stuntman Adam Campbell returns home to Riverbend, Texas, after being seriously injured in a movie stunt gone wrong. He settles in to heal at his family's ranch, where his four brothers, famous trick riders, train horses.

Adam is stunned to find Bailey Farrell working there—she was the shy girl who'd helped Adam graduate high school so he could run off to Hollywood. Except the budding Bailey, with whom Adam had a brief but intense affair, has blossomed into a beautiful woman. Now the sparks that had once ignited between them threaten to explode.

Adam is beaten-up, broken-down, and has lost his nerve—the stunt that injured him also killed his best friend. The only one he can turn to is Bailey, but will Bailey, who has come back to Riverbend to lick her wounds after a painful divorce, be willing to help him again?
It is pretty obvious why I picked this cover for this week. I love a sexy bare back photo and the cowboy hat just makes it even better.