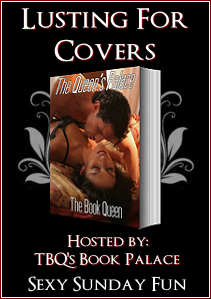 Lusting for Covers is a weekly meme, held on Sunday, that allows bloggers to share their current cover obsession with fellow book lovers. It is hosted by TBQ @ TBQ's Book Palace.
The Great Estate
(Thornbrook Park #3) by Sherri Browning
Pulled apart by past mistakes...
Sophia Thorne was young and inexperienced when she married the dashing Earl of Averford . . . and through dark and troubled times, their relationship nearly came to an end. Now she's determined to transform herself into the fiery, ardent lover she always wanted to be, giving them a second chance at love . . . before they're lost to each other forever.
Driven by a passion neither could deny...
It took nearly losing Sophia for Gabriel to realize he had allowed his love for his great estate to distract him from his beautiful wife. But that time is over. Despite all the obstacles standing in their way, Gabriel vows to teach Sophia what it is to truly love . . . and to be loved by a husband devoted heart and soul to her every desire.
I think the Edwardian-era fashion is really pretty here. The light coming in from the window provides a nice highlight for their faces. I also appreciated the fact that both of them look like real people rather than photoshopped to death.